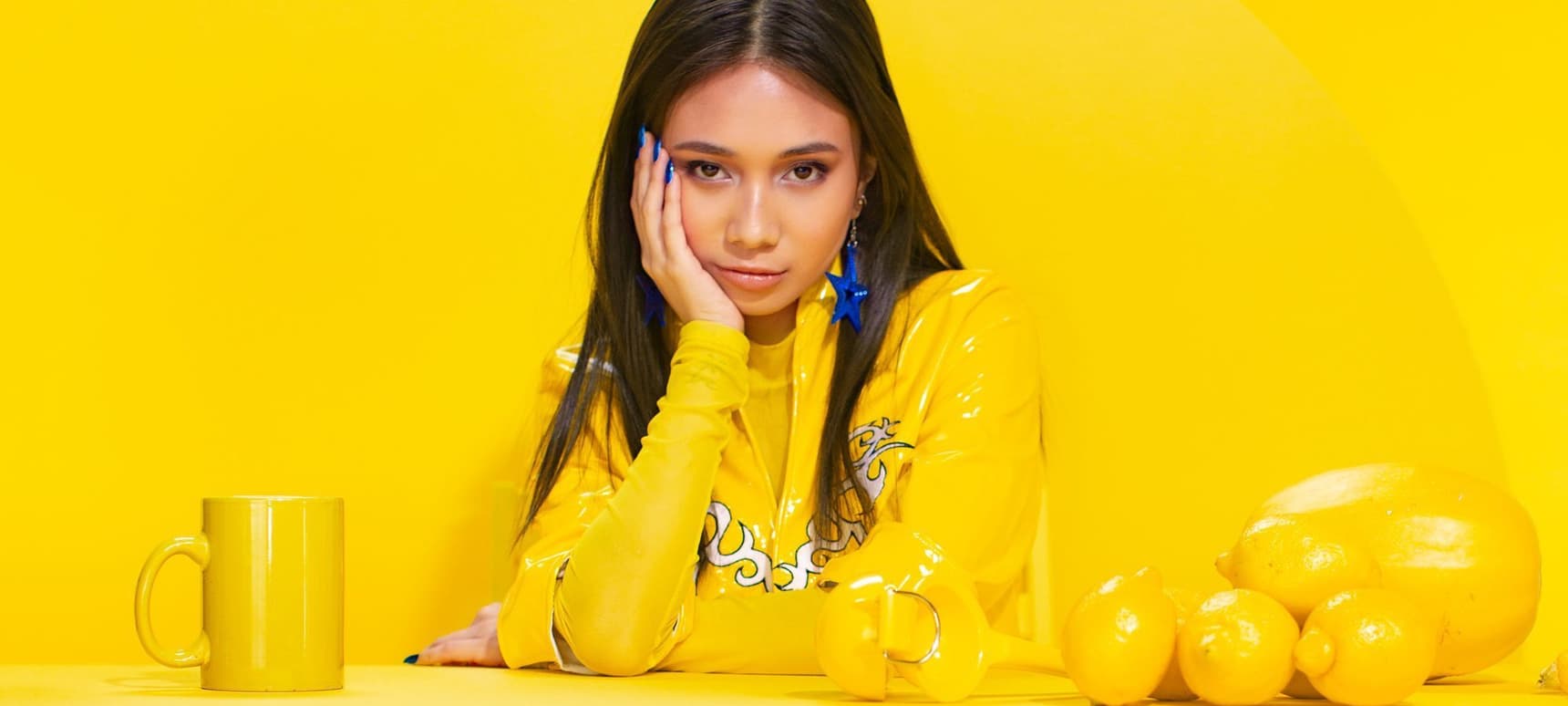 05.06.2019, Words by Felicity Martin
The 10 Best Self-Produced Tracks, according to NIKI
"It was one of those accidental discoveries while you're in the shower, so you scramble to grab your phone dripping wet"
Artists who produce their own music operate on another level to those who've only sharpened one skill, occupying the same god-tier of the likes of Björk, Kanye and Wiley. Jakarta-born, LA-based NIKI is one of these multidisciplinarians – the 88rising-signed R&B artist writes, records and produces all her own material, spinning herself cult status in the process.
Having just dropped her 'wanna take this downtown?' EP, which finds her assigning her characteristically silky yet powerful sound across four tracks, the 20-year-old is helping shape the sound of modern pop. Written after a dark period in her life, following the tragic sickness and death of her mother from cancer, the record draws out raw emotion and came to be a means of escapism for her. Below, NIKI runs us through her ten favourite self-produced tracks, from tear-jerking cuts to teenage gems.
1. James Blake – 'Are You In Love?'
"It goes without saying that James Blake is one of this generation's most iconic producers. This track from his latest album 'Assume Form' brought me to tears (as did every other track, if we're being honest). I loved how the arpeggiated synth immediately comes in big, not adhered to any grid or click or timing. It just flows free, mirroring the subject in question – love. It is never bound to any rules, thus the music reflects that sentiment while Blake hits you with convicting one-liners drenched in otherworldly vocals, making your eyes leak a little."
2. Maggie Rogers – 'Fallingwater'
"Maggie Rogers is the definition of raw and organic. She seems to write from a truly intuitive, visceral place. I was an instant fan after "Alaska", but my love and admiration for her really solidified itself upon finding out that she, too, self-produces. She is eloquence personified, a distinguished artist brimming with a clear and individual sound. It's that '70s, vintage vocal tone and delivery coupled with an unexpected dance element in her production that puts one in a trance you don't want to ever get out of."
3. King Princess – 'Upper West Side'
"She had me right off the bat with '1950', but when I heard this song off her EP, King Princess became a household name for me. Her storytelling ability is so effortlessly immersive, her melodies are authentic and her lyrics are bona fide. You can't listen to a King Princess song without thinking, 'Yep. She wrote that for sure.' When I heard the first line I immediately felt like I was strolling down the streets of Brooklyn with my hands in my pockets, contemplating the whereabouts of an imaginary ex. We can always pretend, right?"
4. Oh Wonder – 'Plans'
"Oh Wonder really encapsulates my late teens. Their debut album was all I listened to my sophomore year of high school and this song specifically truly inspired me to start producing music of my own. I really resonated with that post-modern R&B, indie chill-step vibe as a blossoming wallflower. It was eye-opening to discover that there was a sub-genre of music that was chill and laid-back, yet made a statement all at once."
5. The Japanese House – 'Lilo'
"Amber Bain is a pure visionary. 'Lilo' is my personal favourite, the sound choices were spot on and carried the melody exactly how I feel like it should have. Her voice set against the backdrop of reverb-y, ambient pads and distinctive harmonies that are occasionally chopped into staccato pockets of sound really bring you to whole a new dimension."
6. HONNE – 'Location Unknown ft. Georgia'
"This is by far my favourite HONNE song. Production-wise, it is an absolute dream. I'm immediately put into an escapist state-of-mind any time I hear the intro. It feels as though I'm preparing to leave one place to go to another, which is what the whole song is about! The samples and sound choices (i.e. the silky guitar, the syncopated synth that pans left and right, the noisy drone pad underneath) are all tasteful and textural. They compliment one another effortlessly while letting your mind wander into a synaesthetic, engine-starting state."
7. Chloe x Halle – 'Happy Without Me (ft. Joey Bada$$)'
"Chloe x Halle are the future. Being this young in the game already producing their own music is not only precocious, but also inspiring to me as a young producer myself. The noisy E-piano intro contrasts the sparse and minimal 808-laden verses beautifully. I think that production really makes or breaks a song's essence, and for me, this is right on the money for what the song tries to communicate."
8. Bruno Major – 'Fair-Weathered Friend'
"Bruno Major is a modern jazz icon. Everything he does sounds so fluid and easy, yet is undeniably substantiated with musical ingenuity. His vocals are butter, his chord choices tastefully complex, his kick drums so perfectly round and punchy that it meets all of your modern-day low-end needs. More often than not I'll turn to his music for inspiration, or simply just to feel expensive, really."
9. H.E.R. – 'I Won't'
"H.E.R.'s music honestly kickstarted my producing career. I was 17 in high school listening to 'Losing' for the first time, contemplating how many cool kid points I'd get if I could just produce songs like that. I remember discovering 'I Won't' shortly thereafter, thinking how it just exudes grace and effortlessness. The piano-driven beat is sultry and sensual, with a memorable snare that's layered with a reverb-y, pitched sample. A short couple of years later, this woman is now a Grammy-winning singer, songwriter and producer. I mean, #GRLPWR or what?"
10. Toro y Moi – 'Monte Carlo ft. WET)'
"This track came to my knowledge by total chance. It was one of those accidental Spotify radio shuffle discoveries while you're in the shower, so you scramble to grab your phone dripping wet only to save the track immediately. I love this track specifically because it could easily be either a WET track, or a Toro y Moi track. They marry their styles together so well, it's truly the crossover you never knew you needed."
Stream NIKI's 'wanna take this downtown?' EP:
Follow Dummy on Spotify, Soundcloud and Mixcloud to stay up to date with all the best new music.