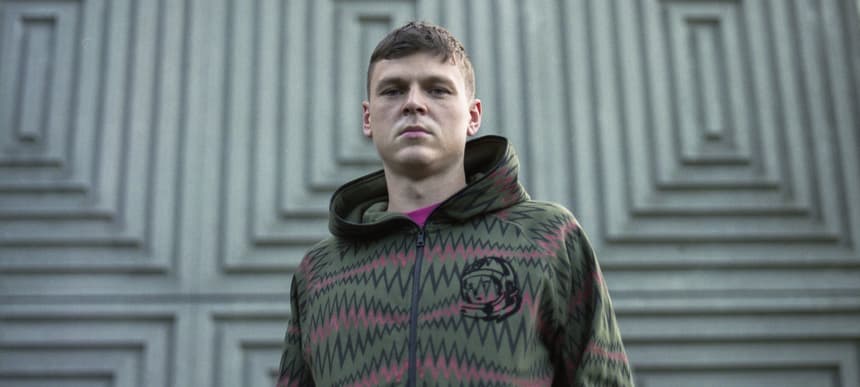 28.02.2020, Words by Felicity Martin
The 10 Best Tunes From The '90s, according to Kamakaze
"Remember I seen a tribute band called Protigé at a festival called Glastenbudget (true story). This one caused chaos..."
Maybe we're looking back at things with an overly rose-tinted level of nostalgia, but the '90s were undeniably an incredible time for music. Leicester grime MC and part-time footballer Kamakaze was born in the early 1990s, and he's channelled his experiences as a kid growing up with Pro Evo, Pokemon and Dizzee Rascal into his latest track, produced by Australian beat overlord Swick: 'Memories'.
It's yet another in a string of impressive releases from the MC, who is gearing up to drop his 'Memories Over Money' project this summer, something that will no doubt touch on more of his experiences as a '90s baby. With 'Memories' out now, Kamakaze takes a look back at his childhood via this pick of his favourite tracks from the '90s, directly inspired by his dad's record collection. Read on below for the very best of hip-hop and pop from beyond two decades.
1. Erykah Badu – 'Appletree'
"One of my first memories of listening to music. Was my parents playing this in the living room. Exceptional voice. Probably my favourite song ever."
2. Massive Attack – 'Blue Lines'
"Whole album is a masterpiece, the whole nature of the song is beautiful. Tricky is under-appreciated as a wordsmith."
3. Snoop Dogg – 'Gin And Juice'
"West Coast rap classic. From the 'Doggystyle' album. Dre on production. For some reason me and my boys tried drinking gin one summer because of this."
4. Big L – 'Casualties of a Dice Game'
"I feel his legacy was overshadowed by the deaths of Pac and Notorious. He isn't mentioned enough as one of the greats. The storytelling and rhyme patterns in this one are flawless."
5. The Pharcyde – 'Passin' Me By'
"'She keeps on passing me by…' I think everyone can relate to that crush feeling in their teens. Just a great song."
6. Mark Morrison – 'Return Of The Mack'
"Leicester's longest standing hold in pop music ever I think. Instant club banger anywhere or anytime."
7. Jamiroquai – 'Virtual Insanity'
"My dad always said he got slated for sounding like Stevie Wonder, that's not a bad thing to be slated for. Great tune."
8. The Prodigy – 'Firestarter'
"What a tune to get mashed up to. Remember I seen a tribute band called Protigé at a festival called Glastenbudget (true story). This one caused chaos."
9. D'Angelo – 'Sh*t, Damn, M*********er'
"Could have been 'Brown Sugar', I like this story more, amazing voice and rightfully dubbed the king of Neo Soul.
10. Buju Banton – 'Wanna Be Loved'
"This song's so real, honest and uplifting. I think everyone probably wants to feel like that: 'I wanna be loved not for who you think I am, not what you want me to be, could you love me for me, REAL LOVE'."
Watch Kamakaze's 'Memories' video:
Keep up to date with all the best new music in our weekly-refreshed NEXT HYPE playlist.