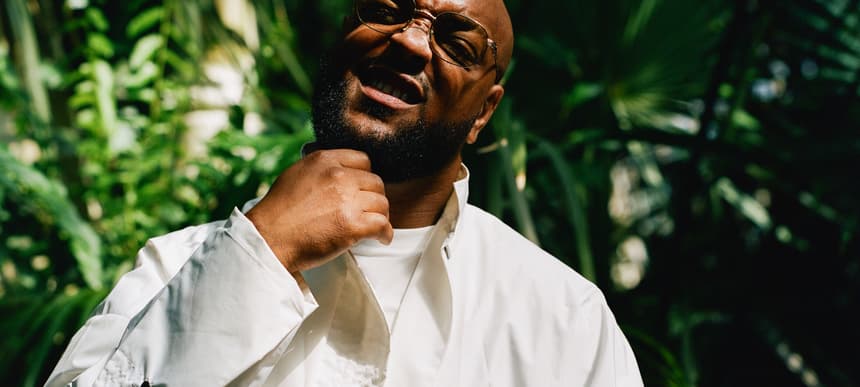 10.09.2019, Words by Felicity Martin
The 10 Best UK Funky Tracks of All Time, according to Donae'O
"This song used to go off in the clubs, instant reload..."
Donae'O has always made lightwork of riddims. Across multiple decades and sounds, from house and garage to grime and – naturally – UK funky, he's an artist with proven staying power. Responsible for classic floor-fillers like 'Party Hard' and 'African Warrior', Donae'O made a comeback in 2016 with 'My Circle' after a hiatus from the mic and that Giggs collaboration which you couldn't escape once it dropped.
Following up more recent water-tight funky bangers like 'Chalice' and 'The Party's Over Here', the singer and rapper has just dropped 'Bonita' with Stylo G, a summertime-destined outing with a vibrant video to boot. Fresh from jumping on stage at Hackney carnival over the weekend, Donae'O runs us through his all-time favourite UK funky cuts.
1. Fish Go Deep & Tracey K – 'The Cure and the Cause (Dennis Ferrer Remix)'
"This song was my intro to house music and also, in my opinion, the first track that inspired the birth of UK funky. The arrangement of this song is excellent, from the string synth in the intro to when the bass drops to the vocals that start on the wrong beat but blend in so well to the padded bass. 'The Cure and the Cause' is my all-time favourite house record."
2. DJ Gregory – 'Don't Panic'
"This song inspired me to write and produce 'Devil In A Blue Dress' [below]. The drum pattern in this song was tremendous – I loved the way Gregory used the snare and hi-hat to create a groove. The sounds he used for this track were also very unique. I can't tell if the snare is a snare or a hi-hat or both! Even the distorted marimba that plays like a heart beat has its own unique sonics. I wrote 'Love to Happen' on this beat.
3. Donae'O – 'Devil in a Blue Dress'
"This for me is the best drum pattern I've ever made. I listened to this drum pattern for three months before I came up with the bass/string arrangement. I honestly believe God made the drums and I was just a vessel! The verses came first for this song and then a month later the chorus came. This was my first hit in UK funky, it kickstarted everything for me."
4. Crazy Cousinz ft. Kyla – 'Do You Mind'
"This is my favourite Crazy Cousinz beat. The drums are from soca music, the pianos are from rave/hardcore, there's a garage bassline and the vocals are R&B and it's all mixed together effortlessly. I love both the funky house version and the Drake remake, both mixes are tremendous."
5. Hardhouse Banton – 'Sirens'
"This is gangster UK funky! What a tremendous riddim to play in your set just when you need to give the crowd a rush of energy. The snare arrangement is my favourite thing about this tune as I've never heard this groove before. The police sirens were excellently placed and the bass speaks for itself. This is 100% a riddim to reload in the dance."
6. Donae'O – 'African Warrior'
"The impact 'African Warrior' had on the black community is one of my proudest moments in music. The song gave young Africans a chance to have their own moment in a rave. 1Xtra made a documentary about African music blowing up in UK rave culture and one of the segments was about 'African Warrior's influence. People used to come up to me in street and said the song brought West Indians and Africans together. I'm so happy I made this song it was a mix between grime, broken beat, house, Afro beats, reggae and hip-hop."
7. Boy Better Know – 'Too Many Man'
"This song is one of the best MC UK funky tracks in my opinion. I love the fusion between UK funky and grime – whoever produced this is a G, I think Skepta produced this [Ed: yes it was Skepta!]. Tbh Skepta is a tremendous producer, he should get more recognition as a producer. One of my favourite verses from Frisco is on this tune and the chorus is perfect. Great riddim!"
8. Shaun Escoffery – 'Days Like This (Spinna and Ticklah Mix)'
"If you listen to this song you'll understand why it's in this list. Soon as the beat starts you feel happy and ready to start the day. I feel like this song should be the alarm on your phone. How can you not look forward to your day after listening to this song? The words are perfect and Shaun's voice is just tremendous. I could never get bored of listening to this song. The production is like the perfect mix between a great ballad and house music – it's an absolutely perfect tune."
9. DJ Naughty – 'QuickTime (Roska Remix)'
"This tune is just a straight-up tumpers, what a riddim track. This song used to go off in the clubs, instant reload. I love the drum arrangement on this record, it sounds like broken beat soca to me, and the bass arrangement reminds me of old school jungle. I love the way he used the synth stab in this track, literally stabbing the sound in and out of the track. Not gonna lie, I think Roska should get D Double E to do a dubplate of this track. That would shut down a rave quickly."
10. Donae'O ft. Big Tobz and Blittz – 'My Circle'
"For like a year I was trying to work out how to mix UK funky and trap in one song and after listening to Drake and Future's 'What A Time To Be Alive' I was inspired to make the beat for 'My Circle'. A friend of mine had betrayed my trust so that's where the concept of the song came from. I'd started building a relationship with Big Tobz and Blittz as I had jumped on the remix for 'You Know My Style' and they wanted to do a UK funky record with me so I thought that 'My Circle' would be perfect for them as a feature. Drake helped 'My Circle' blow up – he released 'One Dance' which sampled 'Do You Mind' by Crazy Cousinz and Kyla and that song gave me a lot of attention. My timeline for the next two weeks was people asking me to bring back funky and am I gonna release a UK funky track so I waited about for weeks to build anticipation. When I released 'My Circle' it went off in the clubs and people were gassed.
Watch the video for 'Bonita':
Donae'O embarks on a UK tour in December – find tickets here.
Related: Scratcha DVA's Dummy mix blends gqom and UK funky: "UK gqom"