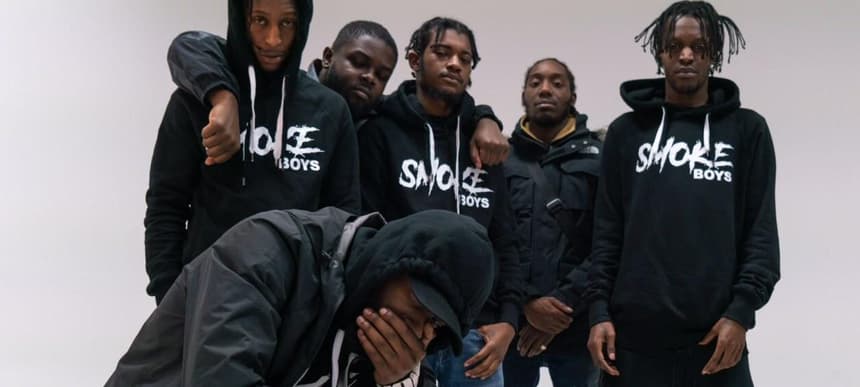 27.05.2020, Words by Felicity Martin
The 10 Best UK Rap Tracks of All Time, according to Smoke Boys
"This one changed the game..."
Formerly known as Section Boyz, South London's Smoke Boys have made an indelible stamp on the UK rap landscape. Responsible for hits like 'Lock Arff', 'Trapping Aint Dead' and that now-legendary Mad About Bars freestyle, their bars will be firmly writ in the canon of British rap. Earning a loyal fanbase and collaborations from the likes of Skepta and Stefflon London, who could forget their 2016 show in Shoreditch where Drake made a surprise appearance and joined his "section gunners" on stage?
2020 has seen Smoke Boys keep their work rate consistent, dropping a string of singles and freestyles with their signature straight-talking style. They recently addressed the current pandemic on a track, dropping 'How Many Days (Quarantine Freestyle)' which addresses the monotony of being stuck inside. As people who've been present on the rap scene for some time – both as fans and artists in their own right – we asked them to name the best UK rap tracks of all time.
1. Giggs – 'Talking Da Hardest'
"This was our childhood. Giggs was one of the first to make you feel like you could rap and make it out the ends. This tune changed the game."
2. Cashtasic – 'Colorz'
"This influenced bashment and dancehall in the ends."
3. Stigz & Shockz – 'Rec A G'
"Addi colours gang banging. Hood classic."
4. Stormzy – 'Gunshot ft. Swift, Don D & Deepee'
"This was the beginning of the Heath/Croydon Era."
5. Giggs & Blade – 'Sink A Boat'
"First song I ever heard from Giggs. We used to listen to this everyday. Our first real experience of UK rap."
6. Nines – 'AJ'D Out'
"This song was just for all the go-getters, this song used to motivate me to never give up in whatever I was doing at the time."
7. Rimzee – 'Keep Stacking'
"Real hustler music again. It was something different to our ears."
8. Giggs – 'Test Out The Nine'
"Roadman riddim. South London classic."
9. Swiss ft. Sharifa – 'Cry'
"Hardest rap tune. He was rapping when everyone was still doing grime."
10. Krept & Konan – 'Don't Waste My Time'
"This one changed the game. Another song that made us know we can make something out of music being from the same ends."
Read next: The 10 Best UK Rap Films, according to Jords