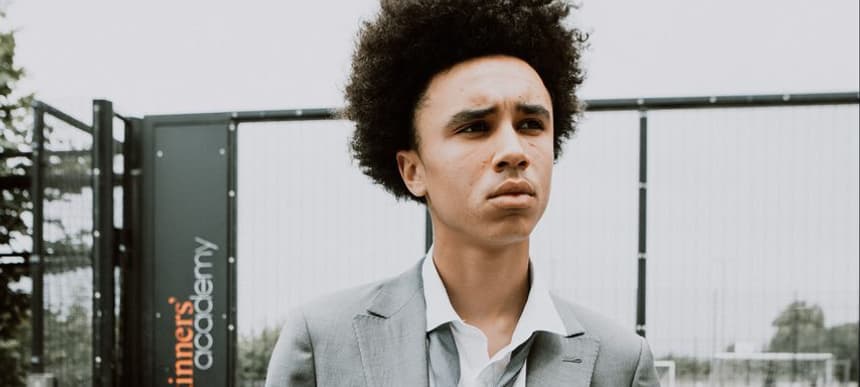 02.08.2019, Words by Felicity Martin
The 10 Best Under-18 MCs In The Game, according to Oso Wavey Jay
"I'll tell you, he's coming for the scene..."
If there's one thing that's as infuriating as it is inspiring, it's a successful under-18-year-old. Oso Wavey Jay is one of these prodigies: at the age of just 15, he's spearheading things for the next gen of UK rap, with debut track 'Soulja' pricking up ears all over the country and amassing impressive numbers for a grassroots artist. Having followed that up with a solid string of singles that blend hard-hitting rap with crystalline, emotional beats, and an EP, 'Schoolboy Jay', on the way, Oso Wavey Jay is one to keep a firm eye on.
In the spirit of youth running things, he's shared with us the ten artists who can't legally vote in the UK that he thinks are going to blow. "One thing that most of these artist have in common is that most of them if not all of them have come from struggles that they managed to get through, where it be the streets, family or personal struggles that they've managed to overcome," Oso Wavey Jay says. "It's good to see so many young guys like myself pushing hard to secure their success. The future is very bright for our generation of rap music."
1. SD Muni
"One of the best youngers in UK drill, underrated lyricism and mad punchlines that will fly over your head. He also knows that most of his audience will not get them on the first listen, which makes for more depth in his music."
2. 5EB
"Smashed his Mixtape Madness 'Next Up?' and 'Scum' featuring One Acen was a very wavey tune. His vibe in general is also very uplifting so it's a good listen when you're in a bad mood. Really on the come up, soon blow."
3. Arz
"We hooked up recently and made a banger, 'I Spy', which is on my EP, and the vibes we had to the studio were great. My guy has been putting in work recently. He's got a wavey flow and he can put his bars on very different types of beats making him one of the most versatile."
4. Lil Mosey
"Youngest guy I rate in the US rap scene. Super melodic and at just 17 years-old he brings a whole new style to the game and has taken over the game. 150 million views on two videos, crazy."
5. Deno
"I was listening to Deno way before I started writing music. I rate his music obviously but his persona I respect the most. His work ethic and the way he pushed to get to the top. Definitely someone to look up to if you're looking to get into the rap game."
6. Cillian
"He was defo the 'Talk Of The Town' after he dropped that tune. He's also really versatile as he switched up the type of beats he used for his freestyle after his first release. Upcoming in UK rap without a doubt. The image he's got can get him far in the game."
"I'm a white boy doing this rap shit, they say shit man that takes some nerve"
7. Scarz
"Also a big up-and-comer, got some mad flow. One of the coldest guys flying the flag in UK drill and keeping the genre alive at the moment, as well as being probably one of the youngest drill artist in general right now and I'll tell you, he's coming for the scene."
8. Lil Tecca
"Another versatile US artist who is becoming huge right now. Always comes with the waves, very similar to Lil Mosey in the sense he's came in the game and torn it up from the jump. 16 years-old and one of the hottest rappers in the US at the moment. He's on the road to success if he keeps coming with tunes like 'Ransom'."
9. SJ (OFB)
"OFB have come in the drill scene and have completely taken over and have surpassed people who have been doing it for years. SJ's flow is insanely jumpy and it makes you feel extremely energetic. There's always a debate of who's Top 5 in drill but he definitely is in the running without a doubt. (Free SJ)"
10. Oso Wavey Jay
"The youngest in charge! Once 'Schoolboy Jay' drops, this will be common knowledge."
Oso Wavey Jay's 'Schoolboy Jay' EP arrives on August 9th 2019.
Related: The 10 MCs under 19 Who Are Set To Blow, according to DJ Aruge