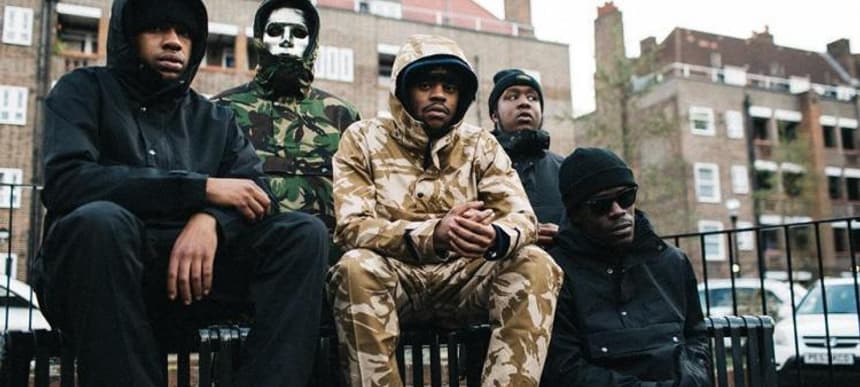 01.12.2017, Words by dummymag
10 of the best UK drill tracks, according to 67
The kings of UK drill shine some light on the tunes that have defined the sound's recent history.
Drill music is easily one of the most popular strands in UK rap. Borrowing from the sound cultivated by the likes of Chief Keef, King Louie, Young Chop and others in Chicago in the early 2010s, the rampant, energetic and domineering sound, characterised by trap tales and ominous, aloof MCs, has infiltrated London's streets, with a new generation of rappers making it hard to ignore.
Representing Brixton, south London, 67 need no introduction. Made up of LD, Liquez, Monkey, Dimzy and ASAP, nothing has been the same since their In Skengs We Trust project last year, and the undeniable Giggs-assisted 'Let's Lurk'. Both perfectly captured their drill influences along with the road slang and politics of south London, producing a hybrid this has yet to be equalled or topped.
Set to perform at this year's Plissken festival in Athens this weekend, alongside the likes of Mac DeMarco, Smerz, Chaos in the CBD and others, expect a shutdown once 67 reach Greece. We sat down with them and broke down some of their favourite UK drill tracks from a scene they are proudly taking to the world and back.
Young Teflon – Nandos
67: "Young Teflon been doing his thing for a while now and this tune is hard! Got Carns Hill on the buttons and features the gang! This one goes off."
Loski – Hazard
"Loski from Harlem Spartans, he really doing it for the young g's in drill! And his squad Harlem Spartans – serious production and catchy rhymes."
Reekz and 32 Shots – War Spelt Backwards
"Yeah team raw from south London also! Reekz has to be one of the hardest drill rappers!"
R6 – Redrum
"R6 is from the younger 67 camp, the beat on this one is crazy and was produced by Carns Hill, who produces a lot of 67 stuff. R6 going for the young g's."
LD – Livecorn
"One of the biggest drill tracks out of south London – this one is proper! Stand up beat and stand up lyrics. LD killed this one."
67 – Today
"This one's got the family on here and lets everybody know the deal about 67. Another Carns Hill production."
K Trap – Wild Thoughts
"K Trap the saucy driller, this guy's killing it right now, the beats bangs on this and trap attack's the beat!"
Loski & Mizomac – DJ Khaled
"Harlem Spartans again on this one, these two spitting some wild bars over a menacing beat, again south Londoners."
Headie One – Losses & Winnings


"This guy is up and coming in the drill scene and looks next up, representing Tottenham, North London. Look out for this guy."
67- Lets Lurk
"One of our biggest tracks! It causes a lot of commotion in the clubs, mosh pits and everything! It also features the big man in UK rap, Giggs, who's got a killer verse! The beat bangs and captures everyone."
READ NEXT: Behind Bars: After years of the UK banning music, attempts to censor drill break alarming new ground