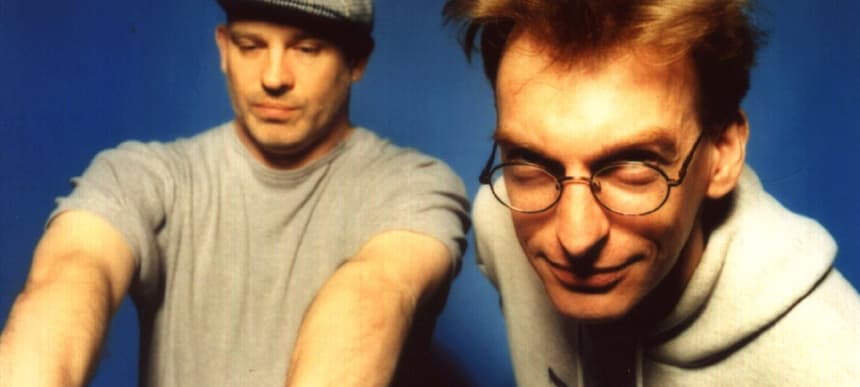 31.10.2013, Words by Aimee Cliff
The 10 tracks that define Solid Steel, according to Coldcut
Mighty DJ/production duo Coldcut will mark two and a half decades of their mix show Solid Steel this December by DJing with The Orb at Vauxhall's Fire, flanked by the likes of Actress, Four Tet, Trevor Jackson and more. To mark the occasion, Jon More and Matt Black have shared with Dummy the 10 definitive tracks that they feel sum up the vibe of the influential two-hour show that started modestly on Kiss FM in 1988 and has grown to feature on 20 different stations worldwide. Tune in weekly or dive into their 25 year anniversary mix archive here, and read all about their 10 most influential tracks below.
Rhythm Dr – Mister

Jon More: "From 1990 this cheeky Gregory Issacs mash up – an early example of the genre, produced by The Rhythm Dr, a UK DJ and club promoter. This became a stone cold Solid Steel favourite. A cut of Gregory Issacs Mr Know It All, super beefed up with a killer drum mix and extended dub. The tune still rocks and remains in my box to this day."

LFO – LFO (Leeds warehouse mix)

More: "What can you say…. A classic tune that bred many many offspring reaching number 12 in the charts. Once when I played this back in 1990 a punter came up to me and remarked 'A party is not a party without Hi Ho Silver Lining.' I replied, 'A party is not a party without LFO.' He looked puzzled and wandered off."

Coil – Windowpane – Astral Paddington Mix

More: "Being a major fan of Throbbing Gristle this offshoot featuring Peter Christopherson & John Balance was a perfect choice for Solid Steel – mixing sweetly with Depth Charge & Tackhead. Coil, Throbbing Gristle & Chris & Cosi would all be woven into the weft sitting happily with De La Soul, Fela & Sun Ra. A vey sad loss when John Balance died – Coil were/are an influential band and the ghost remains in the machine."

Oumou Sangare – Moussolou

More: "One of the most beautiful voices on record – Oumou Sangare truly deserves the title 'The Songbird of Wassoulou'. Buy this music, you need it…I cannot describe it in any way that does justice."

Mickey & The Soul Generation – Iron Leg

More: "Rare groove killer tune with the most outrageous start… Solid Steel loves a classic funk tune and you cannot get fatter than this one- large bass, stupid keyboards, dirty brass, slinky drums, what's not to like?"

Charanjit Singh – Raga Kalavati

Matt Black: "On Solid Steel, we're always digging the roots of the past, and this track from Indian synth originator Charanjit Singh demonstrates that with his prescient take on acid techno '12 Ragas to a Disco Beat'. Predating Phuture's 'Acid Tracks' by a number of years, Mr Singh gets both busy and funky on the 808 and 303 to futuristic disco effect. Revitalised by hipster interest in this particular recording from his prolific but generally more conventional output, he has also been doing some gigs; we should get him on the show."

Clark – Herr Barr

Black: "Mr Clark makes post-postmodern electronic music ranging from beautiful ambience to hardcore 'lectroskronk and has carved himself out a niche for the discerning lovers of bleeding edge electronica. Not sure who Herr Barr is, but the German teacher at school was called Herr Kohler. Just one of the many facts you are destined to hear on Solid Steel."

Fela Kuti – My Lady Frustration

Black: "Fellow cutie (thanks Siri) famously said music is the weapon of the future. Maybe the war has already started, and Solid Steel is providing some of the communications equipment. Coldcut have played Fela Kuti on Solid Steel from the beginnings of the show on Kiss FM, his mixture of politics and funk, sweat and savvy being close to our hearts. Do you have a lady frustration in your life?"

The Foreign Exchange – Daykeeper

Black: "These guys moved away from rap cliche into lush hip hop soul with the album 'Leave It All Behind' and this tune was nominated for a Grammy. It's the kind of tune that when you play it, cool women come up and ask what it is. The keys are reminiscent of both Radiohead and Stevie Wonder which is a pretty decent combo and the whole production is immaculate.

"Solid Steel, with the tunes that help you breathe more easily."


Flying Lotus – Melt!

Black: "A few years ago FlyLo arrived like a huge Dionysian orgy chant to rip up the straitjacket of legoblock electronic music formula and let us all out into the stoner/slacker sunshine again.

"Whilst not the kind of music you can play all that often in a club environment without risking a major floor clean, it's perfect radio/listening music and hopefully provokes listeners to think 'fuck…is it SUPPOSED to sound like that?', always a good reaction."
Coldcut will mark Solid Steel's 25th birthday with a DJ set with The Orb on 6th December at Fire Vauxhall, along with Actress, Four Tet, Trevor Jackson and more. Get more information and tickets here.