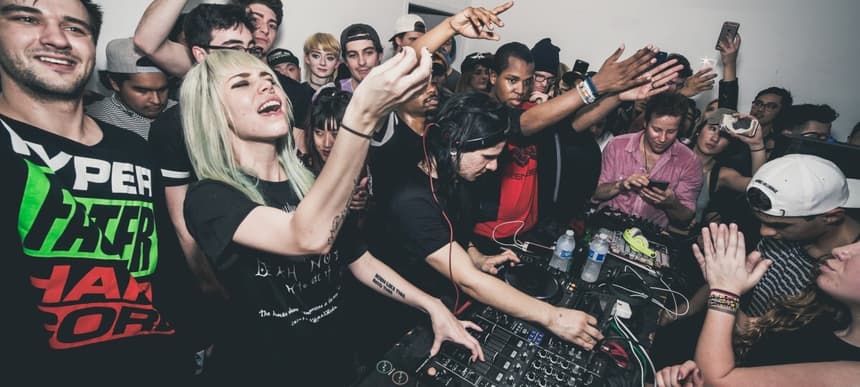 08.03.2016, Words by dummymag
15 emerging female acts in dance music, according to Brownies & Lemonade
Brownies and Lemonade are at the epicentre of the dance and hip-hop scene in Los Angeles, having collaborated on events with notable crews, collectives, record labels and festivals alike. They have given a platform to emerging artists through their monthly #DoubleCross parties, along with hosting residences and events boasting names such as Skrillex, Djemba Djemba, DJ Quik, Lido, Ryan Hemsworth, Just Blaze, Keys N Krates, Jahlil Beats, and crews such as Soulection and Athetixx.
As tastemakers in the dance music scene and in celebration of International Women's Day, the Brownies and Lemonade crew have curated an alphabetical list of their top 15 emerging female acts in dance music.
Read below and listen via our Soundcloud playlist.
Alison Wonderland
Brownies and Lemonade: "Her debut album 'Run' was incredible and had collaborations with Lido, Djemba Djemba and AWE. It transformed her into a phenomenon, but we think this next year is gonna bring her to another plataeu. When you go out in LA you see her influence, with countless girls showing up to events rocking adidas gear and going crazy for her sound."
Anna Lunoe
Brownies and Lemonade: "One of the hardest working DJ's in the industry. In addition to being amazing on the decks and producing some amazing music (especially her last release with Fool's Gold), she runs one of the dopest Apple Music shows that premieres a ton of under the radar music."
Ducky
Brownies and Lemonade: "Ducky dropped one of the best NEST releases of 2015 and then co-founded the new collective Club Aerobics, which has been taking over LA in the past three months. Morgan is just an extremely dope producer – one of those people you'll look at in two to three years and see that 2016 was the start of something big."
Kelela
Brownies and Lemonade: "Incredible singer and songwriter. She developed a sultry yet forward thinking sound and has limitless talent. Her power collaborations with the Fade to Mind camp have really impressed us. Can't wait to see how she takes over in 2016."
Kittens
Brownies and Lemonade: "Most people know her as one quarter of the Athletixx camp but we've seen what she's done in clubs, DIY spaces and on rooftops for years now. She has definitely been one of the front-runners of the female DJ movement in Los Angeles for some time now, and it's well deserved."
LOUISAHHH!!!
Brownies and Lemonade: "She reps NYC on her sleeve and absolutely kills it. We've seen her become who she is, dominating Boiler Room and Holy Ship, and it's awesome because she's just an amazing DJ and producer. We're so stoked that the Bromance camp are pushing her music and look out for what she does next, as we know it'll be next level."
Maribelle
Brownies and Lemonade: "She's flown under the radar for the most part, but in the next 24 months we think Maribelle has a huge ceiling and could do something really special. She's worked closely with Carmada and the Team Supreme crew and is one of our favorite electronic/pop acts – really hoping she makes it out to LA again soon."
Mija
Brownies and Lemonade: "One of our favorite acts to book. Amber is absolutely incredible on the decks and can pretty much spin anything. Last time we had her out to a show she brought along Skrillex and the venue got so hot from all the dancing that the roof started sweating. Insanity."
MOONZz & Tribes
Brownies and Lemonade: "We had to cheat and squeeze both of these LA vocalists in together here. They both run in similar circles and are crushing on all of our favorite DJs tracks with such distinct and unique styles. You just have to look at all their features and co-signs to know they're going to make some serious waves."
Nina Las Vegas
Brownies and Lemonade: "Nina can spin better than 99%-100% of the guys out there. She has been absolutely killing it ever since she started NLV Records and has started producing more and recording vocals on new tracks. In our opinion, she's the ultimate curator in the dance scene as of 2016."
Noodles
Brownies and Lemonade: "Kehlani's official DJ and trusted home girl. She really knows how throw rap and hip hop based sets together and is acquainted with pretty much everyone in the electronic beat scene. When she gets on the decks, she really naturally ignites the crowd. We really can't wait to see her bloom this year."
Rezz
Brownies and Lemonade: "Two Words: Endless Talent. She's just a prodigy – when you have Mau5trap, Nest and countless others all wanting to release your music you know you're doing something right. All she does is produce, play shows and run the twitter game – expect her to be icon status by 2017."
SoSuperSam
Brownies and Lemonade: "Samantha was already crushing it in LA for years, but when she got the Soulection co-sign everything exploded. Whether it's food, fashion or music – you see her everywhere. In a little over a year she brought her R&B and hip hop bassed party '143' from a small bar to multiple 1000+ capacity venues across the US. She also started singing on tracks recently, so there is pretty much nothing she can't do."
Taja
Brownies and Lemonade: "She's super dope and has come up alongside Oshi with The Film Noir Sound crew. Her style is super impeccable, really can't wait to have her out at our SXSW showcase – we know it's going to be special."
UNiiQU3
Brownies and Lemonade: "Her name speaks for itself. Somebody who is truly keeping the Jersey Club movement alive in 2016. She's flown under the radar for a long time now but i think in the next 12 months you're gonna see something erupt around her."B
Brownies and Lemonade are also hosting an official SXSW showcase on March 19th featuring some female artists from this list. You can RSVP for the showcase here.