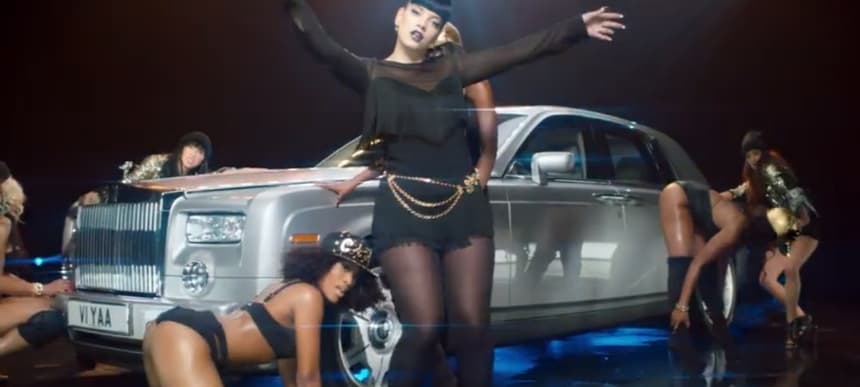 14.11.2013, Words by Aimee Cliff
10 videos that actually pushed feminism forward in 2013
"Ironic twerking." That's certainly one of the stranger things I've read recently, care of Pitchfork, who used that phrase when they posted the new Lily Allen video this week. Her first video in four years, the clip is intended as a parody of the sexualisation of female pop stars, and it really does feature a lot of twerking, ironic or otherwise, of the slow-motion, close-up variety. But whether it succeeds as a feminist satire of the music industry is debatable.
When I first watched Hard Out Here, it left me cold. That's presumably for the same reason that when I typed "Lily Allen" into my Twitter search bar I was greeted with the predictive response "Lily Allen racist". The best thing about this video – which is undoubtedly bold, and takes a well-aimed swipe at the lecherous Robin Thicke – is that it's set to make the sexual exploitation of female popstars into a dominant mainstream conversation, in a much more self-aware way than Miley Cyrus has this year. Where it misses the mark, though, is the mean-spirited way it goes about it. Allen being fully clothed while backing dancers of different races act out a grotesque, barely clothed parody of hip hop culture is a loaded image, and confuses the anti-patriarchy message of the song – something that Ayesha A. Siddiqi dissects fantastically in her analysis for Noisey.
On the bright side, though, it seems that appetite for music videos that buck trends and give overtly empowering messages to women is bigger than ever, and there have been plenty of artists this year who have been doing just that with imagination, strength and humour, without the hypocrisy or humiliation of others. If Lily Allen's take on ridiculing sexism in the pop industry doesn't quite do it for you, or you just don't like the song (fair play, us neither), then here are Dummy's 10 picks of videos that re-framed and re-claimed women's sexuality and generally gave us good feelings about the place of women in pop in 2013.
Janelle Monae feat. Erykah Badu – Q.U.E.E.N.

"Is it peculiar that she twerk in the mirror?" asks the divine Janelle Monae in her tour de force of a video for Q.U.E.E.N., featuring the one and only Erykah Badu. Q.U.E.E.N. is Monae's anthem not only for women who want to feel like empowered queens, but for absolutely everybody who feels marginalised or ostracised by society. Without directly parodying current music videos, she still manages to make them all seem ridiculous with her tuxedoes and 60s-referencing aesthetic hearkening back to a classier time. "Categorise me," she dares you at the end of the video in a furious straight-to-camera rap, "I defy every label."

FKA Twigs – Papi Pacify

As Emilie Friedlander wrote wonderfully for The Fader earlier this year, FKA Twigs has been one of the most intriguing artists of 2013 for her subtle yet complex plays on expectations of female beauty (see also: the Water Me video) and sexuality. Here, she creates a video that's as uncomfortable as it is compelling, as a man's hands encase her throat and repeatedly thrust into her mouth, all while she keeps her gaze fixed steadily on the audience. She's overwhelmed physically by his presence, and yet he's the one out of the frame.

Lizzo – Batches and Cookies

Minneapolis newcomer Lizzo drew a lot of comparisons to Missy Elliott with the release of her video for Batches and Cookies earlier this year, taking the "weird rap" crown with a flagrantly fun clip full of food-based innuendo. She even butters up a man's torso. Really.

The Knife – A Tooth For An Eye

In this video a young girl enters a male-dominated realm – the gym. Here a group of men of all ages emerge from the locker room as if for a kick about, and in an unexpected turn of events, she leads them in a dance. Her performance is quietly, calmly powerful, and watching the men move themselves in unconventional and delicate ways is captivating.

Tirzah – I'm Not Dancing

Micachu and Tirzah stole 2013 with this video. Together they wrote one of the definitive tunes of the year, with a hook that aggressively deflects the male gaze – or basically any gaze trying to place an explanation on someone else's self-expression – and a video that shuns most pop video conventions to create something that is plain simple and plain fun. The oversized Ultimate Fighter t-shirt alone says so much about why I love this casual yet powerful video.

Tink – Kilo

"I'm a self-made bitch, don't need no fucking hero," Tink spits ferociously in this stripped-back video for one of her 'Boss Up' mixtape stand-outs, Kilo. Whether she's sitting on a desk in a striped suit and sifting through the dollar bills in her hands, or she's with her crew rapping to camera in a vest and jeans, Tink is unafraid to thoroughly embrace her femininity – with that high-pitched, nasal flow – while at the same time using the exact same status symbols and posturing as male rappers in her visuals.

Planningtorock – Misogyny Drop Dead

If the title doesn't say it all, the funky bassline of the track and the floating mouths of the video make it perfectly clear: performance artist Planningtorock thinks that 2013 is about time the patriarchy basically just got lost. Just as so many women are reduced to disconnected body parts in their music videos, Jam Rostron here floats abstractly as disembodied hands and pouting mouths. But here the emphasis, crucially, is on what those mouths are saying.

Solange Knowles – Lovers In The Parking Lot

Alternative, soft-focus R&B superstar Solange Knowles may or may not be making a comment on the beauty myth as she struts down the cosmetics and wigs aisle of a store in her video for slow jam Lovers In The Parking Lot, but one thing's for sure: as she dances playfully and unpredictably in front of a wall full of steering wheels, you know she's the one in control.

Brooke Candy – Everybody Does

The message of Everybody Does, according to Brooke Candy, is "fuck standards". She said that in an interview with Swide magazine earlier this year, in which she also defiantly referred to herself as a feminist with the explanation, "I feel like women, I say it in my songs, are still sexually enslaved in our minds. Still now, I get called a slut…There should be no double standards and I feel like men and woman are equal and should be treated as that." However you respond to the confrontational sexuality of Candy's video, then, it's clear that the intention behind it is to harness and deploy the power of the female body rather than to demean it. Either way, I'd be pretty terrified to disagree with her.

Nicki Minaj talking about Kendrick's 'Control' verse

Alright, this isn't a music video, but seriously, skip ahead to three minutes, 50 seconds and just listen to Nicki Minaj's take on why Kendrick Lamar didn't mention her in his controversial verse in which he called out every rapper from Drake to A$AP Rocky. In her words: "Maybe he's one of those respectful gentlemen that probably felt like, 'I don't want to say a female's name'…[But] I'm the queen of New York, I'm the king of New York. Let me tell you why. Platinum albums; albums. Plural. Number one in five motherfuckin' countries." Enough said.