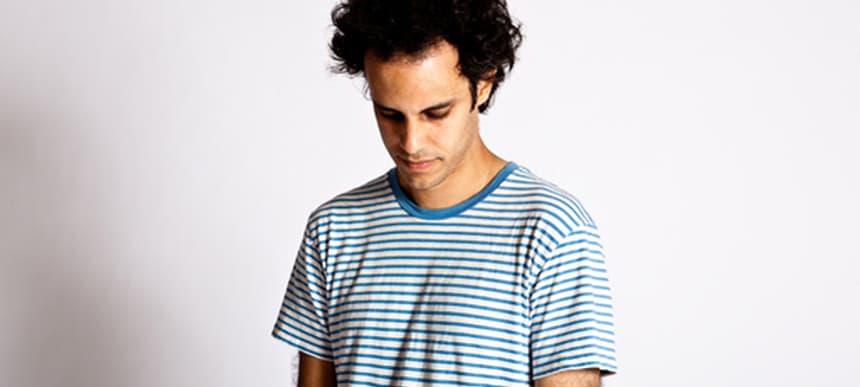 03.10.2013, Words by dummymag
Digging deep: Four Tet's dancefloor impulses
Digging Deep is a series that charts aspects of various artist's careers through deep cuts and lesser known tracks, such as Oneohtrix Point Never's various aliases or Arthur Russell's collaborations. Here, we're looking back at Four Tet's career following the release of new album 'Beautiful Rewind'.
As career trajectories go, Four Tet's seems relatively easy to chart. Starting out as a member of mathy post-rock band Fridge, Kieran Hebden was kept himself busy making music solo on the side. Inspired by forward-thinking samplists like DJ Shadow and Timbaland, he turned out a few psychedelic, downtempo breaks albums like 'Pause' and 'Rounds' under the name Four Tet. These albums touched on genres like jazz, folk, and trip hop, but Hebden had some kind of epiphany in the mid-to-late '00s that saw him drift away from his early sounds and more towards four-to-the-floor, club-focused music on 'There Is Love In You' and compilation album 'Pink'. This is the incarnation that he seems content to live in right now – new album 'Beautiful Rewind' (streaming online as of today) is his most overt dance record yet, its track titles nodding towards the spirit of rave (Your Body Feels) and pirate radio (Kool FM).
It's a straightforward enough career arc, and it is basically what happened, but it's a little misleading. For starters, Hebden himself has always been extremely diverse outside of his own albums, working as a producer for numerous other artists and releasing a string of jazz albums in quick succession with the late Steve Reid. But it's mostly reductive for its assumption that dance music is a direction Hebden only moved in over the past few years, whereas it's something that he has flirted with – occasionally embracing fully – since the '90s, albeit on his own terms. Here, we've looked through his back catalogue for some of the hints of this direction that he has been running through his work from the beginning.
4T Recordings – Double Density (1997)
One of the first things that Hebden released solo was the Double Density b/w Like Siamese Fighting Fish under the name 4T Recordings in 1997, a year before debuting as Four Tet. The single came out on the now-defunct Output Recordings, the home of Hebden's main band at the time, Fridge. Double Density is full of the light guitars and warm textures of the rest of the work he was doing around this time, and while it doesn't have the same sort of weight as anything he's doing now, the rhythms and tempos are far more akin to his current work.
Four Tet – Untangle (2001)
Taken from his 2001 album 'Pause', slo-mo and spacious chugger Untangle clearly isn't a club track in the same way that something like Kool FM is, but it's not hard to trace the thread of four-to-the-floor house beats that connects both tracks.
Four Tet – Sleep, Eat Food, Have Visions (2005)
Following the release of his 2003 album 'Rounds', Hebden found himself victim of lazy journalism, lumped with the reductive genre tag "folktronica". "Everybody was suddenly going on about how I was very connected to folk music," he told XLR8R last year, "I felt it was really missing the point— 'Well yeah, there is a folk music influence there, but no more than techno or hip-hop or soul. What about all those other things going on?' So I wanted to get these other influences back in there…" 2005's 'Everything Ecstatic' was his way of working in these influences without deviating too much from the signature sound he'd established on 'Rounds' – Sleep, Eat Food, Have Visions isn't really a club track but it has the echoes of one, imbued with heavy Roland percussion and the phantoms of acid house.
Sia – Breathe Me (Four Tet Remix) (2004)
Although better known today for her collaborations and songwriting for chart riders like David Guetta, Sia has been around for ages. She occupies the slightly unfortunate position of making for a brilliant remix suject, which is sort of a backhanded compliment, with memorable remixes by Mylo and Wookie ranking as highly as this remix by Four Tet. Here, Four Tet transforms Sia's middling singer-plus-piano formula into emotional, lighters-in-the-air kind of stuff.
Matthew Dear – Deserter (Four Tet Remix) (2007)
Build-and-release is the order of the day here, with Four Tet waiting to introduce a kickdrum for over a good five minutes. Holding back has been a hallmark in club tracks since the very beginning, but there's something about it here – the way withholds for slightly longer than you'd expect – that keeps it from being too typical.

Nathan Fake – You Are Here (Four Tet Remix) (2007)

Hebden

has said that

it was his residency at The End around 2007 that reinvigorated his love of dance music, DJing alongside Border Community artists. This rework of Nathan Fake's

You Are Here

from the same year is a golden track, designed for the "moments" that Hebden was evidently rediscovering the joy of.

Four Tet – Ribbons (2008)
From the 'Ringer' EP onwards, it was clear that Hebden had moved from the jazz-inflected, Timbaland-inspired sample music of before to something far sleeker and more club-primed and was probably not going back any time soon. Some of 'Ringer' is more looping and krautrock-esque than overtly dancefloor-centric, but other tracks like Ribbons are sturdy, locked and bass-heavy, although obviously still very pretty.
Four Tet & Burial – Moth (2009)
One of the biggest selling vinyl records of 2009 and the first of many collaborations between Burial and Four Tet (as is well documented, the two went to school together). This is probably the most successful and had the most impact compared to Nova and Ego/Mirror (which also featured Thom Yorke). Hebden has spoken highly of Burial's sample technique, describing Archangel as "a moment in music that is influencing a whole new generation of producers", and for that same generation, Moth may have acted as their first introduction to Four Tet.
Joe Goddard – Apple Bobbing (Four Tet Remix) (2009)
The success of Moth affected not just Four Tet's output, but his audience. Transitioning from a hip hop tempo to a house one brought with it a fanbase who may not be aware of or interested in Four Tet's earlier work. Built on a flipped Cassie sample, this remix of Hot Chip's Joe Goddard's Apple Bobbing (again, Hebden and Goddard both attended the same school) marked that crossover.

Four Tet – Nothing To See (2010)
Released on a Soul Jazz compilation, Nothing To See has a lot of the typical Four Tet loveliness but it seems the most representive of where he's at now – the shuffling groove it locks into and runs with for its entirety being the typical style of a Four Tet dance track today. It also shows the enjoyment that Hebden seems to have just putting out 12"s with little fanfare – last year's 'Pink' was a collection of previously-released 12" records, and 'Beautiful Rewind', on early listens, doesn't seem particularly interested in being read as an album-as-cohesive-statement.
Text will release Four Tet's new album 'Beautiful Rewind' today (October 3rd).