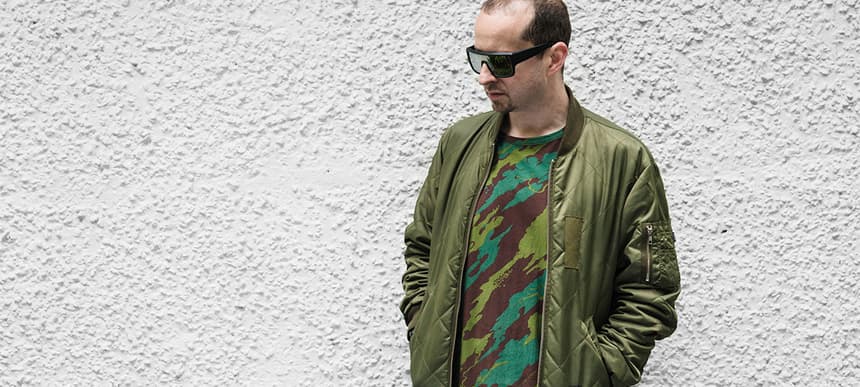 04.11.2015, Words by Natalie /
Kode 9: the music that inspired 'Nøthing'
For almost 15 years, renown DJ and producer Kode9 has been consistently releasing EPs since the mammoth drop of 'Fat Larrys Skank / Tales From The Bass Side' with Benny Ill and The Culprit in 2002, appearing on his own imprint Hyperdub and external labels such as Soul Jazz Records, Tempa and !K7. Forthcoming on Hyperdub, 'Nøthing' is Kode9's debut solo album, which is pretty hard to believe. Two albums came before this – 'Memories of the Future' in 2006 and 'Black Sun' in 2012 – which were both made with his late long-time friend and collaborator The Spaceape, who sadly died in 2014 after a prolonged battle with cancer.
The Glasgow born, London native lifts one very heavy weight from his shoulders with 'Nøthing', which is an album which trips between the sublime sounds of Japanese ambient infused Wu Wei to the heady bombast of footwork and post-dubstep inspired tracks, like the apocalyptic B-Movie horror-soundtrack shades of Respirator, the gulpy surrealness of Zero Work or the thrill of the chase on 'Notel'. For people who have followed Kode9's career closely over the last two decades, 'Nøthing' is the cherry on the cake of his productions.
Kode9 is also developing a live a/v set alongside Lawrence Lek, which is due to tour next year. Hotel, Notel, Holiday Inn…the set will revolve around an evacuated luxury hotel 'The Notel', which in the trailer above sort of looks like a computer game combat zone set in the midst of W Hotel. Pair it up with the soothingly macabre sounds of Notel from the album, and you're in for a pretty eerie overnight stay.
To mark the forthcoming release of 'Nøthing', Kode9's cites the tracks, albums and mixes that held influences over the album and that reflect its acutely varied palette; including the soundtrack to solitary confinement shocker The Shining (quick stay at Notel anyone?), an album by Yellow Magic Orchestra's Haruomi Hosono and his introduction to South African DIY scene gqom by label-mate OKZharp.
Read, click, like, share…and most of all, make sure you get your hands on 'Nøthing' this Friday November 6th.
01. Wendy Carlos & Rachel Elkind Theme from The Shining (1980)
Kode9: "Sometimes I think this was playing in the hospital at the moment I was born. Occasionally I start my DJ sets with this track. And then follow it immediately with Ludicrous's IDGAF. Every DJ needs filter tracks to evacuate the room of fools, cleanse the air or set up some drama. This is one of my favourites."
02. Philip Glass Koyaanisqatsi (1982)
Kode9: "Probably the film I've listened to/watched the most. I used to teach with it every year as an example to students of how they can often communicate more by keeping their mouths shut. I remember hearing/seeing it in the mid '80s, and for the first time realising the objective fact of socio-technical acceleration, even though the film itself is one long lament about this. Love the long form, wordless, arc of the soundtrack, and coupled with the first time-lapse film I'd seen, this totally rewired my brain."
03. The Spaceape 'On the Run' (2013)
Kode9: "My friend was channeling all kinds of demons on this self-released and curated EP back in 2013. This is my favourite Spaceape release I didn't work on. He chose Haitian percussion to flow over on this mixtape, and it brought something new and delirious out of him. Recorded in the midst of exploring non-traditional medicinal healing approaches to the battle with cancer which he ultimately lost in 2014."
04. Ryuichi Sakamoto Esperanto (1985)
Kode9: "Incredible fourth world music that never ceases to inspire me. Originally written for a ballet performance, this turns out to be an album that never ages with its very particular collision of bells, mallets, synths, cut-up samples and indecipherable voices. I'm still pretty sure Rain Song is one of the musical pinnacles of human history."
05. DJ Rashad 'Just A Taste Vol.1' (2011)
Kode9: "This features one of the most powerful and moving tracks from the late, great DJ Rashad, Ghost, which actually refers to a specific, gliding dance move in footwork. When the track samples Kanye sampling Diana Ross's words "I'm still dreaming", Rashad works some magic that produces instant goosebumps. For me it's probably his best EP, which also includes the amazing Love U Found. A reminder that as well as banging in the rave, his music had more emotion built into it than vast swathes of electronic music."
06. Bruton Music 'Futurism: Aesthetic Movement Pointing the Way to the Future' (1981)
[Not on YouTube – find it in the real world]
Kode9: "I picked up this dreamy library record from a shop in Istanbul, while record shopping with the singer Ahu. Obviously I bought it purely on the basis of its title, but it's pretty much all '70s era jazz fusion. I sampled Prospect on the 'Nothing' album track Mirage, mainly because it reminded me of Sakamoto's soundtrack to Merry Christmas Mr. Lawrence.
07. Spencer Doran Fairlights, Mallets and Bamboo Vols.1 & 2
Kode9: "My favourite mixes of the last 5 years. Introduced me to so much Japanese electronic music from the mid-80s by the likes of Hosono, Sakamoto, Miharu Koshi, Logic System etc. I did my own two hour version on the Hyperdub Rinse Show in October."
08. Haruomi Hosono 'S-F-X' (1984)
Kode9: "Brilliant electronic pop album and miles ahead of its time from the Yellow Magic Orchestra member. Still sounds fresh today."
09. Oneohtrix Point Never 'Replica' (2011)
Kode9: "My favourite album by Daniel Lopatin – so rhythmic, detailed, loopy and packed with ear worms. It had a big influence on my tracks like Pink Sham Pain that I made last year, none of which made the album when I started from scratch at the end of 2014."
10. Rudeboyz Sagwinya (2013)
Kode9: "First gqom track from Durban that really hooked me after being introduced to the music by Okzharp during a trip to South Africa in 2011 with Scratcha DVA. It was a big influence on the track Zero Work on 'Nothing'."
Kode9's debut solo album 'Nøthing' is due for release November 6th on Hyperdub (pre-order). Kode9 plays Corsica Studios alongside DJ Spinn, Scratcha DVA, Ikonika and more on Saturday November 7th for the 'Nøthing' launch, hosted by CS13 (tickets).