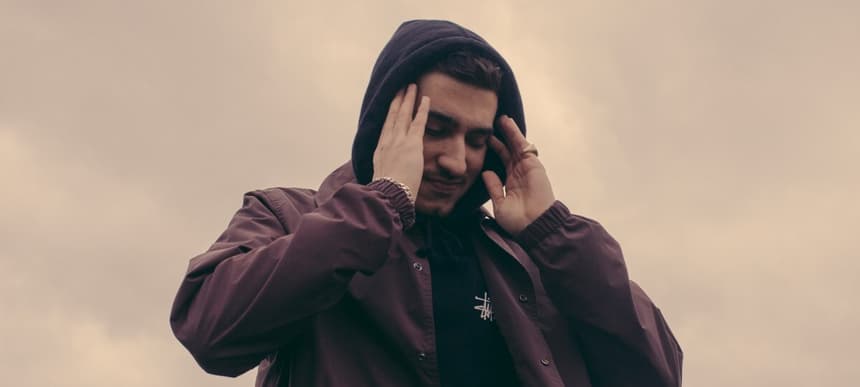 29.06.2016, Words by dummymag
The 10 beats you should listen to now, according to JD. Reid
Definitely not one to shy away in the shadows, DJ and producer JD. Reid has previously released a string of production-focussed EPs – including a release on Plastician's Terrorhythm imprint, a feature on Soulection x Stussy's 2014 compilation, a collab with grime wunder-kid Faze Miyake, and tracks on Astral Black's 'Frass FM' compilation series. Last year he teamed up with London rapper ItsNate for a joint release, 'ME+1' on Astral Black, which they spoke to us about on WhatsApp.
In advance of his set at Lovebox in a few weeks, we caught up with JD. Reid for a lowdown on what he sees as some of the most essential tracks right now. He adds, "Some of these are old and some new, but they're 10 beats that definitely should be heard."
Read through JD. Reid's selections below.
P. Morris Lunette [incomplete]
JD. Reid: "This ones a listening experience – atmosphere meets 808s."
Tek.Lun Jabberjaw Jungle
JD. Reid: "He's got a lot of heaters but this is one of my favourites from Tek.Lun. Neck snapping music."
Sango Agorinha
JD. Reid: "This ones taken from Sango's 'Da Rochinha 3' project. This is that recognisable Sango style, with vibes all round."
Denzel Curry Ultimate (Mike Gao, Promnite, EUREKATHEBUTCHER and IAMNOBODI remix)
JD. Reid: "Allstar line up on this tune. This is a dope take on an already sick track from Denzel Curry – it's melodic but still goes hard at the same time."
Noo-Bap ?????????????
JD. Reid: "One the wonkiest and hardest beats I've heard. The Gucci Mane acapella over the top gasses it up even more. Noo-Bap's a g for this one."
Scratcha DVA Take It All
JD. Reid: "This is taken from DVA's new release on Hyperdub. Scratcha makes a lot of crazy music and this is a good example of that. Love those chords over that bassline."
Franjazzco Kush Loud
JD. Reid: "It might take you sec to find the rhythm in this, it but when it sits in it's crazy. The chords in the strings remind me of some old jungle stuff too."
Creep Woland Gunpack'n
JD. Reid: "Scottish Creep Woland went in on this. It sounds like a Three 6 inspired grime tune. Every element in it contributes to the nod."
Herzeloyde X Montell 2099 You
JD. Reid: "Australia and New Zealand link up. I love how the drop kinda rolls in on this track. It's glitchy, weighty and has some really ill chords and melodies. Both producers have a lot of good music worth checking out."
Flying Lotus Zodiac Shit
JD. Reid: "One of my favourites from one of the best to do it. I remember seeing him play this song at Lovebox a few years back with the double screen visuals he was doing at the time, and it had me fully zoned and immersed in the music. This one is inspirational."
JD. Reid plays Lovebox, which takes place July 15-16 on Victoria Park, London (info).