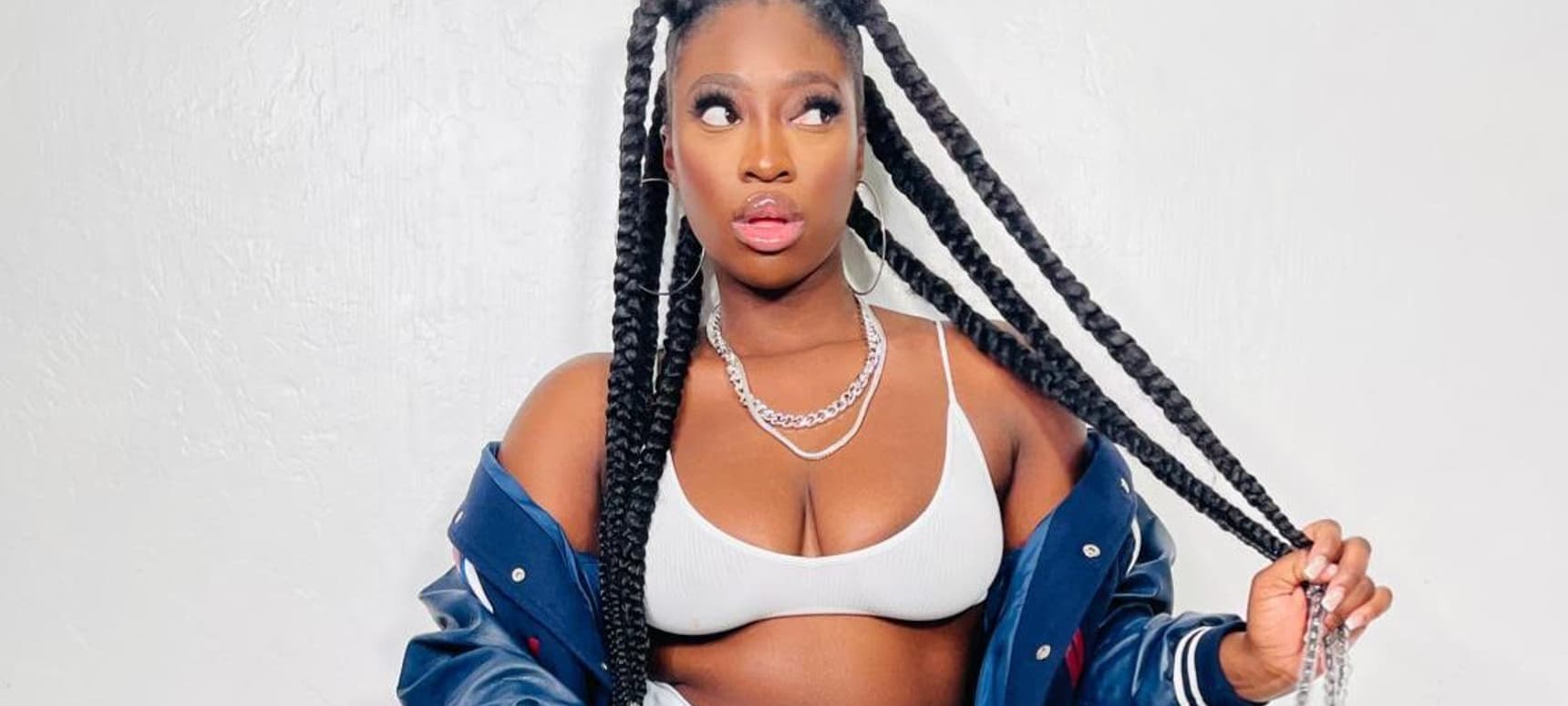 12.07.2021, Words by Maisie Goulsbra
The 10 Best African Rising Artists, according to ShaSimone
"Vibes for every occasion"
East London's Shasimone is one of London's most exciting and talented rappers and follows up acclaimed single 'No Chaser' with fresh new drop 'Back To Sender'.
ShaSimone is consistently hard-hitting with her natural ability as a lyricist, so its no surprise she's already been placed on No Signal Radio's playlist, New Music Friday and Apple Music's coveted UK Rap playlist, and racked up support from BC R1 Xtra's Snoochie Shy and Kiss Fresh.
On 'Back to Sender', ShaSimone disperses clusters of syllables over an affirmative Afrobeat tune with a brass-synth hook. Her phrasing and bars – "Anything they wish me, back to sender", will linger in your memory for a while because you'll have 'Back to Sender' on repeat all summer.
ShaSimone travelled to Ghana's capital Accra, to film the video for 'Back To Sender' which features people of all ages, some of whom mash fufu, some of whom pose and some of whom get down and boogie with ShaSimone herself.
Shasimone is a huge supporter of African talent and below shares The 10 Best African Rising Artists.
1. King Promise
"He has a great voice and keeps true to his Ghanaian heritage. Feelgood vibes for when you're spending time with a loved one."
2. Wizkid
"Creates vibes for every occasion, brings out the best in African music with his selection of beats and feel good catchy hooks. The last album 'Made In Lagos' is an absolute masterpiece that I'm sure most of us have had on replay since its release and will be one of those albums we'll listen to in years to come."
3. Burna Boy
"The best all rounded African artist from his image to the music. Burna Boy is extremely talented with his pen game and melodies and it's always good to learn something about either African history or Nigerian history when listening to him and the message he puts out."
4. Tiwa Savage
"Probably in my opinion the Queen of Afrobeats. Incredible voice with the confidence to match, Tiwa brings out the African queen in us all."
5. Kwesi Arthur
"Luckily had the chance to meet him whilst in Ghana shooting 'Back To Sender'. He has a very distinctive voice that I like and I love how he blends Afro with current styles like on 'No Title' with the 808s."
6. Darkovibes
"I really enjoyed 'The Cornerstone' album. It was a nice chilled album that I always listen to from time to time, kind of like a Bryson Tiller Trapsoul of Afrobeats to me that you can always go back to over and over again."
7. La Même Gang
"La Même Gang are nothing but vibes, really enjoy their videos and enjoy how they come together as a collective. Their sound really appeals to me and I love how they experiment with sounds in their music."
8. Busiswa
"I first discovered her from a track she did with DJ Zinhle – 'My Name Is', and I'm always amazed by her powerful vocals. I'm really enjoying South African music at the moment and it's great to see it becoming more popular now especially with the Ampiano sound. Her feature on Naira Marley's 'Coming' song is absolute class and her part always gets me going. It was also good to see her on the Beyonce 'Lion King' album on the 'My Power' track. She has a lot of energy and always brings the songs to life!"
9. Efya
"Efya's voice is just so soothing, I absolutely love her! First heard her on the 'Skin Tight' record by Mr Eazi and haven't looked back since. I loved her performance at the MTN Music Festival including her performance of one of my favourite tracks of hers 'Best In Me'. I love her confidence and the soul she brings to her songs."
10. Bisa Kdei
"He has a great voice and really has vibrant songs that just puts you in a good mood."
Watch Shasimone 'Back To Sender' below:
Read next: The 10 Best Electronic Tracks from the African Diaspora, according to KG