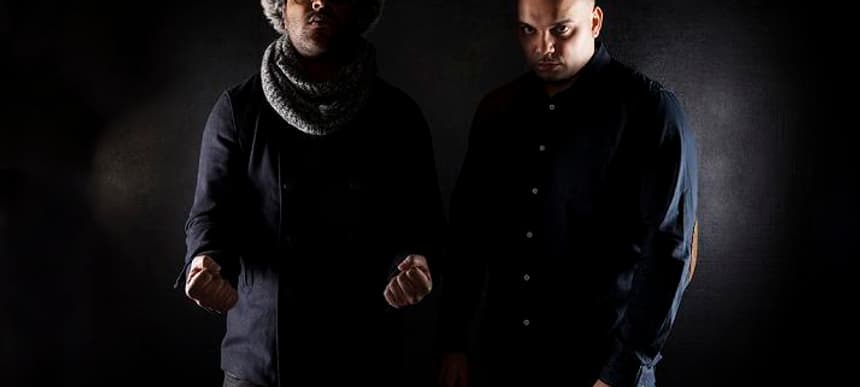 18.03.2014, Words by dummymag
The 10 best Afrobeats songs, according to Donae'O and Carnao Beats
Donae'o and Carnao Beats, both decade-plus veterans of the dance music scene in the UK, are setting up to release Gone In The Morning, a collosal deep house track that has already been popular in clubs for the best part of a year.
As good as that tune is, however, you probably don't need telling that house is back in vogue right now. Instead, we took the opportunity to draw on the pair's shared wisdom and look a little to the future with Afrobeats, a catch-all term for new pop music being made across Africa (though mainly in west Africa) and by diaspora populations worldwide which – with massive events held across the UK, prominent co-signs, and early star names of its own like Fuse ODG, D'Banj, and Capital Xtra's lead DJ Abrantee – looks set to be the next black genre to find success in the pop charts and, crucially, one likely to do so largely independently. If you don't know, now you do.
Sarkodie ft E.L – U Go Kill Me


Donae'O: "I love this record. It was the first of a few that helped Afrobeats blow up in the UK, and which led to the chart success of D'Banj's Oliver Twist."


E.L – Obuu Mo


Donae'O: "This is wicked; Afrobeats fused with Funky House. I love the way that E.L attacks this record. His flow is very unique and catchy. He's one of my favourite Afrobeats producers/artists."


‪D'Banj– Oliver Twist


Carnao Beats: "This was the first Afrobeats records that charted in the Top 10. D'Banj also started working with Kanye West, which is also a huge achievement. He is one of the current heads of the scene."


Fuse ODG ft. Wyclef Jean – Antenna​


Carnao Beats: "This is my favourite tune from Fuse. It mixes his catchy melodies with his creative lyrics. I've always thought he was destined for great things, and I think he is the perfect representative for UK Afrobeats. Managing to get Wyclef Jean on the record further proves this."


Moelogo – The Baddest

Donae'O:

"I heard this the other day and the beat is crazy. The vocal and melody is too much! I love this, and the fact that

Giggs is featuring on the remix

just tops it off, and shows that the UK has embraced Afrobeats fully in the underground and in the mainstream."

R2bees ft. Wizkid – Slow Down


Carnao Beats: "Wizkid is one of my favourite artists, and one of the leaders in the Afrobeats scene. Plus, he bigs up woman from Ghana, so you gotta love that."


Fuse ODG ft. Sean Paul – Dangerous Love

Donae'O: "Fuse has done it again, moving onwards and upwards and fusing (no pun intended) Afrobeats and Bashment together with another global artist. I'm sure this record is going to take Fuse to different heights."

Tiwa Savage – Kele Kele


Carnao Beats: "I've always thought that this record could have blown up worldwide, and I think it still has a chance of doing great things."


Weray Ent ft. Skob, J.O.A.T, Tribal Magz, Vibe Squad & Gizmo – ChingChangWallah


Donae'O: "After Fuse ODG's Azonto, this was the other UK Afrobeats record that blew up and showed that the UK scene could become something special."


Mista Silva ft. Skob, Flava & Kwamz – #BOOMBOOMTAH


Carnao Beats: "Mista Silva is one of the rising stars in the UK Afrobeats scene. This guys just has star quality written all over him, and this tune is just a smash."
Zephron release Gone In The Morning on May 4th 2014.