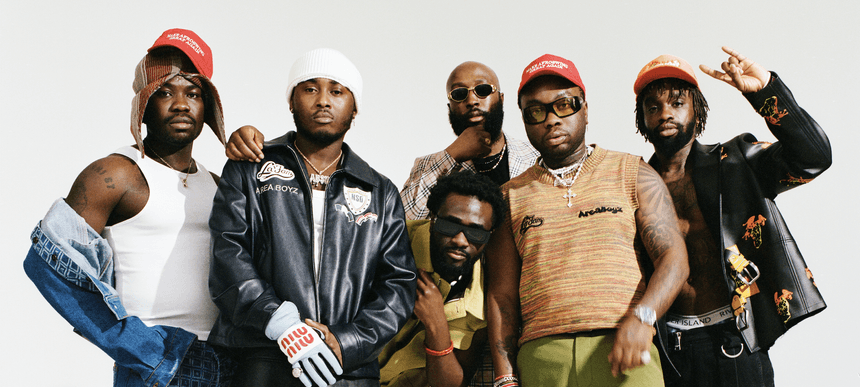 24.07.2023, Words by Billy Ward
The 10 Best Afroswing Tracks, according to NSG
"This song had everyone kicking their feet to the left..."
2023 marks 10 years of NSG - the pioneering six-piece music collective from East London who have made scaling the UK charts a habit in recent memory. Reflecting some of the most exciting components of the current UK music scene - a lively diasporic Afro-fusion sound and a larger than life personality - in everything they do, NSG are up there with the very best. 
Their latest single 'RIDE,' featuring Nines, comes hot on the heels of last week's sold-out 'Make Afroswing Great Again' show, which saw NSG teaming-up with JAE5, Steel Banglez and Dankie Sounds to bring together some of the scene's hottest and most influential acts such as Tion Wayne, Kojo Funds, Young T & Bugsey, Darkoo and more. The momentous night marked the influence of Afroswing in music; from the genre's development in the 2010's to the global impact of the genre today. 
In celebration of the new single, and remaining in line with the group's 'Make Afroswing Great Again' movement, DMY sat down with NSG to run through some of their favourite tracks within the genre. 
1. Timbo feat. Mover - 'Ringtone'
"This was a culture shocker! It really helped people to understand that rap and Afro elements can co-align together."
2. Naira Marley - 'Marry Juana'
"This was viral before the term become a mainstream word. The song allowed Naira to show people his talents and go global as a result."

"Cold and unique! Merging of UK and Afro culture and Jae5 on production so you knew it was going to be a crazy collaboration. One of the staples of the scene."
"A song that made everyone get up and sing along in any function which you attended at the time. We had Not3s join us for a performance at our Make Afroswing Great Again Show in London last week."
"All credit to B Young - to take a popular film title and turn it into a world-wide song was a smart move. The song showcases his raw talent."
6. Darkoo feat. One Acen - 'Gangsta'
"This song had everyone kicking their feet to the left. Viral before it even came out and showcased Darkoo and Acen's talents."
7. NSG feat. Tion Wayne - 'Options'
"An organic link up that was meant to happen and when it did, it just made sense and the world reacted to it the same way we did. A Classic! Tion was also one of the surprise guests at our Make Afroswing Great Again Show."
8. Dave feat. Burnaboy - 'Location'
"Bringing UK and Nigerian Culture together perfectly. One of the many overseas link ups that the genre managed to gain and it clicked with various audiences across the globe."
"What can we say. VIRAL! Had everyone and their families bopping around the world up til now."
10. NSG feat. Nines - 'RIDE'