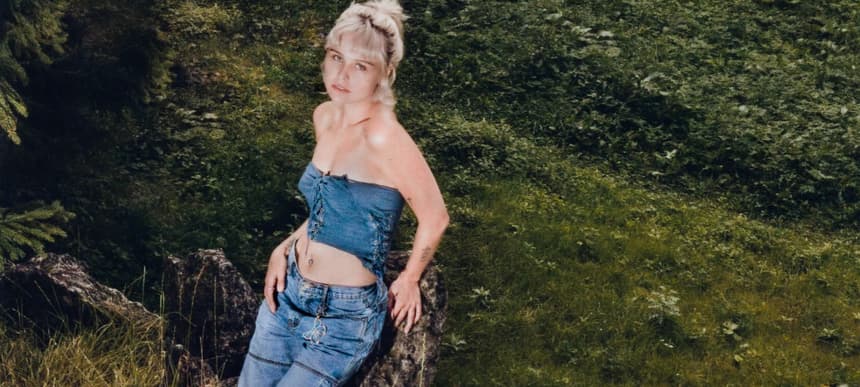 28.06.2023, Words by Billy Ward
The 10 Best Tracks For A Late Night Road Trip, according to Kedr Livanskiy
"Open the window wider, let the fresh wind walk around the interior of your car..."
Moscow-born singer and producer Kedr Livanskiy has a remarkable knack for world-building: her rich compositions envelop the listener (and herself) in a dream-world that has become increasingly necessary over the past three years. Being Russian and one of the most visible members of its underground electronic scene, the double-whammy of COVID and war sanctions has been hard on the artist - despite making her anti-war sentiments public. 
Inspired by the likes of Dean Blunt, Arca and Aphex Twin, her recently released EP 'K-Notes' is an expert fusion of drum and bass, trance and alt-pop anchored by Kedrina's signature crystalline vocals. Feeling at once nostalgic and remarkably current, Livanskiy filters today's UK revivalism through her own unique lens, shaped by her upbringing in Russia's underground music scene and her personal love of early electronic and alternative music. 
Something of a cult figure in Europe's underground music circles, Kedr has spent her fair share of time on the road and has pieced together her perfect playlist for such an occasion. To mark the release of K-Notes, we sat down with Livanskiy to run through her ten favourite tracks for a late night road trip. 
1. Kosaya Gora - 'Motorcyclists Die'
"Imagine that you are driving along the highway to nowhere, this road without beginning or end, this is an endless loop, and an unending bad trip. How do you like this journey through the liminal nooks and crannies of your soul?"

2. DJ Armok - 'Don't Let This Be Your Deathwish'

"There should be something a little otherworldly in this playlist, like thousands of invisible eyes are watching you from the wilderness of the night, but this beat rocks you. It's dungeon rap, man."
3. Flaty - 'Declare Day Whom To Sleep'
"The dawn is about to rise, this is the most magical moment of the end of the night: when the angels descend to earth, carrying the virgin first light. And you drive into this new morning of hope, dispelling the remnants of darkness with a car wing."

4. Boards of Canada - 'Hiscores'
"A systematically developing loop seems to be the best design for a night trip in a car, it repeats the patterns of changing trees and fields merging into one mass, seeming somehow indistinguishable from each other at night, like an endless fractal loop."

5. Sun Electric - 'R-Gent'
"The Night World has stopped, open the window wider, let the fresh wind walk around the interior of your car, let it sing along to this ambient track, your soul is resting."

6. Hype Williams - 'The Throning'
"It's already the fifth hour of the journey and it seems you can easily fall asleep. Turn on the Hype Williams, he will wake you up, like an old friend sat in the passenger seat."

7. Billy Idol - 'Eyes Without A Face'
"It seems you can't get past this hit, because he himself is a cast of the romance of the night, these synths seem to be created to emphasise the melancholy of the night trip."

8. Kassem Mosse - 'Workshop 32 A1'
"This track concentrates and relaxes at the same time, these measured details make the tired body dance a little, diluting the monotony of the path."

9. Juan Atkins - 'Lightyears'
"Detroit techno is the best soundtrack for a night trip on a lonely highway, it does not overexcite the quivering night ear, but also does not let you fall asleep."

10. Angelo Badalamenti - 'Twin Peaks Theme'
"The soundtracks to Lynch's films are an endless journey into the night and into yourself."

Stream Kedr Livanskiy's latest EP 'K-Notes' below: