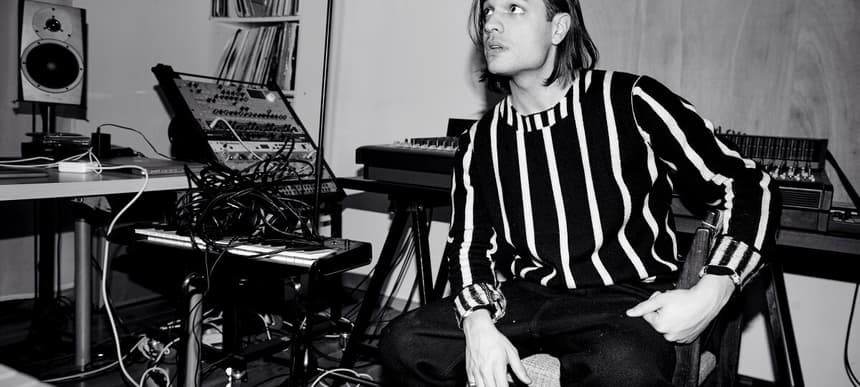 09.10.2015, Words by Natalie /
The 10 best 'back to mine' after party tracks, according to Argy
Greek native Argy is on fire. After a busy few month's releasing his 'Dominonation' EP and subject remix package with MAMA on esteemed label BPitch Control, the Berlin based DJ and producer is taking to the road again. After spending a summer as the headline resident at Sankeys Ibiza's famed roadblock-causing Tribal Sessions perfoming alongside Robert Hood, Scuba, Levon Vincent and Gerd Janson; Argy is picking up where he left off, returning to colder climes next week to take control of the decks at London leg of Tribal Sessions at Fire in Vauxhall and The Haunting at Rainbow on October 31st.
Blistering club domination in mind, we're reminded it's almost the weekend: which generally means going to a darkened club, staying up too late, forgetting your name, and maybe ending up back at an unknowns flat (who reckons he's your best mate) clutching a lukewarm can of pilsner. As a DJ who has spent the whole summer walking out of clubs and into the early morning sunshine, Argy was pretty well placed to run with this list. Enjoy a run through below and don't forget to get in on standby for your 4am return later.
01. Manuel Gottching Deep(er) Distance (Joe Claussell remix)
Argy: "One scenes master meets another scenes master. A beautiful space in sonic universe where these two finally meet. If you feeling a little bit trippy and cosmic after a night out, this is bliss."
02. Maxwell Whenever, Wherever, Whatever
Argy: "My friend and cool as hell Maxwell. This is one for those times you meet someone special at the club and you end up back home thinking what to text them."
03. Erykah Badu Next Lifetime
Argy: "This live version of Badu's Next Lifetime is perfect listening if you met a stranger that night and missed a connection."
04. Ryan Adams New York (Live on Letterman)
Argy: "I used to listen to this a lot while based in NYC. I prefer this piano live version to the original, it used to be my West Village soundtrack."
05. June Lost Area (DJ Sprinkles Lost Dancefoor)
Argy: "This jam came out on my label years ago and it will never get old. Huge closing track by incredible musicians."
06. William Basinski d/p 1.1
Argy: "Avant-garde nights with this great man – endless looped recordings make up an ambient paradise."
07. Aphex Twin Xtal
Argy: "One from Aphex's selected ambient works, wherever you are – whoever you are."
08. Grouper Dragging A Dead Dear Up A Hill
Argy: "This whole album is magic. It came out on Type records and ever since Grouper is a 'back to mine' favourite."
09. JJ Cale Magnolia
Argy: "Good old JJ Cale – he makes timeless music – so pure. A mature gentleman's lullaby."
10. Bruce Springsteen I'm On Fire
Argy: "This is great after a whiskey night in Berlin. Painfully short original version."
Argy plays Tribal Sessions at Fire on October 16th (info), followed by The Rainbow Haunting on the 31st of October (info).