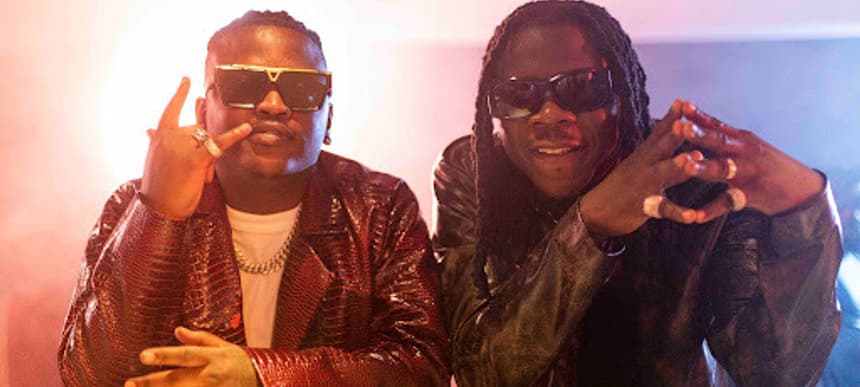 14.10.2021, Words by Maisie Goulsbra
The 10 Best Amapiano Tracks, according to Stonebwoy
"Smash hit, crazy melodies, and feel-good vibes here again. Be High!"
Known to some as the reggae and dancehall king of Africa, multi-faceted artist Stonebwoy is a Ghanaian afropop and dancehall superstar, actor, as well as a global ambassador for sanitation. Born Livingstone Etse Satekla, from the Volta region of Ashaiman, a suburb of Accra – in 2015 Stonebwoy won Best International Act: Africa category at the BET Awards, and Artist of the Year at the 2015 Ghana Music Awards. He's touring the UK in November with dates in Manchester, London and Birmingham after last year releasing his fourth-studio album 'Anloga Junction', which earned him a place in the Billboard World charts.
His career has seen him collaborate with Sean Paul, Trey Songz, Burna Boy, Davido, Kranium, Chris Martin, Samini, and Keri Hilson amongst others, and the trailblazer's latest venture has involved hooking up with amapiano sensation Focalistic on new single 'ARIBA', which comes with a brand new music video. Zulu for 'the pianos', amapiano is a sub genre amalgamated from house, jazz and afrobeats that emerged from South Africa and has taken the world by storm ever since it was coined, shaking up sound systems and moving hips far outside of its place of origin. Stonebwoy has selected his top 10 of the genre's tracks especially for Dummy. Find out below.
1. Focalistic ft. Vigro Deep – 'Ke Star'
"Foca is my boy but asides from that he is super talented, he really brought something unique and distinctive to Africa… Ke Star was definitely the right kickstart to a new era!"
2. Stonebwoy Ft. Focalistic – 'ARIBA'
"This is my own song but I can't lie, it's a banger if you ask me! ARIBA (as im well known for) is a combo of different sounds in a quest to further connect different cultures."
3. DJ Tarico & Burna Boy – 'Yaba Buluku'
"I can't say I understand this one totally, but the energy the song gives off is insane! It just makes you feel good – definitely in my top ten."
4. De Mthuda ft. Sir Trill & Da Muziqal Chef – 'Abekho Ready'
"The title says it all, simple BUT not basic, one thing about me is… I'm gonna dance! This is one of those ones that force you into that top mood."
5. De Mthuda ft. Sir Trill & Da Muziqal Chef – 'John Wick'
"For me, the drum pattern is an absolute winner! It reminds me of traditional Ghanaian sounds, you feel good like you want to party but at the same time you feel easy."
6. DJ Cleo ft. Bucy Radebe – 'Gcina Impilo Yam'
"First of all it is nice to see another African (sister) with such a huge hit; soothing but steady, the music video is also really refreshing to watch continuously."
7. D-Black ft. Quamina MP & Stonebwoy – 'Enjoyment Minister'
"This one is deffo one of the biggest to come from the Western side of Africa. D-Black has been a good long-time friend and Quamina is a super talented fast riser!"
8. Dj Kaywise ft. Phyno – 'High Way'
"I was in Nigeria in April and this song was everywhere! It spread like a virus. The hook and chorus are crazy Afrobeats x Ampaino… It can't get any better! S/O Phyno everytime!"
9. Adekunle Gold & Davido – 'High'
"Shout out to my Naija brothers Adekunle & David on this one real smash hit, crazy melodies, and feel-good vibes here again. Be High!"
10. Junior De Rocka & Lady Du ft. Mr JazziQ, Mellow & Sleazy – 'Catalia'
"The intro on this one gives you time to warm up and get into your element, the instrumentation has a crazy array of flavours… It's deffo something I would ride!"
Listen to 'ARIBA' here or watch below.
Read next: The 10 Best South African Electronic Artists, according to Toya Delazey.