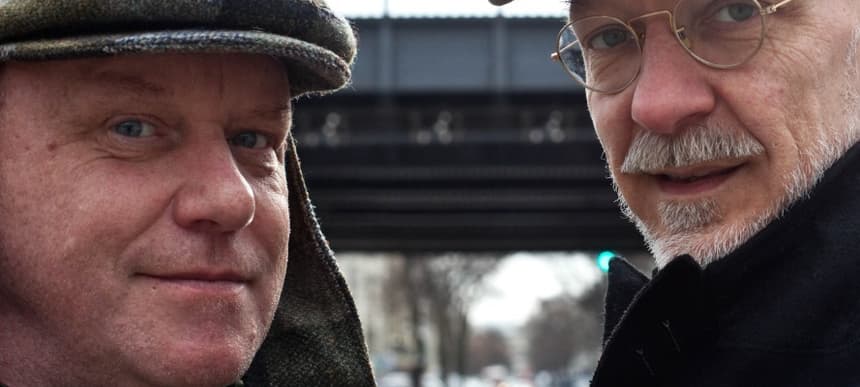 27.09.2013, Words by dummymag
The 10 best ambient tracks, according to The Orb
The Orb are celebrating 25 years of existence next month with the release of 'A History Of The Futre', a new boxset for Island Records that takes in their classic tracks and remixes, as well as a live performance and live DVD. They'll also be touring around the UK on a massive 19 date jaunt. Ahead of the release, Alex Paterson and Thomas Fehlman have chosen their 10 favourite ambient tracks for Dummy – five between each of them.
Steve Reich – Music For 18 Musicians
Alex Paterson: "This is an hour long piece composed by Mr. Reich. I saw this live seven years ago in London. The best ever marimba music you will witness, and it's perfect for birthing to as well."

Brian Eno – Always Returning
Alex Paterson: "It's taken from the film For All Mankind, where The Orb sourced the astronaut spoken words on Back Side Of The Moon. Always returning to this Eno tune. The whole album is a lesson on making music for other worlds."
Novisad – Sommersonnenschein
Alex Paterson: "Scratch and bring in the new school, with loops and magnetic sounds of the past, created to listen to in the future, played today. That sad melody that bounds inside the ears of the mind, repeating and yet never ending."
Ulf Lohmann – Java
Alex Paterson: "This is godlike. Sleep counting sheep, terrapins, little fishes, tiny elephants and huge teddy bears while the beat never appears and you never noticed it finishing. Not to be confused with Java by Augustus Pablo."
Teebs – Track 04 [from 'Cecilia']
Alex Paterson: "This is music for the future. Buy the album, smell the coffee, clean the flat and thank the Lord we are almost alive. Music to read Philip K. Dick to – if they make a film of VALIS, The Orb would love to co-write the music with Teebs."
Kraftwerk – Ruckzuck
Thomas Fehlman: "They were the originators of so many things, weren't they? Love those 'lost' first three albums by them. Still very curious as to why they neglected these…"
Sun Electric – Entrance
Thomas Fehlman: "Glorious stab from the past. The nice thing about ambient is that it continually invites you to create the future."
GAS – Zauberberg
Thomas Fehlman: "Proof of how deep and emotional conceptual music can go. Inventive and groundbreaking, and a fantastic example of taking creative sampling a step further."
Fripp & Eno – 'No Pussyfooting' [album]
Thomas Fehlman: "Remember scratching my head when I heard this first. It has been a good companion over the years as a signpost for simplicity and beauty."

Miles Davis – In A Silent Way
Thomas Fehlman: "Proto ambient at its best. Always come back to this and it never ceases to excite me."
Listen to The Orb's exclusive mix for Dummy here.