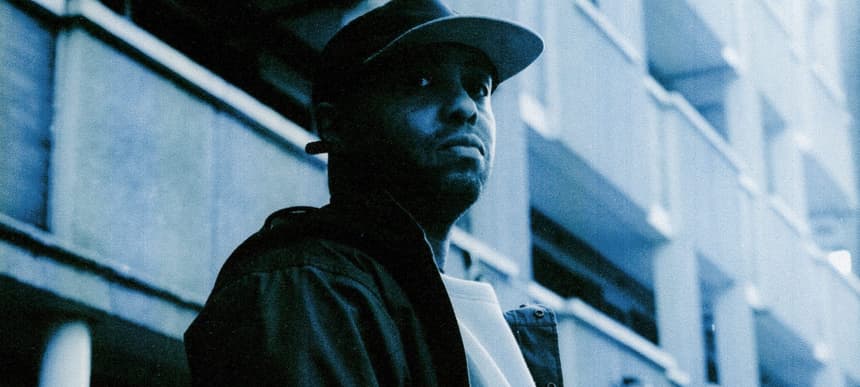 31.05.2022, Words by Billy Ward
The 10 Best British Jazz Exports Of The Last 20 Years, according to Ben Marc
"We studied so much going through most decades in jazz history..."
Rejecting the status quo surrounding jazz by splicing it with elements of house, classical, spoken word and electronica, London multi-instrumentalist and producer Ben Marc's brand of music is about evolution rather than revolution. While helping to anchor the genre into the future with his eclectic new album 'Glass Effect', out last month on Innovative Leisure, Marc is emerging from the underground as one of the UK scene's most creative talents.
It's rare to come across someone that can link Radiohead's Jonny Greenwood, Ethio-jazz pioneer Mulatu Astatke, Afrofuturists Sun Ra Arkestra, and grime legend Dizzee Rascal, but Marc has long criss-crossed boundaries as he blurs the lines between musical worlds. As much a student of jazz as he is a composer and a fan – and in celebration of his new album – we got Ben's opinion on the UK's finest jazz exports of the last 20 years.
1. Soweto Kinch – 'Jazz Planet'
"Soweto Kinch is a legend in the game….he is the first jazz artist to fuse rapping with his jazz composing skills. Plus he can burn on a jazz standard playing sax equally well as on a freestyle. On this record Soweto flips the script and asks, what if the planet we live on was a jazz planet? Dope lyrics."
2. Steve Williamson – 'Pf Fat Time' feat. Black Thought (The Roots)
"It was not normal to get a collaboration like this coming from a UK jazz musician. When The Roots were at its heights and still growing, Steve Williamson managed to get the god father of rap, Black Thought on his record. Pure genius…and the groove is so sick. The snare just bangs!"
3. Robert Mitchell's Panacea – 'Witness II: A Blues Future'
"Robert Mitchell came out of the Tomorrows Warriors movement led by Gary Crosby. This record shows articulation, creativity, groove and syncopation. Robert is a master at playing in odd times but makes it feel so easy with piano lyricism."
4. Empirical – 'The Two-Edged Sword'
"I was lucky enough to have 5 years playing with this group and we studied so much going through most decades in jazz history, just freaking out on individuals and bands alike. This track, and the music they continue to write, has all the elements of a well knowledgeable and accomplished band. Empirical are a fantastic export for British jazz, boosting some of the finest musicians."
5. ZED-U – 'Night Time On A Middle Passage'
"This band has Shabaka Hutchings in it and it shows his creative improvisation skills on the tenor sax. It's a downtempo track with much room for space, leaving room for various creative sonics. The drummer is Tom Skinner who followed him into the band Sons of Kemet."
6. Kit Downes – 'Castles Made of Sand'
"I was lucky enough to play with Kit and he was a child star from an early age. He was quick to grasp rhythm and harmonic progressions. This composition shows the fluidity among his group, playing a song people might recognise. An ECM style track but so British."
7. Acoustic Ladyland – 'Remember'
"They are one of the first bands in recent times to say: 'I want to do it my way or it's nothing at all'. They would effortlessly flow from jazz, to rock, to free jazz and back again with some sick grooves in between. It was so refreshing to hear them live, plus all the musicians are total masters on their instruments."
8. Mark Kavuma – 'Into the Darkness'
"Mark also came through Tomorrow Warriors and is absolutely smashing the scene right now. You can find him hosting jam sessions at Ronnie Scott's once a week, and by listening to this record you can hear why. Experience beyond his age. Total purest with a hint of modern vibes."
9. Daniel Casimir – 'Boxed In'
"I love Daniel's playing. He is such a nice guy but you can tell that by the music he writes. It's so deep, well thought out and super clean. Daniel plays with many of the up-and-coming groups, people like Nubya Garcia and is part of the Jazz Refreshed label."
10. Troy Miller – 'Mr RP'
"I had to put Troy in this list because every jazz musician on the London scene right now should check his journey. I was lucky to play with him for 4 years in Soweto's band but when he left the band he wrote this debut album. Then started playing with Amy Winehouse, Laura Mvula and now is producing for people like Gregory Porter amongst others. What a talent on the drums but also plays a killer jazz piano."
Stream Ben Marc's 'Glass Effect' album below:
Read next: The 10 Best J Dilla Releases, according to Anomalie