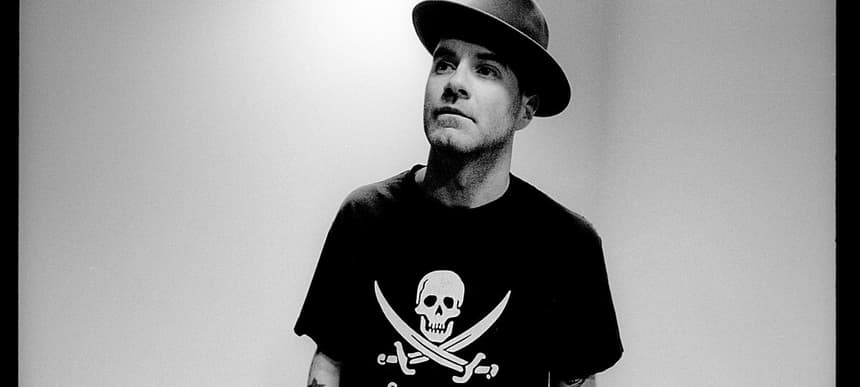 18.11.2015, Words by dummymag
The 10 best British sound system classics, according to James Lavelle
Being set the task of introducing James Lavelle is pretty daunting. What can we say? The man has single-handedly shaped the face of modern dance music – setting up the Mo'Wax label in '92, working with DJ Shadow under his UNKLE moniker and subsequently collaborating with the likes of Richard Ashcroft, The Beastie Boys' Mike D, Badly Drawn Boy and Thom Yorke.
Beyond his original productions and work on soundtracks (notably the bizarre Ray Winstone fronted alt-gangster flick Sexy Beast), Lavelle is also a highly sought after remixer, who has transformed tracks by a bevy of artists including Garbage and Massive Attack. Which brings us to today's agenda – Lavelle's current release, the remix compilation 'Global Underground 41 Naples- James Lavelle Presents UNKLE Sounds'. A mixture of tracks and remixes under both his aliases, James Lavelle embarks on reworks of mainstream and underground artists including Jamie Woon, Four Tet, Queens Of The Stone Age, Luciano and Planet Funk alongside UNKLE tracks featuring Thom Yorke, Ian Brown and Nick Cave.
'GU41' is both a testament to Lavelle's agile skills as a producer and DJ, plus his ability to cherrypick and reinterpretate tracks from both highly established and hotly tipped emerging acts in music this year.
To mark the release earlier this momth, James Lavelle embarks on a subject relevant to his personal interests; exploring some of the 10 best British sound system classics that shaped his musical sensibilities, including an underrated gem from The Syndicate and the smash hit of Unfinished Sympathy by Massive Attack.
Listen to James Lavelle's nostalgic and pivotal selections below.
01. The Wild Bunch The Look of Love
James Lavelle: "The record that started it all. The Wild Bunch were DJ Milo, Nellie Hooper, 3D, Daddy G, and Mushroom. Nelly went on to start Soul II Soul, Milo went to Major Force in Japan, and the rest became the seminal Massive Attack. This is the blueprint of British sound system soul. Featuring the amazing Shara Nelson on vocals, who later went on to sing Unfinished Sympathy."
02. Smith And Mighty Walk On By
James Lavelle: "Bristol sound system pioneers who produced everybody from Massive Attack to Fresh Four and ran the amazing Three Stripe Records. A classic cut of Burt Bacharach inspired sound system blues."
03. Soul II Soul Keep On Moving
James Lavelle: "The Bristol Blues moves to London. You couldn't go to any club at the time without hearing this record. Soul II Soul started a Funki Dred revolution; I would go to their record store in Camden as a young teenager stating my DJ obsession. It also went on to inspire Puff Daddy to create the sound of modern American R&B."
04. Fresh Four Wishing On A Star
James Lavelle: "Featuring DJ Krust (who went on to form Reprazent with Roni Size) and DJ Suv, who was originally from Oxford where I grew up and was one of the first people I ever saw wearing shell toes and Levi's straight 501s. In those days you'd never see anything like it, it was so fucking cool."
05. The Sindecut Tell Me Why
James Lavelle: "One of the great overlooked records of my generation, The Syndicate were one of the coolest crews out of London, fusing hip hop and songs. Tell Me Why is one of the highlights of their only album."
06. Massive Attack Unfinished Sympathy
James Lavelle: "The holy grail of my youth. This song proved how sophisticated the sound had become. Truly one of the most beautiful records I've ever heard. Sounding as fresh today as it did then. I can't explain how it felt to hear it for the first time, I'd never heard an orchestra and hip hop beats together before. It was truly revolutionary and made me want to make records – inspiring Psyence Fiction."
07. The Young Disciples Freedom Suite
James Lavelle: "An amazing 15 minute conclusion to one of the most overlooked albums of a generation, featuring MC Mell'O, Roy Ayers, and Carlene Anderson on vocals, released on Gilles Peterson's Talkin' Loud label. This record inspires me to this day. I tried to reform them for last year's Meltdown, but sadly in the end it didn't happen."
08. Mica Paris Should've Known Better
James Lavelle: "Originally came out as a B-side, with London's soul king Omar, a barumba 'That's How It Is' classic. What a bassline! From London's then Queen of Soul."
09. Neneh Cherry & Morgan McVey Looking Good Diving With The Wild Bunch
James Lavelle: "Another B-side. The original version that became Buffalo Stance, produced by The Wild Bunch, becoming the roots of British hip hop. Neneh went on to inspire artists like MIA, this helped start the UK sound."
10. Bomb The Bass Say A Little Prayer
James Lavelle: "London's answer to The Bristol Blues, Tim Simenon's take on another Bacharach classic. Man, he was so fucking cool! I so wanted to be him."
James Lavelle plays Dummy Presents: Mo'Wax & Marathon Artists on January 21st (free with RSVP).