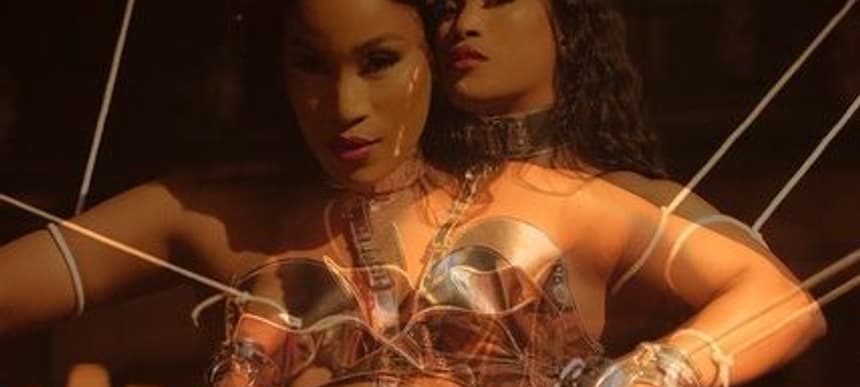 10.12.2021, Words by Maisie Goulsbra
The 10 Best Choreographed Music Videos, according to Nqobilé
"Only Britney can make a hair flick into a choreographed moment."
Multi-disciplinary artist Nqobilé just dropped new single 'SNM', an infectious amapiano-driven jam produced by Team Salut. It follows previous single 'Shake', a collaborative project between herself and Xavier, which came out after 'Look At Her' with Nadia Rose and Dancegod Lloyd. Her music is percussive-heavy, and upbeat, impossible not to dance to, which makes a lot of sense, because dancing is how she began her career.
Born in South Africa and raised in the UK, Nqobilé became a professional dancer and entered the entertainment industry as co-founder of the award winning international dance trio, CEO Dancers. She recently choreographed for KENZO at Paris Fashion Week, as well as Drake's Summer Sixteen tour, and has done music videos for Davido, Rihanna, Wizkid, Maleek Berry and Lil Kim.
The accompanying music video to new single 'SNM' taps into Nqobilé "inner goddess energy" that she calls 'MUVA UNICORN'. Nqobilé describes the single as; "a super sexy, flirtatious song from an alpha female's perspective, heavily influenced by the NYC ballroom (vogue) scene and my Southern African culture." To celebrate the release of 'SNM' and its music video, she's picked out her top ten favourite choreographed music videos.
1. Janet Jackson & Michael Jackson – 'Scream'
"This is the most ICONIC and groundbreaking video to this day. Definitely top 10 on probably every dancer or performer's list. The intricate yet super clean choreography, the energy, the execution by both Jackson legends. Oh my goodness! Timeless video."
2. Aaliyah – 'Are You That Somebody'
"This is probably the first music video that got me excited, glued to the TV screen learning all the choreography. I was in Swaziland, Southern Africa in primary school when this video dropped. I remember me and my friends at St Michael's School learning this and we ended up performing it for the school talent show. Oh it went down! The legend that is Fatima Robinson, one of my all time favourite choreographers is the genius behind it and it'll always be a classic."
3. Beyoncé – 'Run The World'
"Beyoncé can never do any wrong when it comes to art and the execution of choreography, especially in this music video. When I first watched this video I screamed my ass off. I was super hyped and excited seeing the Southern African act (Tofo Tofo) with Beyoncé dancing Pantsula, a South African local dance style on such a major and global stage. WOW, it totally blew my mind and it was beautiful for my culture to be celebrated on that level. It actually inspired me to showcase my culture and unique dance style more."
4. Missy Elliot ft Ludacris – 'Gossip Folks'
"Everything about this music video is perfect. I love how fun and relatable it is. Missy Elliot is the GOAT of visuals and she can never do no wrong!"
5. Britney Spears – 'I'm A Slave 4 U'
"This is one of my favourite and sexiest videos from the Queen. One thing I love about Britney is that she hits every count of choreography so effortlessly, very much in her pocket and looking so gorgeous doing it. We all looked forward to the dance break in Britney Spears' videos. That was THE MOMENT. Also, only Britney can make a hair flick into a choreographed moment, hair-o-graphy. So sensual and sexy to watch!"
6. Ciara ft Missy Elliot – 'Work'
"The Queen of dance! Ciara never misses, every music video is a hit. I fell in love with this video particularly because of the (slap your thighs) move. Haha. I'm sure every dancer learnt that move and added it to their choreography at some point. When I was in CEO Dancers we sure loved it and it was actually a hit for our Britain's Got Talent audition. People would come up to us and start doing it mimicking us, haha."
7. Janet Jackson – 'Feedback'
"Perfect video from beginning to end. I still get speechless watching this video. Beautiful choreography, styling, everything is so beautiful!"
8. Chris Brown – 'Loyal'
"Breezy is the GOAT for this generation when it comes to dance and performance for sure. All his music videos bang but I particularly loved 'Loyal' because it's such a fun video and everybody could pick up the choreography, even non-dancers. When this video came out, I remember the choreography for this video going viral on social media. We all learnt it, in the same way dance challenges are popping on Tik Tok right now."
9. Mya – 'My Love Is Like Whoa'
"This video really made me appreciate femininity and sensuality in a music video. That beautiful and effortless split that Mya hits will forever be my favourite moment. I'd love to learn this choreography for sure, I never actually learnt it."
10. Nqobilé x 'Nadia Rose x DGL – LAH'
"I'm super proud of this entire video, especially for my debut video. I learnt this choreography in one session, 2 days before we shot the video whilst trying to process the whole concept of being THE artist now and not the backing dancer. It took some getting use to especially in front of the camera and I'm happy with the outcome. More so because we highlighted my South African culture, which I'm very proud of!"
Watch the music video for 'SNM' below.
Read next: The 10 Best R&B Vocalists of all time, according to Tolaní.