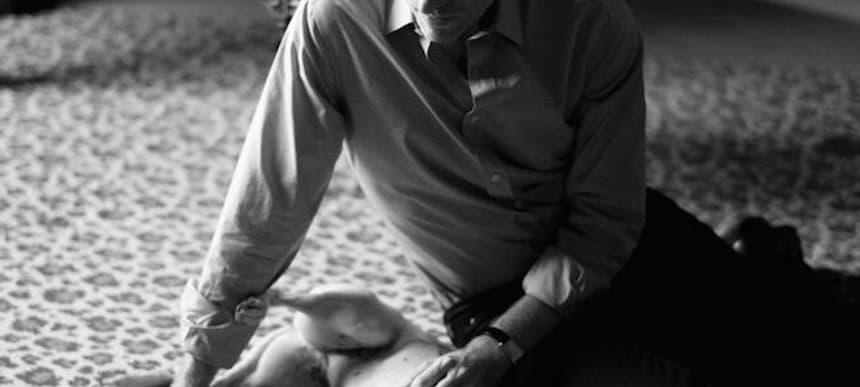 14.10.2015, Words by Natalie /
The 10 best contemporary works inspired by classical music, according to Nicolas Godin
It's not fair, we know, but some people, some lucky people, seem to waltz through life exuding a palpable, tangible, very real sense of cool. Weirdly, most of them seem to be French. One of those very, very cool Frenchmen — the kind of Frenchmen we'd definitely not be had we been born in Toulouse rather than Todmorden — is Nicolas Godin.
Godin is best known as one half of chillout supremos AIR, a group who soundtracked every dinner party/orgy (delete as applicable) of the late 90s with their world beating 'Moon Safari' LP. The group — completed by the wonderfully named Jean-Benoît Dunckel — have seamlessly blended library music, wistful 60s pop, bossa nova, jazz and electronica over the course of seven albums.
Before there was AIR, there was architecture. Godin studied at the Paris' École Nationale Supérieure d'Architecture de Versailles and that interest in the built world hasn't left him. Joining the dots between Le Corbusier, classical composition and soundtracking every TV cookery programme broadcast between 1998-2002 isn't easy for everyone, but for Godin it seems to be a doddle.
Next month sees him appearing solo at London's Oval Space in support of his debut solo album — a set of classically tinged "enticing lyrical narratives" that sees him collaborate with the likes of Conan Mockasin, a French vocalist, and an Italian author. Oh, and Johann Sebastian Bach, whose compositions form the foundation of every track on the record.
Ahead of the album and the show, Godin's presented us with this list of his 10 favourite contemporary works inspired by classical music. Get some nice wine open, settle into your favourite chair, and get ready for an education.
You can also listen to Nicolas' selection seamlessly via our dedicated playlist.
01.The Divine Comedy Tonight We Fly
Nicolas Godin: "One night i was at Neil Hannon's show in Paris and he sang this song at the end. I thought it was magic and when I talked to him backstage he seemed surprised that i liked it as according to him, it was just simple Bach chords."
02.Serge Gainsbourg Initials BB
Nicolas Godin: "One of the coolest classic modern mash-ups ever, based on Dvorak's New World symphony."
03. Lou Reed Street Hassle
Nicolas Godin: "My friends from Phoenix spotted the light on that song that strangely I didn't know before they pointed it out to me. The cello line is all over the well-tempered keyboard pieces of Bach."
04. David Bowie Life On Mars?
Nicolas Godin: "Life on Mars? is one of the many pop songs based on Rachmaninoff Piano Concerto n°2."
05. Procol Harum Wider Shade Of Pale
Nicolas Godin: "Well, I don't need to add anything. This is one of the most famous Bach rip offs of all times.."
06. Klaus Nomi Cold Song
Nicolas Godin: "Transposing classical music into a modern interpretation is very risky but I like what Klaus Nomi did with this Henry Purcell piece."
07. Emir Deodato Also Sprach Zarathustra
Nicolas Godin: "Johan Brahms goes jazz rock. It sounds great on the soundtrack of the Peter Sellers movie Being There."
08. Miles Davis Sketches Of Spain
Nicolas Godin: "Miles Davis and Gil Evans at their best for an homage to Joaquin Rodrigo's Concierto de Aranjuez."
09. Wendy Carlos Music For The Funeral Of Queen Mary
Nicolas Godin: "This instantly became a classic Beethoven tribute when Stanley Kubrick's A Clockwork Orange was released in 1971."
10. Radiohead Exit Music (For A Film)
Nicolas Godin: "I can't help thinking of Frederic Chopin's Prelude n°4 each time I hear this track on their classic album 'OK Computer'."
Nicolas Godin plays Oval Space on November 11th (tickets) and his album 'Contrepoint' is out now.