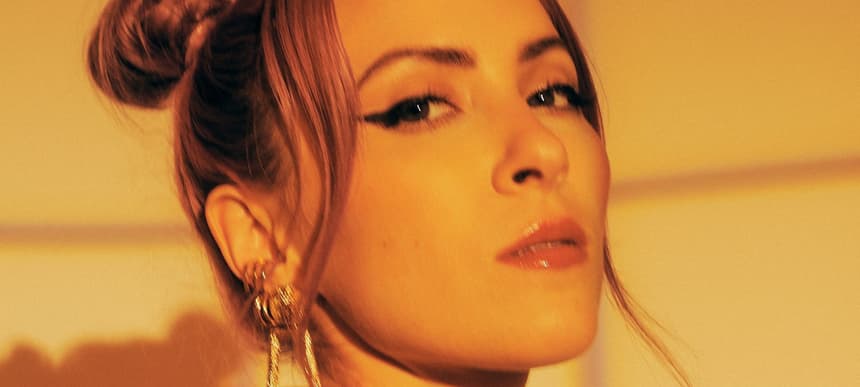 10.10.2022, Words by Billy Ward
The 10 Best Dance Track Vocal Features, according to Camden Cox
"One I absolutely wish I'd written myself..."
Not all nightclub anthems need a killer vocal line but it certainly makes life easier when trying to get the party started. Over the years, we've seen acts like Disclosure, Wilkinson and Gorgon City master the craft of enlisting the right singer for the right song and these days Camden Cox is one many producers and selectors are keen to turn towards.
The singer, songwriter and DJ has cemented her reputation as one of dance music's most sought-after and prolific vocalists in recent times, combining her love for trance and deep house with her quick-witted, emotional pen game. Following the success of her recent single 'Elevated', we sat down with with Cox to uncover what she believes to be the best vocal features on a dance track.
1. Disclosure ft. AlunaGeorge – 'White Noise'
"This tune gives me energy every time! The concept is cheeky and Aluna performs it perfectly, I've always been a massive fan of her voice."
2. Magnetic Man ft. Angela Hunte – 'I Need Air'
"The vocals are flawless on this. I love the timing, it's really interesting and unique – it takes a great singer to pull off these kind of melodies with that many words!"
3. Camelphat ft. Elderbrook – 'Cola'
"This really put both Camelphat and Elderbrook on the map when it smashed the charts in 2019. Elderbrook brought his amazing style to their signature beats and the outcome was magic!"
4. Kx5 ft. Hayla – 'Escape'
"I co-wrote this tune so some may say I'm biased…but it's possibly my proudest song-write to date. Deadmau5 / Kaskade are true legends and Hayla's voice is so special, the emotion throughout this song gives me goosebumps even now!"
5. Wilkinson ft. Becky Hill – 'Afterglow'
"Becky's voice is always outstanding and this is my fave of hers! Her ability to sing with such power over these hard driven beats is second to none! This is an essential rave tune in my opinion."
6. Paul Woolford ft. Karen Harding – 'You Already Know'
"Absolutely love this one, it's unbelievably nostalgic for such a modern dance tune. Karen's voice can be recognised with just one word, and her performance on this song is gorgeous."
7. John Summit ft. Echoes – 'Human'
"So hooky! One I absolutely wish I'd written myself. No matter how many times I have this on repeat or play it in a set it doesn't get boring – Echoes voice is beautiful."
8. Black Coffee x David Guetta ft. Delilah Montague – 'Drive'
"Delilah Montague delivers this vocal flawlessly! Her voice is so mesmerising that sometimes I'm not even listening to the lyrics, which makes me discover something new each time I hear it."
9. Dj SKT ft. Rae Hall – 'Take Me Away'
"A classic! DJ SKT is always releasing bangers and when he partnered up with Rae it was a match made in heaven! Rae's voice really reminds me of all the trance music I used to listen to growing up! Never gets old."
10. Gorgon City ft. MNEK – 'Ready For Your Love'
"This tune kickstarted my love for Gorgon City who have since been one of my faves! MNEK has such a brilliant and distinctive voice that it's no wonder he's gone on to have the success he's had since this record!"
Watch the music video for Camden Cox's latest single 'Elevated' below:
Read next: The 10 Best 'Sexy Nukim' Tracks, according to Balming Tiger