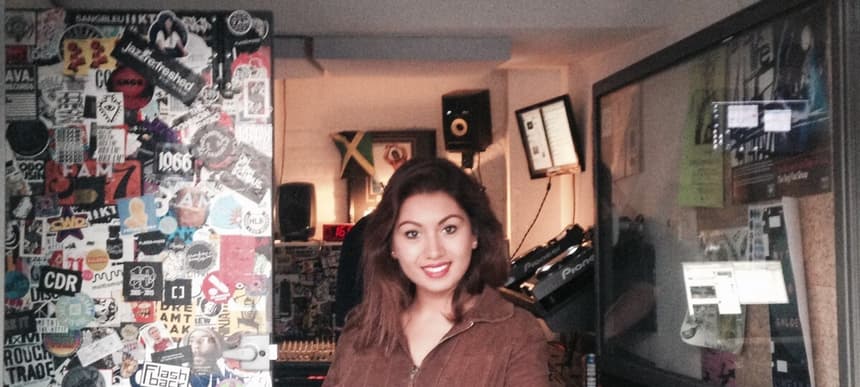 28.01.2016, Words by dummymag
The 10 best 'debonair' tracks, according to DEBONAIR
When she's not brightening our day with a cheerful infectious energy and a range of diverse selections on her biweekly NTS show, Debi Ghose aka DEBONAIR can be found regularly DJing in the midst of London. Her sound joins the dots between EBM, proto-techno and Chicago house, with elements of new-wave and Italo-disco.
Having just played her first headline slot at Dalston Superstore for the Lazertits night last weekend, this Friday she's part of a new night Wild Combination, playing alongside her recent NTS show guest Reckonwrong and Principe's Nidia Minaj at The Victoria in Dalston. Ahead of that, she chooses 10 tracks that define the meaning behind her DJ name, including a mesmerising Herbert remix of Serge Gainsbourg and Brigitte Bardot. Here are a few words from Debi about the list:
"Being called Debi and having a radio show, I predominantly took the DEBONAIR handle for pun purposes – however the below tracks are a selection of songs that capture the elusive notion of what it is to be 'debonair' to me."
01. Massimiliano Pagliara In Order of More Depth
DEBONAIR: "An instant classic, this song connects deeply with many even on first listen. Every element is precisely incorporated into the tune in a way that feels organic and spiritual."
02. Mag & the Suspects Erection
DEBONAIR: "I've finally gotten my hands on this record after first discovering it whilst on a particularly fruitful YouTube trawl long ago. Despite some reasonably graphic lyrics, the nonchalant delivery means I can get away with spinning it in even the most reserved of settings."
03. Tashan Read My Mind
DEBONAIR: "Released on Def Jam back in 1986, this song always feels great to play. When that bass line kicks in my environs instantly become a much more sensual setting."
04. Serge Gainsbourgh feat. Brigitte Bardot Bonnie & Clyde (Herbert's Fred & Ginger Mix)
DEBONAIR: "This song is an enduring love of mine after hearing it on a mixtape in my early teens; it really is a masterclass in how a remix can lift a song when executed by a master."
05. Martin Dupont Doron Doron
DEBONAIR: "Martin Dupont will always be one of my most treasured acts and the creators of many of my favourite songs. This driving baseline lurks in as if from nowhere and sets a very gnarly tone."
DEBONAIR: "This track always piques interest. I thought it was an undiscovered gem but just saw it on one of the early Minimal Wave compilations released in 2006 – Veronica Vasicka always one step ahead!"
07. Shifted Phases Lonely Journey of the Comet Bopp
DEBONAIR: "Shifted Phases was a Drexciya off-shoot of sorts, and this song features on their only release, 'The Cosmic Memoirs of The Late Great Rupert J. Rosinthrope' LP. Tender and formidable, I love the concept of this track – emoting the loneliness of a comet's path."
08. Tones on Tail Twist
DEBONAIR: "This is my favourite track by Tones on Tail – a side project of Bauhaus's Daniel Ash and one of their roadies, Glenn Campling. I love how involving and complex the guitar riffs become before we're treated to a vocal. To me it's everything a pop song should be."
DEBONAIR: "If I ever get the chance to drive a Porsche Spyder Convertible through the French Riviera, this is definitely what I'll have blaring out the speakers."
DEBONAIR: "Certainly one of the most singular producers operating at the moment, Fis's performances have always left me bewildered and inspired. Unsettled, oscillating sounds paired with a self-assured beat make this track not wholly comfortable but worth hanging about for."
DEBONAIR plays Wild Combination with Nidia Minaj and Reckonwrong on January 29th at The Victoria, Dalston (info).