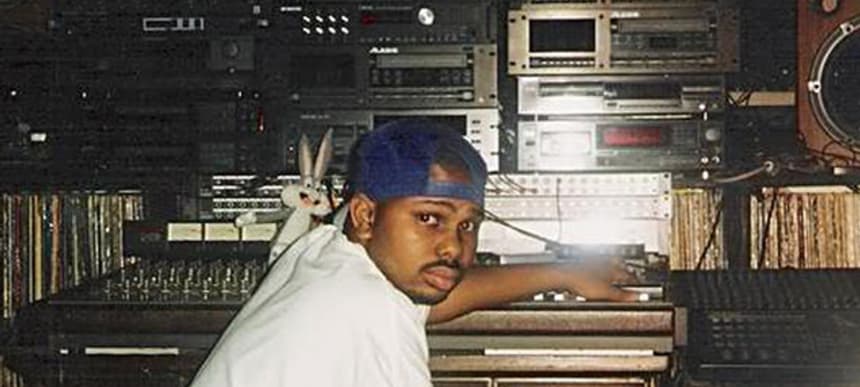 20.07.2016, Words by dummymag
The 10 best DJ Screw tracks, according to Swing Ting's Joey B
DJ Screw is probably known in equal measures, both for slowing and chopping his music, and for sipping on Texas Tea. His popularity has spread far and wide since well before his sad passing on November 16th, 2000.
When I started DJing at 14 it was the scratching, cutting and juggling which made me want to do it. You couldn't really see DJs on TV or the internet doing that sort of thing at the time, so I'd just listen to mixtapes and radio, and try and learn how to do it that way. I'd been used to hearing big DJs like Funk Flex and Westwood chop up tunes, but when I heard Screw for the first time – whose whole focus was on chopping up the music and slowing it down – it blew my mind. I couldn't get over it. Not only was he bringing the chops and cuts to the fore by slowing the pitch, but in changing the pace of the music, the whole feel of the track was intensified. I also loved the fact that Screw would jump on mic himself, and his vocals were also slowed right down. Having become a big fan of what he was doing, I got the opportunity to go to go to Houston in 2010 with my older brother and a good friend. We were able to cruise around the South listening to Screw tapes and visit the Screw shop, which was truly a blessing. It also kinda made a lot of sense to check the music in its birthplace, as yoou get a feel for the sights, sounds, and intense heat of the city. There's something about the sound that Screw created that just hits me damn hard. It's no surprise to me that so many DJs are continuing his legacy.
I'm stoked to be able to showcase my 10 favourite tracks from Screw, so here they are in no particular order. I've also listed the Screw Tapes they come from so you can dig em out.
Read through Joey's selections below, and listen via our YouTube playlist.
UGK Tell Me Something Good (from 'All Screwed Up Vol.2')
Joey B: "The hypnotic beat on this UGK masterpiece is made 100 times better with the Screw treatment. Straight up goose bump material. I'll let the music do the talking."
Lil Keke and Big Pokey Peepin Through My Window freestyle (from 'Chapter 13: Leanin' on a Switch')
Joey B: "This is the best name for a mix tape ever, and from start to finish it's full of heat! I picked this one out as it features two Screwed Up Click veterans doing their thing and has become a classic freestyle for Screwheads. Big Pokey and Keke are synonymous with the Screw sound, known for bringing that laid back rawness which makes his sound so original. It's goin dyne, mayne. Salute!"
2 Pac Picture Me Rollin (from 'Chapter 71: The Final Chapter')
Joey B: "Screw didn't just fill his mixtapes with freestyles from fellow Screwed up Click members. You hear a lot of 2 Pac, Too Short, Bone Thugs, and Biggie on the tapes which is slotted in between local Houston and Dirty South artists. If you know me, then you know 2 Pac is a personal favourite, so for me him and Screw combined was always gonna hit. It doesn't get any better than this one."
8-Ball & MJG Line of Duty (from 'Chapter 28: Worldwide SouthSide')
Joey B: "Not sure if it's because this was on the first screw tape I personally purchased from the original Screw Shop, or whether it's just the mad synths that sound so good slowed and throwed, but this is has to be my favourite thing Screw ever did. The tunes' sentiment seems to carry double the weight as Screw cuts back choice lyrics at half pace. It features a classic intro speech from the man himself and some great chops right from the beginning. OOoooosh!"
ESG Swangin and Bangin (from 'Chapter 49: Codiene Fiend')

Joey B: "A ertified Screw banger, and arguably one of the biggest! ESG is a Screwed Up Click member and Screw gets a whole heap of shouts on this one. The official video for ESG's original track also features a cameo from Screw and slowed down visuals for a Screwed up section of the video. This tune is also the namesake for my own 'Straight Swangin' mixtape series. Again, Screw himself is chatting at the beginning of this clip – sick guy."
D' Angelo Brown Sugar (from 'Chapter 13: Leanin on a Switch')
Joey B: "I personally love it when an R&B artist is chopped and screwed, and the more croony the better. Screw couldn't have picked a better tune, and this really showcases how good singers can sound when they're slowed all the way dowwwn!"
Fat Pat Tops Drop (from 'Chapter 117: Return of the Red')
Joey B: "A central part of Houston rap culture and therefore DJ Screw's culture is the city's dedication to slab rides. I'm thankful that in checking Screw it also led me to swanging slab rider culture, which has rapidly become another obsession. If a Houstonian is talking about 'Sitting Sideways', 'Bending Corners' or 'Dripping Candy Paint' then they are hailing up their beloved slab ride. The best possible way of checking a Screw tape! This ones a classic ode to Houston Slab rides from Fat Pat – has to be bumped in an old school with elbows poking out."
Dr Dre High Powered (from 'Chapter 108 3-N-Da Morning)
Joey B: "Now considered a classic tape, Screw chops this Dre tune up to perfection by playing both tunes simultaneously and chopping them back and fourth, with real soul and precision. Again for me the slowed down West Coast style synths are a real highlight of any Screw tape."
Guerilla Maab Grabbin Grain (from DJ Screw's 'As the Word Turns Slow')
Joey B: "Grabbin Grain refers to the wood grain steering wheels which are essential if you're keeping your slab ride on point. The beat on this is so spaced out, and once Screw starts choppin in the vocals at the beginning it sounds incredible. I love how laid back and seemingly effortless the chops and juggling are."
DJ DmD ft Keke and Fat Pat 25 Lighters (from DJ Screw's 'Best of the Best')
Joey B: "An absolute Screw classic! Here he is chopping up the DJ DMD tune. Keke and Fat Pat also drop the 25 Lighters freestyle over a different beat on Screw's 'Leanin on a Switch Tape', which is also bangin'. I love how Fat Pat's baritone voice sounds on this when played at Screw speed. I listen to this one at least every other day."
Catch Joey B on NTS Manchester with the No White Tees show this Sunday, July 24th, 7-8pm and Swing Ting at Soup Kitchen, Manchester on August 20th.