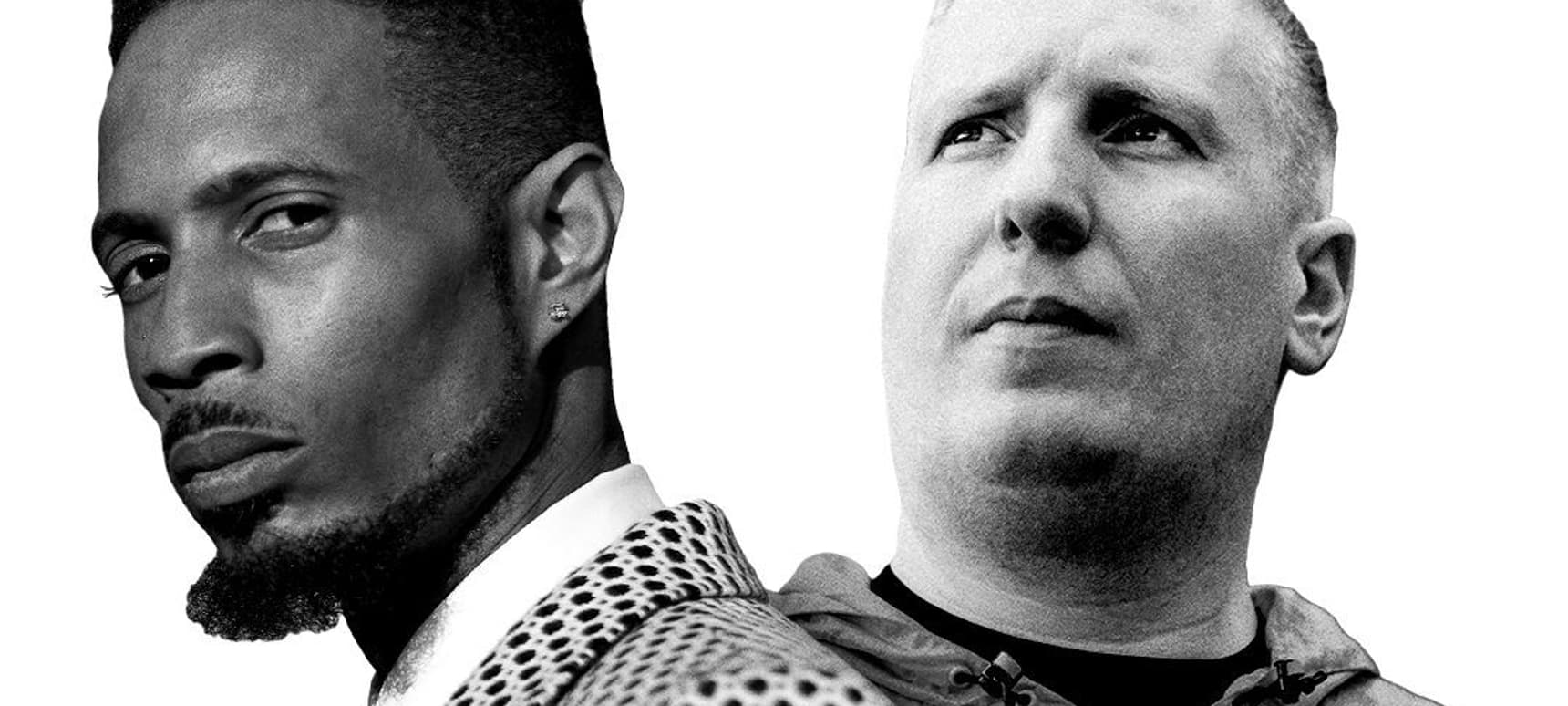 15.10.2021, Words by Billy Ward
The 10 Best DnB/Rap Collaborations, according to D Double E and Danny Byrd
"It had an interesting combination of big studio techniques of the time with big SSL consoles and MPCs..."
Two legends from their respective scenes, D Double E and Danny Byrd have been at the top of their game for years now. Your favourite MC's favourite MC and one of the grime scene's most mercurial figures, East London's D Double E needs little introduction. His latest album 'Double Or Nothing', released last year, rose to critical acclaim while still remaining true to his underground roots – something the emcee has kept up his whole career with numerous iconic projects and freestyles.
Meanwhile, Danny Byrd's icon status within the DnB scene has lasted the best part of two decades. Since signing to the fledgling Hospital label at the turn of the millennium, the DJ has risen to no.1 spot on the Dance Singles Chart and toasted numerous UK Top 40 entries. His inimitable take on soulful, vocal DnB has become a staple in the scene and his creative use of hip hop, house and R&B influences has been turning heads since its inception.
Joining forces for a collaboration which sees two of the UK's most prolific underground scenes collide, the two artists today share their new single 'Selecta', via Ministry of Sound. Complete with nods to late 90s DnB, weighty jungle breakdowns and funky horn samples, D Double proves to be the perfect match for Byrd's energy as his pirate radio past shines through. To mark the release of 'Selecta', the pair sat down with Dummy to discuss ten of their favourite DnB and rap collaborations, D Double providing the first two choices and Danny answering the rest.
1. Watch the Ride feat. D Double E – 'Original Format'
"This was one of my favourite collaborations, this goes down when I perform it, I knew it from when I laid the verse in the studio, the things that happened after this track was crazy, it even ended up on GTA."
2. Shy FX feat. D Double E, Spyda & Frisco – 'Balaclava' (Skepitcal Remix)
"This track was special to me as I grew up listening to Shy FX in the 90s, coming from a Jamaican household the jungle scene was a dream for me. I rate Shy highly as he's still here smashing it after all these years. UK stand up."
3. Adam F feat. Redman – 'Smash Sumthin' (Roni Size Remix)
"It was totally mind-blowing to see Adam F, already a DnB legend at this point, make a hip hop album with basically the elite of US rappers at the time. Adam F was astute enough to include a DnB remix album of the project and this Roni Size remix is probably my favourite on there. Keeping faithful to the original, Roni updates it for the DnB clubs with some UK horn samples and chattering early 2000's breaks that sounded fresh as hell at the time."
4. Roni Size/Reprazent feat. Method Man – 'Ghetto Celebrity'
"Coming off winning the Mercury music prize with 'New Forms' in 1997, the Full Cycle crew had a lot of music industry clout to play with! Signing their deal in the USA with Def Jam allowed things like this collaboration with Method Man to happen. I think this was the first time I'd ever heard an American rapper on DnB, and the track came out amazing. The way the beats are programmed it's not just a straight 2-step DnB beat, but has so much groove to it. Sonically this and the whole 'In The Mode' album I personally loved so much. It had an interesting combination of big studio techniques of the time with big SSL consoles and MPCs and made it sound different to current DnB being made at the time."
5. DRS & Dynamite feat. S.P.Y – 'Back & Forth'
"This was the first single from the collaboration album from MC legends DRS & Dynamite. Flowing real nicely over a S.P.Y beat this just captures the dark 2020 mood, this came out during the lockdown and just felt like the right track at the right time. The whole album 'Playing in the Dark' is full of great team ups with the scene's best producers. It was so nice to see two vocal legends come together and put together such a cohesive project like this! Can't wait for the next one!"
6. Jungle Brothers – 'Jungle Brother' (Urban Takeover Remix)
"Aphrodite and Micky Finn were experimenting a lot with the halftime hip hop intros on their tunes so it made a lot of sense for them to hook up with the Jungle Brothers on this wicked remix. Aphrodite drum edits always have such attention to detail, you can always hear the pain staking programming in the tracks. The Urban Takeover sound has such a loyal following and always had a good excitement from people that weren't total DnB heads at the time, so their tunes did a massive service to people getting more involved with the jungle scene later on."
7. Goldie feat. KRS One – 'Digital' (Boymerang Remix)
"Goldie coming off the opus that was 'Timeless' in 1995, he dropped this gem of a tune as one of the singles from his follow up album 'Saturnz Return'. KRS One featuring made a lot of sense with Goldie's NYC graffiti connections going back to the 1980s. Again these were all big firsts at the time, and it was pretty unique to hear American rappers over 174bpm drums. Boymerang stepped up to remix this wicked tune, and added his signature breakbeat which just worked so well in this remix."
8. Rawhill Cru – 'Mo Fire' (Bad Company UK Remix)
"A tune featuring the very best of UK MCs, Navigator, Shabba D, Soultrain, $pyda, Tenor Fly (RIP) and The Ragga Twins, this tune was one of the biggest of 2003. Starting out life as a track started in Germany with OG E-Decay, DJ Fresh heard this track and remixed into this killer. It is just the perfect combination of beats and vocals, you can still play it out today. Would love to hear a 2021 Mo Fire part 2!"
9. TC feat. Jakes – 'Deep'
"This is strictly a Bristol affair! MC Jakes is someone I've known from the mid 90s when he was attending Bath art college, I would chat to him in awe as he was already part of the Ruffneck Ting crew and a Bristol legend. Fast forward to mid 2000s and Jakes teams up with another one of Bristol's hottest producers TC. This track just has one of those effortless flows and just sounds so natural. The Roni Size remix of this with Dynamite MC is killer too!"
10. DJ Zinc feat. Ms Dynamite – 'Freenote'
"Zinc has done loads of vocal collaborations, I could have picked creeper with Dynamite MC but this one is a personal favourite of mine. Taking the original track 'Freenote' with Zinc's unmistakable organ bassline with garage MC vocals courtesy of Ms Dynamite is pure bliss."
Check out D Double E and Danny Byrd's new single 'Selecta' below:
Read next: The 10 Best Grime Tracks of All Time, according to Devlin