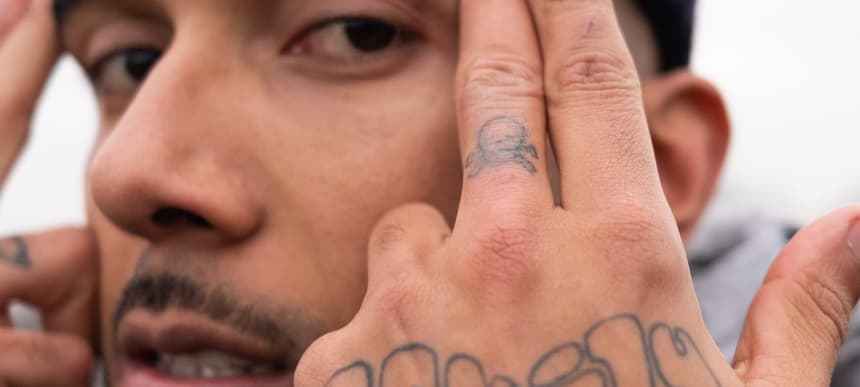 09.05.2022, Words by Billy Ward
The 10 Best Drum & Bass Rollers, according to Bru-C
"Get this one on as soon as the sun comes out and you'll be in instant vibes mode"
A true voice of the UK underground music scene, Bru-C has quickly become one of the most infamous figures across UK bass, UK garage and drum 'n' bass. Last year, the MC became the first Nottingham-based rapper to sell out the city's iconic Rock City venue and continues to push boundaries for the scene with each release and performance, working with names such as Example, Bad Boy Chiller Crew, Mr Traumatik and Devilman, to name a few.
Bru's versatility as a rapper means he's able ignite parties with an array of styles from the UK rave canon, however, shelling over D'n'B rollers holds a special place in his heart. With a jam-packed summer schedule ahead of him, including performances at The Great Escape, AMP Lost & Found and a show with Rudimental at the O2 Academy Brixton, we sat down with the MC-of-the-moment to rifle through his favourite DnB rollers of all time.
1. Vibe Chemistry – 'Balling' feat. Songer, Traumatik, Devilman, OneDa
"This one is proper hard. All the MCs really go in on it. It's really good to see a full drum 'n' bass MC tune – big up Vibe Chemistry!"
2. Bru-C – 'No Excuses'
"I obviously had to slide my new ting in there! Getting man ready for the summer – it's going to be a good one this year, No Excuses."
3. Gentlemens Club – 'Policia'
"Yeah if you're not banging your head to this tune, then you've gone or are going mad, absolutely mental tune."
4. Cat Burns – 'Go' (Goddard. Remix)
"Very sick remix on this one, very nice new sounds in a liquid drum 'n' bass tune. Proper feeling this one, big up Goddard."
5. DJ Fresh – 'Gold Dust' (Bou & Used Remix)
"This is an absolutely massive remix from Bou. It was already an anthem and has been running in the raves for over a decade. It's been brought back to life massively."
6. Alcemist & Coco – 'Stan Smith'
"Alcemist is definitely one to watch in the new up-and-coming DnB scene and Coco killed the vocal on this."
7. Luude – 'Down Under' feat. Colin Hay
"You know you're about to hear this at every festival this summer, absolute anthem! Big up Luude."
8. Luude – 'Glenorchy'
"Another one from Luude in here, really good sounds coming out of Australia for the whole DnB scene"
9. TS7 – 'Slow Down'
"Proper wavey track from TS7, loving the sounds on this one! Can see the tune going off in the raves."
10. Soulecta – 'Tell Me It's Over' feat. Elliot Chapman (Howden Remix)
"The final one for me. An absolute garage vibe! Get this one on as soon as the sun comes out and you'll be in instant vibes mode."
Stream Bru-C's new single 'No Excuses' below:
Read next: The 10 Best Trance Tracks, according to Anfisa Letyago