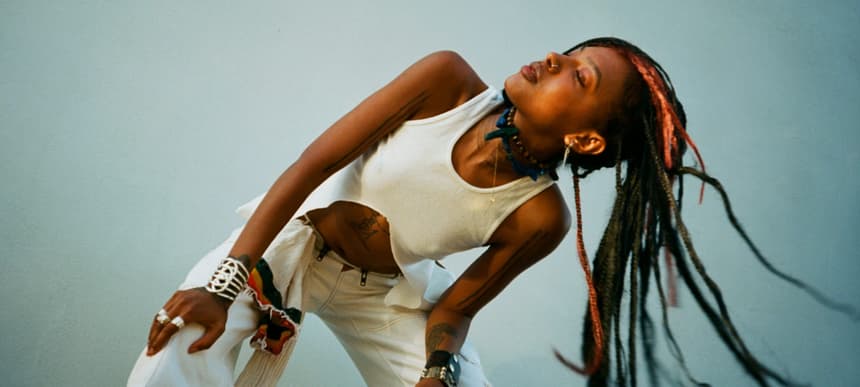 17.10.2022, Words by Billy Ward
The 10 Best East African & Arabian Artists, according to Alewya
"So old, grainy, hypnotic and best of all, simple..."
Blending the devotional rhythms of her East African roots with a distinctively UK twist, singer, painter and overall creative polymath Alewya glides between raver, rocker and pop star with captivating ease. Despite only beginning to write music in her twenties, the West Londoner has already supported Little Simz and Bristol punks IDLES on tour, earned a manager in UK jungle legend Shy FX and dropped her pace-setting debut EP 'Panther in Mode' before she's even turned 30.
At home, her parents' East African and Arabian musical influences offered her a spiritual release while the pulsing streets of London gave her something more physical, raving to funky house drums, junglist breakbeats and the bassweight of Caribbean dub music. Now one of the most hotly tipped names in the UK scene, we sat down with Alewya following the release of her new single 'Let Go' to uncover her favourite East African and Arabian artists.
1. Tinariwen – 'Toumast Tincha' (Mali)
"Tinariwen is one of my all time favourite artists, they are truly the legends of the Sahara. I appreciate artists that can transport me out of the concrete jungle of London and to a familiar place I've never been but feels like home."
2. Aster Aweke – 'Tchewata' (Ethiopia)
"This song and Aster has a special place in my heart, my mum loves Aster and I used to hear her voice regularly, it's distinct and iconic. She is a legend in Ethiopia."
3. Nah Eeto – 'Auntie, What Happened To Me?' (Kenya)
"Kenyans just know how to do things, when it comes to being themselves and also progressing sounds. Jumping effortlessly from Swahili to English with style and sauce, Nah Eeto is just in her own lane."
4. Mariem Hassan – 'Ana Saharauia' (Western Sahara/Morocco)
"She is a real hero, used music to speak up for the people. Her voice tells you everything about her. I don't know how to unpack that but if you listen you will feel what kind of woman she is."
5. Kassmasse – 'Sewasew' (Ethiopia)
"Kassmasse is one to keep an eye on, evolving the sound of Ethiopia with class and cool."
6. Ahmoudou Madassane – 'Akaline Akaline' (Sahara)
"Pure guitar, pure desert blues, pure dream lands. The whole album is a soundtrack for 'Zerzura' but to me is a gift from God."
7. Boddhi Satva & Maalem Hammam – 'Belma Belma' (Morocco/Portugal)
"A mixture between Moroccan Gnawa music and Afro house. Truly one of my favourite songs and styles of music together in a track."
8. Mulatu Astatke – 'Surma' feat. Fatoumata Diawara (Ethiopia/Mali)
"Both these artists have had major impacts on me and my music, Mulatu is the king of Ethiopian Jazz and Fatoumata is my voice, style, guitar and essence hero. Both on this song is a blessing for real!
9. Issa Bagayogo – 'Saye Mogo Bana' (Mali)
"Dance floor classic, I played this in my art studio on repeat, dancing while I painted. This is my jam and Issa's voice is so soft and lazy in the best way possible."
10. Shimaali & Killer – 'Hoobeya' (Somali traditional chant)
"Taken from the 'Mogadisco' compilation, Somalia soundscape from the 70s to early 90s was indeed very experimental, lit and soulful. This song is so old, grainy, hypnotic and best of all, simple."
Watch the music video for Alewya's new single 'Let Go' below:
Read next: The 10 Best Tracks With Stories, according to Pinty