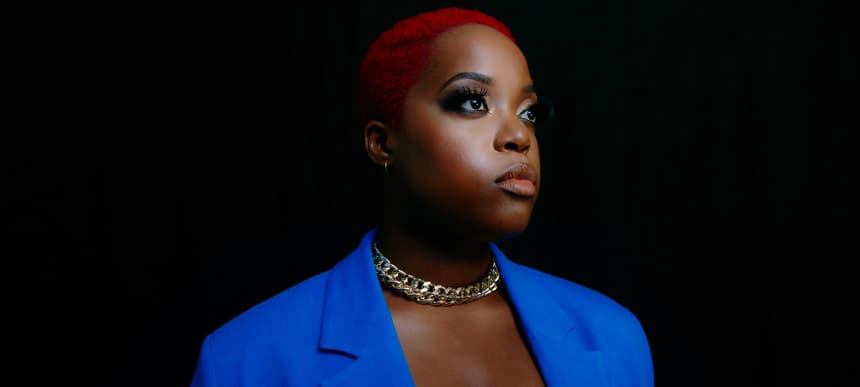 24.06.2021, Words by Billy Ward
The 10 Best Electronic Tracks from the African Diaspora, according to KG
"It's my personal odé to Ghanaian Akan 'Highlife' and South African Amapiano..."
Dubbed the "Goddess of Rhythm" by party-goers and fellow selectors around the world, British-Ghanaian artist, DJ and producer Karen Nyame, aka KG, has been an innovative force in dance music for nearly a decade now. Originally rising to notoriety in the UK Funky scene via popular message boards and Facebook pages, the artist has gone on to explore a variety of Afro-infused styles and inject her percussive club sound with noticeable homages to her heritage.
Drawing influence from a wide array of musical influences such as UK Funky, gqom, R&B, Afrobeats and more, KG's new EP 'Sensei II' skilfully treads the line between her own musical sounds and the styles she draws from. Out on June 25, Nyame wanted the essence of "back home" to be felt throughout the five-track project, and teams up with a host of exciting African talents including Aymos, Toya Delazy, Taliwhoah and Mista Silva. The record makes a conscious effort to tap more into the artist's Afro roots, and to mark the occasion, KG tells us ten of her favourite electronic cuts from across the African diaspora.
Speaking about her choices, KG says: "My selections cover the full spectrum of African Electronic music from all of my favourite producer/DJs. These are classics and current bounces that I play on repeat!"
1. DJ Kent, Malehloka Hlalele – 'Falling'
"This track makes me levitate every time, so sensuous. I love the lead Marimba sound in the production itself, and the application of Maleh's gorgeous vocals. There is a specific part of the record (the bridge) where the vocal line 'Falling' repeats and echoes/phases out – so beautiful!"
2. Kabza De Small ft. Nia Pearl – 'Nia Lo'
"The surge in Amapiano on a global scale is pretty evident, I am loving its dominance in electronic music right now. One of my favourite South African producers – Kabza De Small is on this one whoo! 'Nia Lo' is stunning, what gets me, in particular, is the melancholy build into the chorus, the sombre repetition of Nia Pearl's vocals. I absolutely love how deep the log drum sub-bass is – wow! Perfection."
3. KayGee DaKing & Bizizi Ft. Mphow69 – 'Hello Summer'
"Another FIRE Amapiano song titled 'Hello Summer' featuring singer and vocalist Bizizi. This song is such a banger and again it's the sub-bass drop in the chorus that sends me into an immediate frenzy!"
4. Da Capo – 'Kali'
"Pure ancestral vibes on this and the way the instrumental progresses -it's magical. One thing I like about Da Capo is his suspenseful breakdowns, he really knows how to create tension and release in his music. Such a groove from the subtle percussive shakers to the rhythmic melodies and bass. Top tier Afro House record."
5. Black Coffee feat. Bucie – 'Superman' (Original Mix)
"'Can you be myyyyy supermann!' I mean this song right here!! This one of many Black Coffee and Bucie records that touch the spirit, their musical synergy is out of this world. A sunset-inspired Afro House track, this is a melodically soothing groove. Classic!"
6. Dominowe – 'Umthakati'
"Very big shout out to Gqom Oh! for releasing this monster in 2017 – still slaps in the club. The energy of 'Umthakati' is interchangeable between UK Funky and SA Gqom – just the rhythmic drum pattern and the staccato strings – the drama! Big TUNE!"
7. Karen Nyame KG feat Mista Silva – 'Koko'
"I just had to include this haha! One of my favourite productions to date. It's my personal odé to Ghanaian Akan 'Highlife' and South African Amapiano – it was only right I fuse the two flavours together. Your essential Summer record ;-)"
8. Kofi Nti & Ofori Amponsah – 'Atweetan' (Hagan Edit)
"My bro Hagan's Afro Club flip of this Ghanaian classic – 'Atweetan' – just stunning in every way. That swooping '808' bass with the fairy-like harp/steel pan melodies in the back makes for a winning combination not to mention the fire drums! I can't play a set without a Hagan record in it."
8. Griffit Vigo – 'DJ'
"The intensity in this production! The Drum God – Griffit Vigo! The monotonous droning synth and the snares – the chants and that earth-shattering bass line – this is your soundtrack for ascension. Mind-blowing!"
9. Atjazz & Jullian Gomes – 'Philosophy' (feat. Osunlade)
So gorgeous this track – love the soulful chords – the warmth!
10. Afefe Iku – 'Mirror Dance' (Yoruba Soul Remix feat. Oveous Maximus)
All-time classic!! This is an Afro House track but you can hear elements of
West African Fuji music and Highlife. I can hear Fela Kuti on this! I love the intersecting rhythm of the guitar riffs and the way the bass dances on the beat – so funky!
Stream 'Sensei II' below or purchase it here.
Read next: The 10 best UK Funky and Soulful House tracks, according to KG