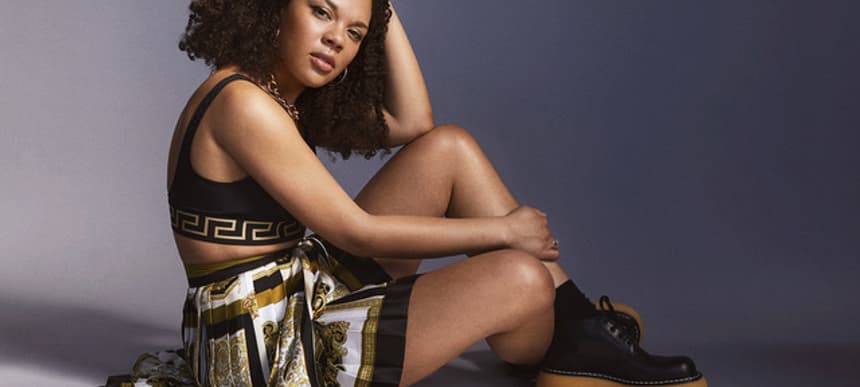 02.08.2021, Words by Maisie Goulsbra
The 10 Best Emerging Women, Trans and Non-Binary Producers, according to Jaguar
"I want to live in a more inclusive, equal world, and I hope this podcast becomes a springboard for further discussion, builds a community and helps create change."
Jaguar Bingham, who goes by her DJ name Jaguar, has worked in the music industry as a radio producer, party promoter, writer, presenter and DJ – landing a BBC internship shortly after going to university in Leeds, she worked her way up to becoming the 'BBC Introducing Dance' show host. Her beaming smile and friendly tone are what makes her a special figure in radio, and she's supported the likes of Prospa, TSHA, Blueprint, India Jordan, Effy and James Organ on their musical journeys.
Her latest endeavour is part of her Future1000 initiative, a national training programme to get more young women, trans and non-binary people equipped with the skills they need to get into mixing and producing electronic music. Recently, Jaguar launched 'Utopia Talks', a podcast where listeners can expect unfiltered and unscripted debates with the industry's sharpest minds such as The Blessed Madonna, Jayda G, HEIDI, Sama' Abdulhadi, Sherelle, Mary Anne Hobbs, Queer House Party and more.
Brimming with positive new initiatives aimed at making the music industry a more inclusive place, Jaguar says; "I want to live in a more inclusive, equal world, and I hope this podcast becomes a springboard for further discussion, builds a community and helps create change."
Dance music has been hit hard during lockdown but Utopia Talks aims to connect artists and listeners, and inspire a new generation to celebrate the diversity of dance music. In the first episode, Jaguar chats to The Blessed Madonna, Heidi, Jayda G and Lauren Lo Sung about their performances at The First Dance in Liverpool, the first government sanctioned rave in the UK following the Covid-19 pandemic.
Below, Jaguar has selected ten of the best emerging women, trans and non-binary producers, for you to check out.
1. TSHA – 'OnlyL (feat. NIMMO)'
"TSHA's wistful sounds are poised with elegance and sensibility. We crowned her BBC Introducing Dance Star of 2020, and I love everything she's put out from her 'Flowers' EP, to 'OnlyL' featuring Nimmo. Already she's cemented herself as an important artist, and I know TSHA will be a household name in years to come."
2. Anna Gram – 'Heaven Help Me'
"I'm excited about Anna Gram! She's one half of duo Lezzer Quest, as part of Glasgow's queer scene, and makes celestial club records, spliced with sharp breaksy stabs. Her track 'Heaven Help Me' with Bonzai Bonner just dropped on Hammer's Remmah label, and it will send you to the outer sphere."
3. Ryussi – 'Fantasia'
"Hailing from Luton, Ryussi is the master of dark, chugging grooves adorned with glittering synths. I first discovered her while hosting BBC Music Introducing in Beds, Herts & Bucks back in 2018, and I've loved watching her grow as an artist. Excited for her bright future ahead."
4. TIMANTI – 'Road to Walpa Gorge'
"There's no other way to describe Timanti than as an Alchemist. They craft together swirling, otherworldly sounds such as 'Red Earth', to heal people on the dancefloor, and they also created a film which explores gender binaries called 'King, Warrior, Magician, Lover'. Definitely check them out."
5. Effy – 'Raging'
"EFFY's fast becoming the next big breakout star in techno. I love her breadth of styles, from the dreamy 'Fluffy Clouds', which I premiered on my Radio 1 last year, to 2021's stomper, 'Raging' which I can't wait to drop in my sets this summer."
6. TAAHLIAH – 'Never Lose (feat. Spent)'
"Glasgow's Taahliah is a new name making a big splash. Experimenting with glitchy breakdowns, pitched up vocals, and fat basslines, she sits nicely between hyperpop and club music. Her debut 'Angelica' EP explores her transness with complete artistic freedom. It's a must listen."
7. Elliott – 'Venus'
"As a DJ, producer and co-founder of Big Dyke Energy events, Elliott is fully rooted in London's queer scene. They cut their teeth DJing at East London's Dalston Superstore, and I've loved supporting their tunes on my radio shows. They're also one half of DJ duo FAFF with Ornography."
8. CiCi – 'Extraneous [A1_Warehouse Music 017_ Extraneous]'
"Although new to production, Dublin's Cici packs a punch, with her debut 'Extraneous' EP landing on Mella Dee's Warehouse Music. The title track is a club ripper with a monstrous breakdown that will whip any dancefloor into a frenzy. Cici's also a resident at Ibiza's Cosmic Pineapple and is set for a big year of gigs."
9. lau.ra – 'Don't Waste My Time'
"Last year saw Lau.ra catapulted into the dance world as a producer, vocalist, songwriter and DJ making fizzing house cuts oozing with BASS. Teaming up with Nova, Eliza Legzdina and Secaina, she's defined herself as badass hit maker who knows how to make tracks that will get stuck in your head."
10. AK Sports – 'Houdini'
"Ultimate Aussie dude, AK Sports, has been thrashing out the tunes! Her productions are fast-paced, coarse and jam-packed with staccato breaks. She's a regular on Balamii and has released on Club Glow and Dansu Discs. Really looking forward to hearing her play out this summer."
Utopia Talks is now available to stream on Apple Music, Spotify, Acast and all podcast providers. Listen here.
Read Next: The 10 Best Euphoric Breaks Bangers, according to Anastasia Kristensen.