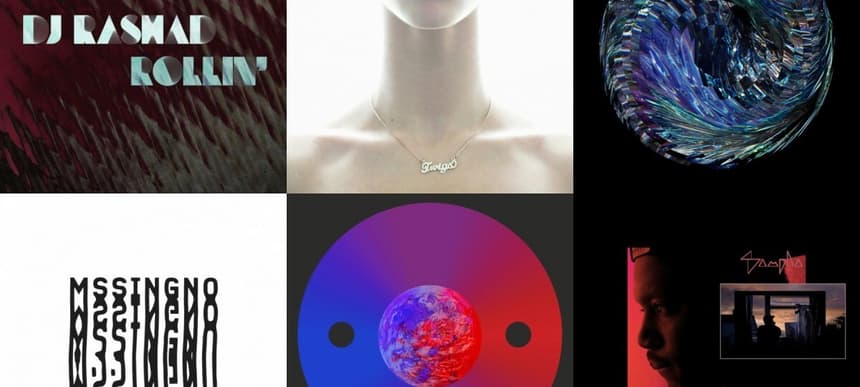 28.11.2013, Words by Aimee Cliff
The 10 best EPs of 2013
With only a handful of tracks to convey purpose and potential to a perma-distracted listener, the EP is a tricky form to get right. It has to make a statement, but a statement that can be contained within a release shorter than half an hour; it has to excite, but not give too much away; stand on its own two feet, but hint at bigger and better things to come. The 10 short releases we've prized this year have done this and more. From the newcomers who shot like comets out of the darkness to the longstanding favourites who took an innovative turn, these are the artists who held our attention with their brief yet powerful releases in 2013.
10. MSSINGNO – 'MSSINGNO' [Goon Club Allstars]
An entry that came screeching into our end of year list-making process around its 18th November release date, this outstanding debut EP from impossible-to-pronounce Londoner MssingNo is totally unignorable. Much has been made of the understated grime producer's reinvigoration of the R&B vocal flip, a trope that has become mostly pretty stale in 2013, but it really can't be said too much: his ability to hear, isolate and create worlds out of one heated moment is phenomenal.
Take Skeezers, which clatters and bounces around a searingly confrontational line from an otherwise forgettable Rihanna song, insisting "make sure you frisk me good, check my panties and my bra", or the pitched-up urgency of R Kelly's determination to "flirt with all of y'all" on XE2. There's a spaciousness and a patience to the way these samples are used that makes it so not about a drop or a hook, instead hinging on a pervasive, unshakeable sensation. This EP is one that takes a trend from the 2000s and perfects it with such minimalist precision that it'll sound fresh long into the 2010s. [Aimee Cliff]
​9. GOLDEN TEACHER – 'BELLS FROM THE DEEP END' [Optimo Music]
Golden Teacher are a Glasgow group made up from members of analogue house trio Silk Cut and hardcore punk band Ultimate Thrush, and their resulting debut EP, 'Bells From The Deep End', was exactly as what you'd expect from that kind of combo: five rough-as-sandpaper dance tracks made by unruly and unkempt young folks who grew up on a diet of mushrooms. 'Bells From The Deep End' was probably one of the more demented things to come out this year, so roughshod that you wouldn't be surprised if the tracks collapsed in on themselves halfway through. Thank goodness they don't. [Selim Bulut]
8. LAUREL HALO – 'BEHIND THE GREEN DOOR' [Hyperdub]
In the final month of 2012, a year in which her avant-pop masterpiece 'Quarantine' had triumphed, Laurel Halo heralded a marked stylistic shift with the release of the heavily rhythmic, bass music-influenced, Sunlight On The Faded. Six months later, 'Behind The Green Door' and its complete eschewing of her once-forefront vocals in favour of dancefloor-oriented kicks and skittering hi-hats showed up as the finalised statement of a composer hitting her stride.
The UK influence that had crept in on Sunlight, with percussive elements similar even to early Goldie, had fused with the alien, machine-led sounds that are classically present in the electronic music of her native Michigan. What is most striking about the four tracks on this EP, though, is their frail immediacy; it's presented through swirling rhythms that constantly threaten to fall apart, the jangly croaks of an unkempt piano, and flatlining sub-frequencies. Its ephemera is reminiscent of Laurel's largely-improvised live show, as well as the fragile junction between euphoria and frenzied escapism we've all experienced in a club. It's imperfect yet sublime. It's to be alive. [Zara Wladawsky]
7. FELICITA – '(>'.')>#' [self-released]
As part of a new generation of super talented emerging artists from London, Felicita joins the likes of friends and collaborators SOPHIE, Palmistry and Throwing Shade in producing an eclectic sound for the future. Smart, fun and funny, it's really quite amazing how good the demented crawl of rhythmless, lumbering tweaks, bleeps and baby laughter in '(>'.')>#' feels, along with the grandiose synthetic heraldry of always maestoso. My mum would probably argue that this isn't actually music and she might be right, but that doesn't change the fact that this is full-bodied sound fetish at its most gratifying. [Steph Kretowicz]
6. VISIONIST – 'I'M FINE' [Lit City Trax]
Was there anyone besides Visionist who seemed to appear out of nowhere and completely own the year? Yes, Visionist has been around for a couple of years, and yes, he'd been working toward this point for a while, but there just seemed to be a sense of excitement and, well, newness, that surrounded his 'I'm Fine' EP. True to his name, the EP displayed an absolute clarity of vision: the unique production aesthetic, the definition and ownership of his sounds, the wounded track titles (Pain, Lost, I'm Fine, Escape), and the sense of absolute dread that underscores the whole thing. [Selim Bulut]
5. KORELESS – 'YUGEN' [Young Turks]
After the delicate, post-dubstep located singles 4D/MTI (2011) and Lost In Tokyo (2012), Welsh producer Koreless took a sharp about turn for his debut EP. 'Yugen' is an altogether more complex beast, traversing a plane many lightyears from our earthly existence. Clearly influenced by the work of contemporary composers like Reich and Eno, it swaps out his early skittering for the grandiose swell of slo-mo arpeggiated chords. There's a seriousness to the EP that impresses, a gravity-free graveness that steels the jaw and steers the gaze. Wherever Koreless is headed next, it is with intent. [Ruth Saxelby]
4. SAMPHA – 'DUAL' [Young Turks]
The rise of Sampha is something that anyone even remotely interested in the sound of London today has been patiently waiting upon for years. Five years on from his first musical forays – including a 2009 remix of The xx – 'Dual' is the sound of Sampha Sisay unfurling. For an artist who has largely been known for his collaborations with others – SBTRKT, Jessie Ware, Drake – it's a triumph on many levels, not least the marrying of his idiosyncratic production with that timeless voice. Emotionally, he leaves no stone unturned, at one point addressing his late father, at another a one night stand. While the generosity of his songwriting startles, it is the chance to finally inhabit Sampha's world that endears this record to the heart. [Ruth Saxelby]
3. DJ RASHAD – 'ROLLIN' [Hyperdub]
2013 was DJ Rashad's year – not only did the footwork veteran release his first "you can actually buy it on CD in the shops" album, he also put out two amazing EPs in the punk-as-fuck 'I Don't Give A Fuck' and 'Rollin'. The latter was his first release of the year and marked a real development in Rashad's sound, moving from his earlier clipped, million-tracks-a-minute production style into something that was cleaner and more considered. 'Rollin' made explicit links between footwork and other global club musics, and, coming from a Chicago original, the high octane jungle of Let It Go and the ecstatic amens on DJ Manny collab Drums Please felt like a new milestone for the genre. The fact that it was released on Hyperdub seemed to be a neat way to acknowledge this symbolic significance. [Selim Bulut]
2. FKA TWIGS – 'EP2' [Young Turks]

Having been one of those names bubbling just under the surface for a while now, this Young Turks EP saw FKA twigs seriously up her game. 'EP2' centres on Water Me, a love song for an age of watering eyes staring at late-night screens – a disconnection from physical contact ("he said it's too much impact"). Meanwhile, Arca's idiosyncratic presence – necessitating one of 2013's finest collaborations – cements the EP's layers of meaning. Below the phantasmagorical flutes serving as Water Me's melodic bed is a continuous rattle, like clunking cogs meeting in a machine. While fluid, the sound also carries an unnerving artificiality: are these real lovelorn emotions, or do they come from a programmed automata? Elsewhere, Papi Pacify strikes out against machismo in bold strokes, while How's That's smoky defiance lingers across this complex release. [Robert Darnell]
1. TIRZAH – 'I'M NOT DANCING' [Greco-Roman]
Tirzah's debut wonky dance EP for Greco-Roman, produced by pal Micachu, is the EP of the year because it breaks every rule. It refuses to dance, for a start – from its sullen title to its slipshod and unpredictable rhythms, it trips and slurs around like your bolshy friend after a few too many drinks. Turning your expectations inside out with ever other beat, it does happy, it does sad, it does "fuck you", and it's not even 10 minutes long. The genius of Micachu's loose production style is matched full-on by the sarcastic-sweet lightness of Tirzah's voice and the bitter edge of her lyrics; over a splintering landscape of percussion, she moves gracefully from singing about "when I found out that you never loved me" to singing "don't do anything I wouldn't do" with brittle sincerity. I have listened to this EP on buses and dancefloors, deskchairs and deckchairs, and every single time, despite its insistence, and despite the big fat raspberry it blows at the rulebook, I have been dancing. [Aimee Cliff]