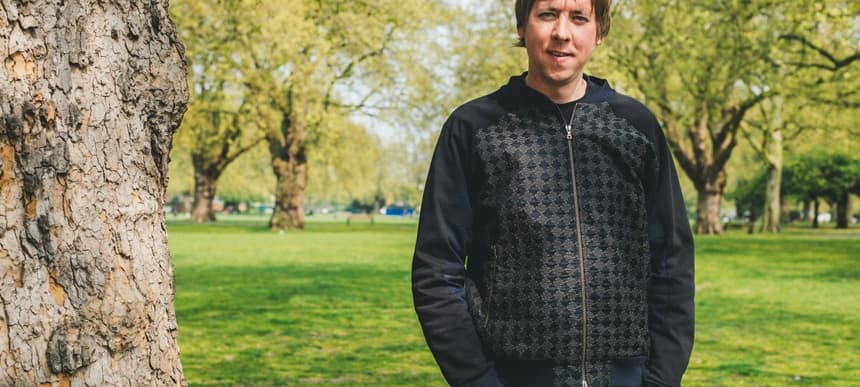 23.05.2016, Words by dummymag
The 10 best Field Day moments, according to Tom Baker
Tom Baker is a London based music promoter. A longstanding figure in the city's nightlife and music scene, he started Eat Your Own Ears in 2001 and has promoted shows for a wide variety of acts including The xx, Animal Collective, Caribou, Four Tet, Andrew Bird, Beirut, Florence + The Machine, The Temper Trap, Clean Bandit and many more. Tom then went on to establish annual live music festival Field Day in 2007, bringing some of the best live, experimental and electronic music to East London each summer. Quickly gathering momentum, Field Day soon became one of the key summer dates on London's festival calendar – offering a chance to enjoy cutting edge bands, electronic music, food, and drinks in an outdoor setting.
Back in Victoria Park on June 11th and 12th, the Field Day team are gearing up a milestone edition next month as it enters double figures for the first time and celebrates 10 years in action. Priming for sets from the likes of PJ Harvey, James Blake and The Avalanches – Tom Baker looks back over a very successful tenure and shares some of his favourite Field Day moments with us – ranging from carrot peeling to a very intimate performance from The xx in 2009.
Read Tom's highlights below and get set for another a milestone edition of Field Day on Victoria Park this year.
The first ever Field Day
Tom Baker: "2007 was the first ever Field Day. Looking back we realise what an incredible line up we had – Battles, Justice, Florence and the Machine, Erol Alkan, Four Tet, Foals, Mystery Jets, Gruff Rhys, Caribou, Electrelane, Bat for Lashes, and Laura Marling. And it was sunny! I'm so proud of all these acts and their success these last 10 years."
Toumani Diabate at Field Day 2009
Tom Baker: "Toumani is the 'Jimi Hendrix' of the kora, a beautiful sounding West African instrument. We were a little bit worried when booking Toumani in 2009 – we knew he was amazing but would the Field Day crowd crossover to watch a world music act on Saturday night? In the end they wouldn't let him off the stage and this performance allowed us to continue to book the best acts from around the world. Look out for Paradise Bangkok Molam International Band at this year's festival."
Ride headline set at Field Day 2015
Tom Baker: "Ride headlining last year was a massive moment for me both personally and professionally. Dreams Burn Down was the first song I ever learnt to play on drums as a teenager and to go from that to being an instrumental part of their comeback tour was a bit of a dream come true."
Pixies at Field Day 2014
Tom Baker: "Similar to Ride, The Pixies had a big influence on me during my youth. I remember a Summer in Cyprus spent learning to juggle and listening to Surfer Rosa and Doolittle on repeat on tape. Time well spent! 2014 was the first year of Field Day Sunday and having the Pixies headline was a huge part of its success."
Four Tet
Tom Baker: "It's hard to pick a top moment from Four Tet at Field Day. He played the very first one and has been a huge supporter ever since. He's a really good friend and it's been brilliant watching he and the festival grow together."
Street Feast at Field Day 2014
Tom Baker: "In 2014 we partnered with Street Feast and suddenly had this amazing choice of food and drink all over the festival site. They're a great fit with Field Day – a local company who share our idea of eclecticism and willingness to try new things."
The eating contest
Tom Baker: "Speaking of which, I can't talk about top Field Day moments without mentioning the eating contests we have every year. 2016 is Field Day's tenth year, so we're having a special contest to remember each of the previous years contests. It will include 10 minutes of carrot eating, onion peeling, blindfold sweetcorn husking, cucumber sandwich mountain, winkle picking, nettle eating, The Meringueathon, beetroot and celery guzzling, and a one hands-tied blueberry pie face off, with a slice of tenth birthday cake to finish, which will be followed by James Blake headlining."
The Thing at Field Day 2009
Tom Baker: "One of the things I love about Field Day is the platform it provides for experimental bands to play alongside mainstream festival acts. The Thing in 2009 were a great example of this, and there was such a buzz during the whole set."
The xx in a 500 cap tent at Field Day 2009
Tom Baker: "Bands like The xx have always been part of Field Day. Back in 2009 we had them filling a 500 capacity tent just as the first album came out. A few years later we were involved when they curated their own festival 'Night and Day'. Bands going on to be massive after Field Day let's us know that we're doing something right."
John Cale at Field Day 2011
Tom Baker: "John Cale playing was a huge – Field Day had an actual musical legend on the stage and it really made us realise how far we'd come."
Field Day takes place June 11-12th on Victoria Park, London (info).