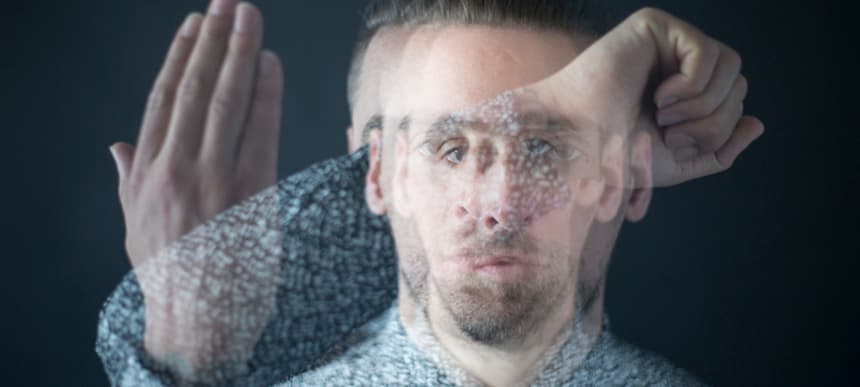 30.10.2015, Words by Natalie /
The 10 best horror films, according to Redlight
Redlight first came to most people's attention with his 'Lobster Boy' EP back in 2009, namely the Jammer and Jenna G featured stomper Pick Up The Phone. A track that, at six years on, you could still drop in the club and get a massive fucking rise from. It makes me want to set off fire alarms. (It's #lit etc etc).
The first release on his imprint Loster Boy, it set the domino effect of greateness from the Bristol born and London based producer, who has gone on to work with the creme-de-la-creme of the underground and mainstream music scene including big hitters like Tinashe, Mary J Blige and Raekwon.
Somehow, being the fully-fledged production machine he is, Redlight's discography is only just prepping itself for a full-length release 'X Colour' is his debut album, set for release on November 13th via Lobster Boy. Featuring the likes of long-time collaborator Roses Gabor (she featured on his 2010 hit Stupid), Melisa Whiskey, and wait for it…more hip hop hitters, Mobb Deep's Prodigy.
Metronome, the first single taken from the album, is out now but as the music world sits tight for 'X Colour', we get in the Halloween mood with horror film enthusiast Redlight for (…thesaurus open as I refuse to dive to the literacy pits of 'spooktacular'…) a cobwebbed cruise through some of the genre's most chilling films.
A pussy'ole free zone – this one is chocca full of prosthetic limbs, trick shop blood, levitation and (shouts to Redlight for including this one) the gnarled gnome killer of Don't Look Now. She's like a nightmare grandma from the depths of a rocky LSD trip, stalking the streets of Venice with a big boy kitchen knife. "Proper bizzness this," says Redlight.
Hold tight to the closest thing near you (significant other, mother, father, blow up doll) and brace yourself for the following skin crawling trailers that span four decades of horror's finest, courtesy of Redlight.
01. Kill List (2011)
Redlight: "All types of fuckery go on in this movie. Satan worship (!!!), cat murders (!!!) and sledge hammering. I watched this at the cinema and four people walked out. I can remember when it finished, this guy just stood up and turned round to the only other six people in the cinema and said, "Well thats what you get if you pay to watch a film called Kill List." Sweet."
02. The Exorcist (1973)
Redlight: "No horror top 10 would be complete without The Exorcist. That would be like going to a Maccy D's without ordering a Fillet O' Fish. I mean, what the fuck?! I watched this at the cinema at some re-release anniversary when I was a teenager, stoned out my eyeballs with a group of mates, only to be scared out of my skin. The effects lasted for the next two weeks every time I went to bed. Then, five years later, I watched the documentary about the making of it and freaked out all over again. Pussy!"
03. The Conjuring (2013)
Redlight: "My homie told me to watch this and I was like, "I don't watch horrors anymore, the genre's dead." (AKA more like I'm to scared to watch them). So, anyway I'm on a night flight coming back from LA to London a few months later and I saw The Conjuring on the film list. I was like, "Yep I'm in". I get about an hour into it, the plane cabin is all dark, everyone's asleep around me and I'm there pooping my pooper. They say everything gets enhanced when you're flying and hopefully that's the case, because I couldn't even finish this one. Absolute fuckeries."
04. Cannibal Holocaust (1980)
Redlight: "To be honest, I wouldn't even watch this one and I still haven't. I'll tell you why though. Years ago, there used to be a sick video shop in Bristol called 20th Century Flicks where you could rent all the rawest shit. One time my friend who'd just started seeing this girl, was like "Yo, I'm gonna stay in an chill with my missus tonight, you got any recommendations for films to watch?". I was naturally like, "Hell yeah, you've gotta check out Cannibal Holocaust." Three days later I saw him and he said his girlfriend cried for hours and it was the most horrific thing he'd ever seen [laughs[. So I've never bothered watching it after that, but if thats your vibe then this one's for you."
05. The Evil Dead (1981)
Redlight: "Come on if you haven't seen this, or never raved to Subnation's Scottie you need to rethink your life buddy!"
06. Ring (1998)
Redlight: "This is a whole other level of sickness. Sometimes you've gotta watch those films that take an hour and a half to do anything, so when they do, it really twists your melon to pieces. Ring is one of those films. The one scene I'm talking about is so, so clever. I love it."
07. Carrie (1976)
Redlight: "When I was a kid, this was an absolute nail-biter. Tbf, Carrie is a don. She makes people pay for being arseholes. Stephen King who wrote it also made another film everyone was obsessed with when I was a kid called 'Pet Cemetery'. That was also really weird."
08. Hellraiser (1987)
Redlight: "This film bent my mind when I first saw it. Mr Parker's into some proper off key shit. He should just stick to hookers but he's always looking for some next level, sexually depraved stuff. I doubt I'll ever watch this again (or any of the above). Sometimes I think films like this are only made for one watch but saying that, I did watch The Exorcist a lot when the Spider Walk version came out."
09. The Last House On The Left (1972)
Redlight: "This was Wez Craven's first movie I think. He went on to do 'Nightmare On Elm Street' and 'Scream', so this makes those films look like Sesame Street. I can remember finishing it thinking, "Why the fuck did this guy make this?" It's evil. The revenge scenes are pretty sick but it's what you have to go through before that. Cheeeezzzz!"
10. Don't Look Now (1973)
Redlight: "Ok so the last one was hard to choose because there's so many others out there that could equally have this space, like Audition for example, which is a must if you've not already seen it. Invasion Of The Body Snatchers, which also stars Donald Sutherland is also sick, but for me, Don't Look Now is just too good to be ignored. It's got everything you want and also one of the best love-making scenes ever filmed (cheeky), plus absolutely one hundred percent fuckeries to smack you in the face when you least expect it. Proper bizzness this."
Redlight's debut album 'X Colour' is due for release November 13th on Lobster Boy (pre-order).