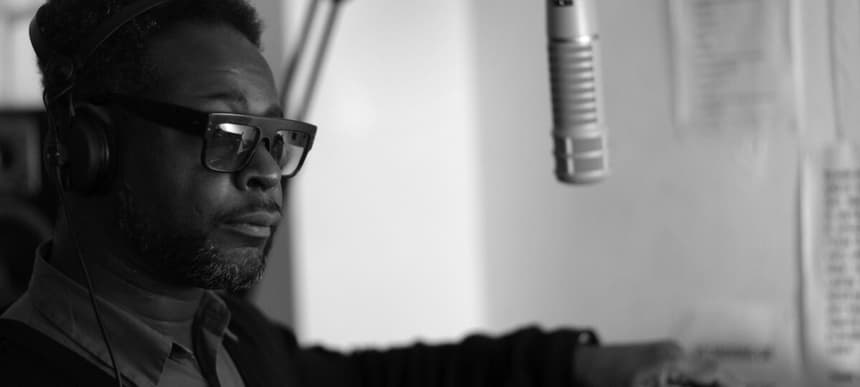 09.02.2016, Words by dummymag
The 10 best innovative electronic tracks, according to A Guy Called Gerald
Engrained in all house music enthusiasts inner-workings, Voodoo Ray still sounds as fresh as the day it was made. A Manchester native and one of the founding fathers of acid house, A Guy Called Gerald is the genre-shattering, psyche-busting, peak-time hero of the UK house music scene. Decades later, he's still trailblazing with nothing to lose – remaining at the top of his game whilst spreading the seed of his 'True School' manifesto. Inspired by artists as far and wide as Arthur Russell to Armando; the sound of his original productions, as well as his work in 808 State, have shaped dance music as we know it.
Ahead of forthcoming appearance at Motion, Bristol later this month and reppin' in his native Manchester for the Red Bull Culture Clash in March, A Guy Called Gerald took the reins of our 10 best series to spread a little knowledge. An undeniably colossal innovator, he shares some of the most innovative moments in electronic music history, ranging from Ryuichi Sakamoto's early adventures into heady experimental electronica to the jagged electro-funk breaks of T La Rock.
In his own words:
"This is the music that put me on my slightly different electronic musical path. These were exciting times, where the music technology was just coming into its own for the electronic producers of the '80s. Every day it seemed more and more like the sky was the limit. If you could imagine there was a time where there were no computers and the only samplers that were available cost the price of your average house. Try and imagine how you would make one of these tracks without a computer."
With that in mind, read the list below and listen seamlessly via our YouTube playlist.
01. Ryuchi Sakamoto Riot In Lagos (1980)
A Guy Called Gerald: "There wasn't a lot of artificial sounding music around at this time. So picture a young kid who's grown up listening to all sorts of different music intrigued by King Tubby, dub and what was happening in sound system music at the time. So imagine that young man hearing this tune coming out of Japan."
02. Extra T's E.T. Boogie [Original 12" Version] (1982)
A Guy Called Gerald: "The syncopation in the drum programming definitely came from funk and I can almost feel a robot version of P-Funk. They took P-Funk to another galaxy."
03. Hashim Al-Naafiysh (The Soul) (1983)
A Guy Called Gerald: "There were so many electro tunes all of a sudden. This was the time when I decided to depart from DJing and begin producing. This was a serious battle tune. I felt up until this track, it seemed like there were a lot of Planet Rock copies. It was different because the scratching made it raw and edgy and the string smoothed it out at parts creating more of a symphony. I salute you Hashim."
04. WARP 9 Light Years Away Dub (1983)
A Guy Called Gerald: "Approaching electro from a minimal point. I love the instrumental but you should still check out the vocal version. It was one of the first tracks I heard that was just drum machines. There was no messing around."
05. C.O.D In The Bottle (1983)
A Guy Called Gerald: "This was a remake of the soul and blues of Gil Scott Heron's The Bottle. It pointed out to me the possibility of using machines for creating a new type of soul."
06. Jonzun Crew Pack Jam (1983)
A Guy Called Gerald: "Body-popping music. Most of the music that came out at this time used similar machines, but this track seemed to have a certain theme or story. It pushed imaginations."
07. T La Rock & Jazzy Jay It's Yours (1984)
A Guy Called Gerald: "The first time I heard this everything from my bass orientated background made sense in an electro-funk world. It just locked. Everything was clear. I was chomping at the bit to get hold of a drum machine."
08. Schoolly D I Don't Like Rock N Roll (1985)
A Guy Called Gerald: "This was out round about the time I bought my first 808, so I knew the sounds well. From this I learnt the drum machine was just a raw product and effects processing was also an instrument."
09. Mantronix Get Stupid (1985)
A Guy Called Gerald: "This was one of the first tracks I heard where the sampler was used in the same way as you would cut and scratch a record. Mantronix was one of my greatest teachers and the original dance music producer. For me he cemented the idea that electronic was a full dynamic spectrum. Not divided by tribes or genre. Check Mantronix's Got To Have Your Love."
10. Just Ice Cold Gettin' Dumb II (1987)
A Guy Called Gerald: "This was the first gangsta rapper. Again Mantronix production paints a perfect base for the personality of the artist and I try to adopt this idea when doing remixes. Before I even used a sampler I knew exactly what it was about and what to do with it by listening to this track."
A Guy Called Gerald plays Motion in Bristol on February 20th (info) and Red Bull Culture Clash in Manchester on March 10th.