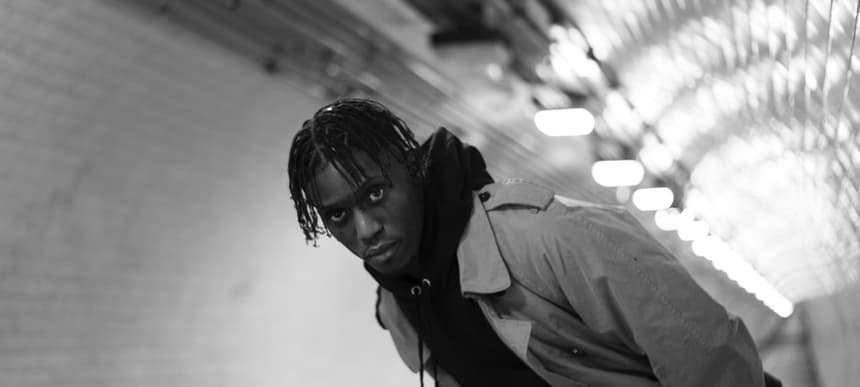 18.11.2021, Words by Maisie Goulsbra
The 10 Best Jazz Rap Tracks, according to Rarelyalways
"The double bass, sustained chords, flickering groove puts the icing on the cake."
Hackney-raised artist Rarelyalways is emblematic of growing up in the UK among a huge list of musical influences – combining his jazz musicianship, production skills and vocal talent, his music winds together jazz, rap, rock, funk and psych rock, amalgamating as a product sonically comparable to Swindle.
Absorbing music his whole life, and brought up by his Father who was a drummer, mostly playing gospel, Rarelyalways' tunes combine introspective lyricism reminiscent of everyone from Tricky, Roots Manuva and even more laid-back Dizzee Rascal. His debut EP 'Baby Buffalo' from last year was a huge success and was followed by the 'Manic EP' this June, a Hanni El Khatib produced body of work that saw grime, trip hop & jazz effortlessly intermingle. Most recent single 'Birds Eye' was a link up between Rarelyalways and multi-genre producer Subculture, on a sedating lofi hip hop tune that combines instrumental parts and a guitar riff with rattling electronic percussion.
Having appeared on collaborative track 'Breathe Suite B' with Ben Marc saxophonist Shabaka Hutchings, and deeply engrained in London's new generation jazz scene, Rarelyalways is the perfect person to sit down with and discuss his top 10 jazz rap tracks.
1. Rarelyalways – 'Birds Eye'
"This is my brand new single. It just came out yesterday on Innovative Leisure. The fluctuating two- chord progression contributes to a cinematic drama theme maintaining suspense authorising the spotlight. It's difficult to draw the distinction between producer Subculture's adlibs and angels chanting from heaven. Lyrics swim effortlessly over the half-time feel, twice the speed and cementing a good contrast. I want listeners to focus on the bigger picture and come out their heads. Hence 'Birds eye'. This is story telling delivered with a sermon approach."
2. P Nut ft. Monkey 67 (Monkey) – 'Came from Nothing'
""I keep my all on that pedal keep it ghost" – What originally caught my attention was the warm piano riffs and the muted trumpet. I've been spinning this track on repeat since I heard it. Lyrics from Monkey from (67) felt so relatable upon my first listen."
3. Kay Young – 'Sweet Dreams'
"The simplicity does it for me. Kay Young is by far one of the UK's best lyricists/producers and this one will always make my top 10 as it's well before it's time. Incredible work from Dylan Hayes, the music video is a clear demonstration of creatives bumping heads together."
4. Tyler the Creator – 'Lone'
"From his 2013 album 'WOLF' out of the Odd Future LLC camp. The track puts the whole LP into perspective and is coincidently the last very song. I love the arrangement of the music score, everything from the rhythm section hits, dynamics, strings parts, etc. Feels like a never-ending trance which comes to an abrupt end."
5. Freddie Gibbs – 'Scottie Beam'
"A classic recording from LA's very own Alchemist. In all honesty the 8-bar intro can go round-and-round all day long for all I care. The subtle samples behind the Rhoads is the closest I've been to paradise. It also features Rick Ross whose distinctive tone adds the low-heat flame."
6. Ashley Henry C Joshua Idehen – 'Colours'
"It's so cinematic and comes across as a soundtrack. The double bass, sustained chords, flickering groove. Those unforgettable lines from Joshua Idenhen 'we brought the carnival to Notting hill' puts the icing on the cake. Taking off my hat to all the humble musicians involved as they all held their corner by playing what the moment required."
7. Ty – 'Eyes Open'
"A London anthem I'd say. Effortlessly weaving through the melody, TY blesses us with his delivery and his rattling approach makes it difficult to pin down the sequence. I learn more and more after every play, just like a good series."
8. Knucks – 'Breakfast at Tiffany's'
"Knucks hasn't got the credit he deserves yet and I'm struggling to decide whether I prefer his production or his vocals better. So unapologetic, he's a pioneer of the scene and brings a whole new style to UK Rap."
9. Kofi Stone – 'Same Old'
"You can't make it up. Every time I hear this track it really touches home and there is so much emotion going into every syllable. Certified favourite of mine taken in doses."
10. BADBADNOTGOOD X Ghostface Killlah – 'Food'
"Just never gets old. Saving the best for last because Ghostface Killah is probably my favourite rapper alongside BADBADNOTGOOD being one of my favourite jazz bands. I hear hip-hop, country, classic rock. Such a perfect example, a melting pot of culture. Thank you Lex Records as this one got me through university."
Listen to 'Birds Eye' on your preferred streaming service here.
Read next: The 10 Best DnB/Rap Collaborations, according to D Double E and Danny Byrd.