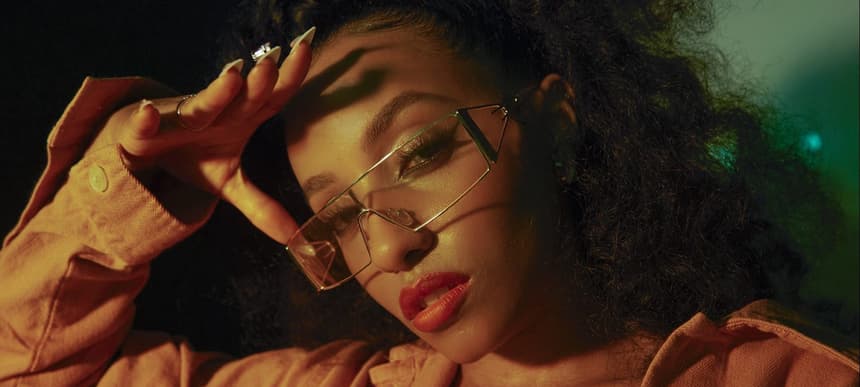 26.01.2022, Words by Billy Ward
The 10 Best Jhené Aiko Tracks, according to Meron Addis
"I love the beautiful simplicity in the melodies, production and storytelling lyrics..."
Born and raised in London, but remaining close to her Ethiopian heritage, Meron Addis has absorbed many musical influences and perspectives to become the artist she is today. After releasing her breakout debut project 'Kintsukuroi' back in 2018, the rising vocal powerhouse quickly asserted herself on the frontline of the UK R&B sphere, where her love for 90s and early 00s pop music can be found coursing the veins of her sun-kissed sound.
Off the back of releasing her most recent EP 'Feel But Don't Touch', Meron's most accomplished body of work to date and a project which shows her growth as an artist over the past few years, we sat down with the singer-songwriter to discuss a big influence on her music and someone she considers to be raising the bar for everyone else in the game – Jhené Aiko.
Currently one of the biggest pop-oriented R&B stars in the world right now, Jhené has crossed over into icon status throughout her career so far and has produced some of the biggest hits of the last decade. Digging through the archives to uncover ten of her favourite Jhené Aiko tracks, Meron Addis reveals why the pop star's work is so important to her.
1. 'My Mine'
"I remember the first time I heard this single from Jhené Aiko's first mixtape 'Sailing Souls'. I was on a friend's Tumblr page years ago and it was playing and I thought; 'Who is this?!' There was something about the sound that just touched me and took me to another place. It finally became available on streaming sites this year and it hits just the same now! If you know, you know! I had to give it the number one spot for being so timeless."
2. 'W.A.Y.S.'
"With the title being an acronym for 'Why Aren't You Smiling?', this song from her debut album 'Souled Out' holds a special place in my heart. Everything from the music to the lyrics are so soothing and kept me company through times in life where my anxiety was high. I'd definitely recommend this song to anyone who needs a comforting song that makes you feel less alone."
3. 'The Worst'
"Of course, I had to put this banger on the list. I fell in love with the 'Sail Out' EP that this song was on and understandably, it became one of the songs that Jhené became really popular for. The combination of the eerie production by Fisticuffs, her angelic voice, quotable lyrics and smooth hip-hop resembling flow make this a classic Jhené Aiko hit."
4. 'Stranger'
"Another one for the OG mixtape Jhené listeners! Over the hard hitting snare drums, Jhené sings with addictive melodies about meeting the same kind of person repeatedly, and thinking they would be different. Also produced by Fisticuffs – they were in their bag with this song and whole sound! This is an oldie but most definitely a goodie."
5. 'Spotless Mind'
"'Shame on me for changing? No, no, no.. Shame on you for staying the same'.. One of the many lyrics I love on this track. Here's another calming song that helped me during times of growing pains. I love the beautiful simplicity in the melodies, production and storytelling lyrics."
6. 'Stay Ready (What A Life)' feat. Kendrick Lamar
"Now Jhené has featured on many songs and had a few features herself (honourable mentions to 'From Time' with Drake, 'B.S. with H.E.R.' and her infamous verse on 'Post To Be' with Omarion and Chris Brown). But to make narrowing down this list easier, I tried to include mainly her solo songs. However, this 2-part song with a fire verse from Kendrick had to be included. It gives such an ambient mood with melodies and flows for days!"
7. 'Eternal Sunshine'
"I once tweeted that this song is 'heaven in a song'. And I stand by that! It's just such a stunning song. It's one of those songs that have you thinking deeply about life and breaks you in a beautiful way. The piano accompaniment and harmonies are gorgeous alongside her gentle voice and reflective words. My favourite line is 'and the more that I see the more that I know..I don't know anything at all.' Facts."
8. 'Bed Peace' (feat. Childish Gambino)
"Here's another 'Sail Out' stand out and in my opinion one of the most feel-good Jhené singles. It's giving laid up on a Sunday without a care in the world. The bright chords, bouncy yet chilled production and cheeky lyrics make it an enjoyable listen that I still love."
9. 'Comfort Inn Ending (Freestyle)'
"This has got to be one of the most vulnerable and raw songs from Jhené as it takes you through a journey of her pain and candid thoughts. You can't help but feel every word. She doesn't hold back in singing honestly about what she went through and the fact that it was a freestyle makes it even more impressive! It was hard to decide between this and 'Triggered'."
10. 'While We're Young'
"As part of her 'Trip' album, this was such a pretty love song with a really warm, carefree, free-spirited vibe and is another testament to how well Fisticuffs production and Jhené's writing compliment each other!"
Stream Meron Addis' latest EP 'Feel But Don't Touch' below or listen with your preferred player here.