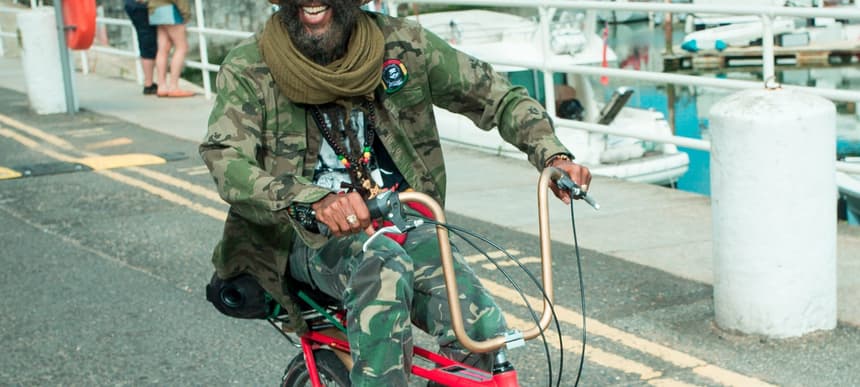 26.10.2022, Words by Billy Ward
The 10 Best Jungle Tracks I Ever Made, according to Congo Natty
The ultimate guide to the iconic junglist's finest work, straight from the mouth of the man himself...
Mikail Tafari is a man of many monikers but his most iconic and enduring of all is undeniably Congo Natty – a name synonymous with the very foundations of jungle music as we know it today. A pioneer and revolutionary, the Tottenham-raised figurehead played a crucial role in bringing about one of the UK's most important musical movements and is responsible for some of the genre's most timeless tracks.
Embedding his ideas of spirituality as a Rastafarian into his music while looking to unite and break down barriers with every chance he gets, Congo Natty recently shared his latest labour of love 'Ancestorz (Rootz of Jungle), a powerful album giving a voice to a new generation of artists while ensuring the torch he originally lit stays burning bright. To celebrate the release of his new project, we sat down with Tafari to dig through the crates and reveal the 10 best jungle tracks he ever made. Re-visiting some of his lesser known but equally influential aliases, from Tribe Of Issacher and Blackstar through to X Project and Conquering Lion, this is the ultimate guide to Congo Natty's finest achievements from the man himself.
1. Tribe Of Issacher – 'Junglist' ft. Peter Bouncer
"Jungle Army Defenders, 3am, Camden Town. This track is a story of the great UK bassline robbery and how a bunch of producers were robbed of their musical rights. We all gathered and sat in a room to create a voice, because we weren't counting on magazines to talk, there was no social media, so music had to talk. So we as the junglists had to stand up and make a statement that we're still junglists."
2. Lion Of Judah – 'Emperor Selassie' ft. Bounty Hunter
"I recorded this one in Jamaica, Kingston at I&i studios. I had to take the trip there to represent jungle music because there was a big frequency that was going round the world, called jungle music, and Jamaica is the heartbeat of jungle. I had to go on a pilgrimage and bring my jungle beat to the Jamaicans for them to bless it for me and it was blessed by Bounty Hunter and I recorded Bounty Hunter and Jacour on the same date."
3. X Project & Frankie Paul (feat. Tenor Fly) – 'Jah Sunshine'
"This track is an anthem for the great Tenor Fly and it's based on his original track that went to no.1 in the reggae charts in the UK. We got together and started to create a revolution and this is one of the tracks. This track is like a unification of the original sound system in the UK meets the new sound of the UK, that's how it is with Tenor Fly, he's from a sound called Sir Coxone Outernational and they were one of the biggest sounds in the UK."
4. Tribe Of Issachar – 'Kunta Kinte' (94 Dub Plate)
"Inspired by the Roots TV series and The Revolutionaries band. The Revolutionaries built a track when I was a yute man called Kunta Kinte, this track was a signal and a wake up for our inner chi. Kunta Kinte got played and woke us up. So the frequency of Kunta Kinte was a dubplate, it wasn't a released tune at the time and only certain sounds had that dub plate so it was a big signal. I didn't know anything about my roots or culture, yet I got roots and culture, so Kunta Kinte was the one to come along and say do you know you're from Africa, got taken away and stripped down naked and for 400 years you didn't even know who you were. So this music called reggae is more than just a genre, it's a revolution to wake up the sleeping people that were put under hypnosis. All of us in the western world is under hypnosis, that's why we think a certain way. Until we go through a trauma in our life we ain't even seen we're just going along with the roll of the river and who we think we are and who we're told we are so we give thanks for the gurus of the world who come in different forms and just wake us up."
5. Blackstar Ft Sweetie Irie – 'Get Wild' (Original Dubplate)
"This is another unification of the UK reggae world and the UK jungle world and when we get together we create a third harmonic that is so fire that everyone has to dance and start moving, that's Get Wild. If you listen to the track Get Wild it's all about junglists just being free and breaking free of the prison. Cause what's the prison? Our sadnesses, our anxieties, our fear, so when the jungle plays Get Wild all these troubles are gone cause you go to the next plane, an astral plane, so that's what Get Wild is about, the jungle astro plane."
6. Blackstar feat. Ronnie Thwaites – Binghi Man ('99 Remix)
"This was another day again where I went out in Kingston and searched and found Ronnie Thwaites, Joe Lickshot and Fuzzy Jones. I got them all in one cab and went to the studio and the driver of the cab was called Kunta Kinte. Can you believe that?! So that's it. We got in the studio and made Binghi Man. Joe Lickshot and Fuzzy Jones are two of Jamaica's intro specialists, it's all about the journey, reaching Zion, cause Zion is real and it's so real that Zion sent someone to us to tell us all about it and his name is Bob Marley and he said Zion is a whole new place. Listen to the words of Jammin, cause you have to know Bob is no entertainer, he is a spiritual entity that came to the world for 36 years and left us with redemption songs for us to heal and to find the truth."
7. Topcat – 'Original Ses' [Police in helicopter]
"So this one is to officially legalise marijuana in the UK and make sure people know the qualities of the herbs. It's good for asthma, eczema, many diseases, and glaucoma, and it clears them. I'm proof of it, I suffered from asthma and eczema and serious hay fever and I didn't smoke until '94 and up to then I was suffering. When I started I threw away my inhaler, threw away my skin cream and that was it. The true green herbs come from Jamaica in a place called St. Annes, that can heal you."
8. Conquering Lion feat. Beenie Man – Rastaman
"So Beenie Man's real name is Moses. I recorded it with Moses and it was a chant about Rastafarians at a time when I was moving into the Rastafarian family. So it was beautiful that we could come together in my studio and create that song."
9. Congo Natty – Code Red (94 Remix) ft. Supercat & Reggie Stepper
"So Code Red again was a UK/Jamaica link up and it involved Supercat who at the time was the number 1 DJ in the dancehall circle. You've got Vybz Kartel now, and Beenie Man, Ninja Man and Supercat was the don. We went to where he's from, got blessed by all the mandem and we shot a beautiful video with Supercat and Reggie Stepper in Jamaica, but it got banned after that. But we shot a beautiful video, I hope to release it to the people again."
10. Congo Natty – Jah Set It (Dub Plate Mix)
"So Dungeons was a very important venue for the underground revolution in the UK, it was based in Clapton, East London. One night Jah Set It got dropped, it was just one of those tunes that had to get dropped and there were different drops in the track, so any time a different drop came you gotta reload. The dance was a massive studio for me cause I could listen to the bassline, think is the vocal loud enough, are the people feeling it, so Jah Set It was one of those tracks that I had no idea how it was gonna drop cause it was so different. Yeah it was special."
Stream Congo Natty's new album 'Ancestorz (Rootz of Jungle)' below:
Read next: The 10 Best East African & Arabian Artists, according to Alewya