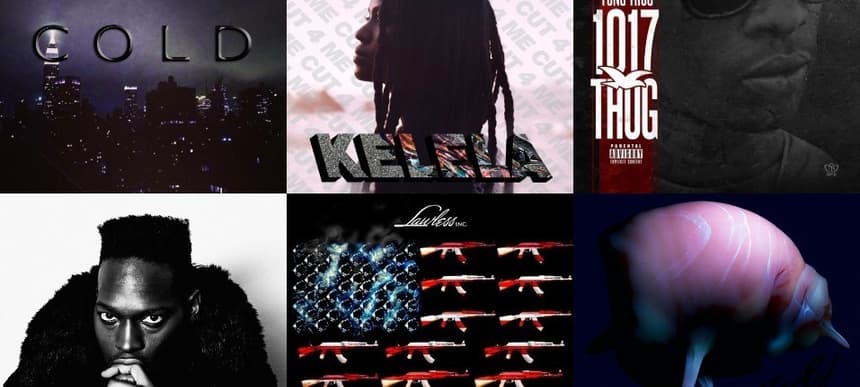 28.11.2013, Words by Aimee Cliff
The 10 best mixtapes of 2013
Encompassing Soundcloud-uploaded mixes, free and self-released downloads and label-endorsed not-quite-albums, the exact form of what's today called a "mixtape" is changeable, but the intent is broadly the same: exposure, experimentation, experience. The artists in this list of Dummy's favourite 2013 mixtapes are all new and independent voices looking for the best way to get their messages across, whether that's by turning their back on the album process by doing something a little more liberating and low-key, or launching their names into the public eye by sharing something that's set to spread like wildfire. The untamed and immediate nature of these releases is what makes them so ludicrously exciting, which is why we've had a lot of fun putting together this short cross-section of hip hop, R&B, experimental and beat tapes we've enjoyed in 2013. If there's any you haven't heard, you're in luck: check the download links below and get settled in for some intensive listening over the holiday period.
10. TASTY MORSELS – 'VOL. 1'
One of the most enchanting things to come out this year was 'Vol. 1', a free compilation of home-recorded gems spanning dreamy hypno-pop and druggy eccojams, released by net label Tasty Morsels. While each artist involved is clearly highly talented in his or her own right (Fruit Salad's Sleep Forever, which opens the compilation, is one of the most incredible, lush things to have come out this year), the Tasty Morsels group are essentially an extended group of friends, and it is this shared sense of community and the collective identity that makes the compilation so endearing. While each of the artists is anonymous, the daft names they've chosen for the projects – Fruit Salad, Cute Boobs, Jafe, Infinite Bisous – are just full of personality. Could a song by Cute Boobs be made by anybody other than someone calling themselves Cute Boobs? [Selim Bulut]
9. JAMES FERRARO – 'COLD'
With the widespread reception of the more recent 'NYC, Hell 3:00am', it's easy to forget that James Ferraro released a free mixtape of considerable quality earlier this year as well. 'Cold' was sleeker than the broken-down, rotting 'NYC', with curved reflective surfaces and a cybernetic elegance that was really several steps ahead of the "Ferraro-does-R&B" reports that greeted it. Highlights included E178 TH, with its waif alone in a conduit, Sentinel, a gorgeous little sketch that might be the closest JF has come to a full-on dance track, and Rata, a rainforest in UV-lit basement. 'Cold' was yet more evidence of Ferraro's intimidating combination of prolificacy, imagination and accomplishment. [Adam Harper]
8. DJ MUSTARD – 'KETCHUP'
The world didn't need to be told about what a DJ Mustard beat can do after the successes of Rack City and I'm Different, so 'Ketchup' is more about providing context. Forgoing his handful of hit singles and high profile guest spots, the mixtape gives a picture of the Ratchet sound DJ Mustard is trying to foster, mainly prioritising local performers in energetic group collaborations. Despite this, 'Ketchup' is not without stand-out tracks – most notably Paranoid, the Too Short-sampling Burn Rubber and a pair of freestyles from Cocc Pistol Cree and Lil Snupe. [Anthony Walker]
7. INGA COPELAND – 'HIGH POWERS'
2013 was a mostly quiet, occasionally turbulent year for Inga Copeland, who flew under the radar with a few snippets of music online while her partner in crime, Dean Blunt, released his overwhelming label debut 'The Redeemer' in April. The following month, Copeland released 'Higher Powers' on Soundcloud, a skittish tape full of lonely lyrics and palpitating bass, the anxiety of its sound only heightened by the fact that it has since been deleted and is now impossible to trace or share. In August, Blunt and Copeland shared the news that they were "no longer affiliated", with Copeland leaving the "cplnd" Soundcloud account along with 'Higher Powers' and launching a new solo Youtube account, on which she now goes by her surname alone.
As Blunt's career climbs and his face becomes gradually more visible with increased public performances, 'Higher Powers' acts as the antithesis to his new orchestral, all-encompassing sound, turning its back on the world with introverted dancefloor echoes and a sneer. It's the perfect soundtrack to days spent curtain-twitching, lit by a laptop glow; with Sctracha DVA's frantic presence and fragile melodies that waver over bold instrumentals, it speaks to the scattered mindset of urban living, and has us on the edges of our seats to see what Copeland will do next year. [Aimee Cliff]
6. KATIE GOT BANDZ – 'DRILLARY CLINTON'
In a year when a lot of her peers have actively diversified their styles, spurred on by the rise of outside attention on Chicago's rap scene, Katie Got Bandz's second mixtape 'Drillary Clinton' stands out as a rare act of consolidation. Together with producer Block On Da Trakk, she builds on the signature style introduced on 'Bandz and Hittaz' and subtly refines it on songs like Finessin and Pop Out with King Louie. The pair of dubstep remixes tacked onto the end of 'Drillary Clinton' may well point to Katie Got Bandz's best chance of gaining wider success going forward, but she's already proved herself a formidable presence with her first two mixtapes and you'd hope that she continues the run on her own terms. [Anthony Walker]
5. ZEBRA KATZ – 'DRKLING'
I've lost count of how many times I've gushed about this mixtape already – but as most exceptional music goes, the possibilities for elaborating are endless. You can easily see the myriad influences and creative motivations of NYC's Zebra Katz in this tape, from his theatre background, in the Fame samples, to visual art, in the gross satire of an artist from the shitty comedy Dinner for Schmucks. But beyond that, the depth and density of Zebra Katz's mean and moody basslines persist across the Busta Rhymes-featuring Ima Lead, the cavernous Y I DO and clattering rhythm of Blk Wiccan. Basically, 'DRKLNG' is perfect. [Steph Kretowicz]
4. ARCA – '&&&&&'
This year, Arca had production credits on one of the biggest headline-grabbing albums in the world in the form of 'Yeezus', as well as collaborating on a star-making EP for Young Turks artist FKA twigs, but it was with this fluid release of 14 tracks crammed into 25 minutes that he really affirmed his position as one of the most thrilling producers working right now. '&&&&&' is unique in its stretching of the imagination, filtering recognisable hip hop sounds through a skewed lens and tugging at their corners until they become something much more bodily, writhing and unpredictable. My favourite moments on this mix include the mechanical thrust of the opening track Knot, the garbled voices that jabber like beats of their own on Anaesthetic and the storming piano breakdown of Century, but there's so much to choose from; the genius of it is the way all these disaprate elements flow unfalteringly into one another, seamless and yet never the same from moment to moment. [Aimee Cliff]
3. 18+ – 'MIXTAP3'
For a little while now 18+ has been one of the online underground's best kept secrets, their early Youtube videos turning the few who caught up with them ("jets" in particular) into fierce converts. Last year's second mixtape 'MIXTA2E' journeyed through minimal hip hop nocturnes sewn together with weird sound. 'MIXTAP3' surpassed my precariously high expectations, refining their signature sound into a series of beguiling constructions, performances and lyrical images that get right under your skin. It's one of those rare, consistent albums where each track is differently but equally appealing. If you want to test the water, though, there's oixu, a mad love duet like a noir version of Autre Ne Veut's Ego Free Sex Free, the poppy but sparse Crow, or the haunting Horn, on which you can hear the teeth of a synth waveform converge with whalesong as the female voice muses, "tripping deep with you… putting a knife on you." Hopefully 18+ can continue moving further and reach the audience they deserve in 2014. [Adam Harper]
2. YOUNG THUG – '1017 THUG'
'1017 Thug' starts fairly innocuously with Yeah Yeah, a zingy song produced by prolific Atlanta duo Nard & B, but the second track 2 Cups Stuffed quickly makes it clear that Young Thug isn't interested in sticking to blueprints. The mixtape pushes against the boundaries of conventional wordplay, vocal delivery and song structure to exhilarating effect and, most incredibly, seems like only the tip of the iceberg when considered alongside his more recent single Stoner – a track that works like a composite of two or three different songs and shows what more can be done with the raw materials scattered across '1017 Thug'. [Anthony Walker]
1. KELELA – 'CUT 4 ME'
"You're all about me now that you're my enemy / There's nothing here to save, it's all in front of me," Kelela sings on the opening to Enemy. With her lyrical sharpness and hypnotic vocal agility more than a match for Nguzunguzu's genre-dodging production, Enemy's got the goods to qualify as a stand-out on any record. Except there are 12 other stand-outs on Kelela's 'CUT 4 ME' mixtape on Fade To Mind and they're each as exquisite as the next. She plays with recognisable forms – from the diss track to the ballad – but turns each inside out and upside down. So the anthemic Floor Show (produced by Girl Unit), which berates a lover for the same old shoddy behaviour, does so with the sweetest of vocal runs, while the vulnerable tones of blues ballad Cherry Coffee are offset by Jam City's gun reload sounds.
It's this conscious colliding of worlds that gives her work power. "It's both familiar and twisted," she told Dummy's editor Aimee Cliff in interview. Working with Fade To Mind and Night Slugs producers provided Kelela with plenty of ammo: a dozen erratic sonic landscapes to grapple with. While a less creative singer might've approached them with caution, what thrills about Kelela is her willingness to dive right in and actively push against their surfaces. That confidence is compelling. Lyrically, she steers clear of cliche, preferring to explore emotional ground that others baulk at, from bedroom power politics on Do It Again to emotional crossed wires on Send Me Out. 'CUT 4 ME' is an extraordinarily strong debut by any standards, and doubly so when you consider it's a free mixtape. It begs the delicious question: if she's giving this lot away, then what fire is she holding back for the album? [Ruth Saxelby]