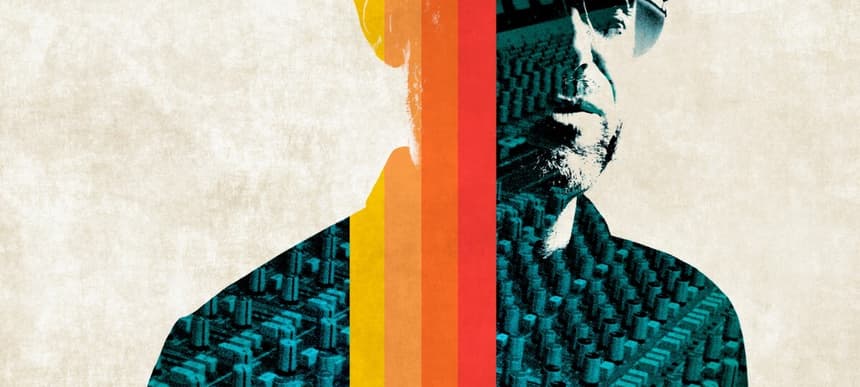 31.05.2016, Words by dummymag
The 10 best original disco remixes, according to Joey Negro
A household name in the electronic music scene – DJ, producer and unstoppable remixer Joey Negro (aka Dave Lee) needs little introduction. An early adopter of incorporating disco samples into house music when he began his production career in 1988, he's still regarded as one of the most commercially successful and in-demand artists on the global scene.
Heating up this year's summer season, he released the follow up to his 'Remixed With Love' compilation on Z Records in March. Over two years since the first instalment dropped, Joey's love for disco edits and his dab hand at remixing meant it was time for volume two, where he presents 20 more stunning reworkings of classic soul, funk, disco and boogie tracks from the likes of Grace Jones, Robert Palmer, Cheryl Lynn, The O'Jays, Gwen McCrae, George Benson, and many more.
Slicker than your average Soundcloud hosted bootleg or mash-up, every track you hear on 'Remixed With Love Vol 2' has been (re)created using spanking new analogue transfers of the original multi-track tapes, with the full consent and co-operation of the copyright owners, which means you get the best possible sound quality. These multi-track tapes also uncover elements that were not used in the original mixes, so incorporate never-before-heard parts – such as the Grace Jones' aerobic workout instruction on Pull Up To The Bumper.
The planning stages for these projects are a mean feat – including the hundreds of emails and phone calls required to get permission, tracking down the original tapes (where many may have been recorded over, lost or simply destroyed), and convincing the label archivists to get them digitised. And that's before you even start on the remixing…but we don't think Dave Lee has any problems in that department.
As he played his first set in a regular run of appearances at Glitterbox in Ibiza this summer, Joey Negro pulls through the 'Remixed With Love' theme and his upmost dedication to disco by sharing what he considers to be some of the essential original disco remixes.
Read through Joey's selections below and listen seamlessly via our YouTube playlist, but don't be surprised if some of these rare gems aren't available online!
Instant Funk I Got My Mind Made Up (Larry Levan remix)
Joey Negro: "One of the interesting things about Larry's remix is how the intro keeps introducing musical elements – be it guitar, bass, or keys – before repeatedly breaking things back down to just drums and percussion, and not actually getting into the song until almost four minutes, which was quite unusual at the time. The reality is, he may have taken lots of different sections to 1/2" tape, intros, breaks, main song passes and then edited them together, so some of the magic was probably also in the edit. You get the impression the producers of the era like Bunny Sigler (the man behind Instant Funk) were very used to working with all these live parts, so when they finished the songs they tended to do the same conventional mix downs. Whereas the DJ was awestruck to hear all the separated parts and was like, "Wow, this rhythm guitar is great. I want to make that a big feature," and "I know my crowd will love to hear the cowbell part out on its own." So the way they approached their version highlighted what was already there with an exciting new perspective."
Salsoul Orchestra Ohh I Love It (Love Break) (Shep Pettibone remix)
Joey Negro: "To judge if something as a good remix, you really need to hear the original by comparison, otherwise you don't know if the mixer just literally mixed down what was already there and didn't have much input. The Salsoul Orchestra debut LP from 1975 contained Chicago Bus Stop (Ohh I Love it). It's a funky but somewhat cluttered production that has some great parts, but doesn't quite groove as much as it should. Eight years later, Pettibone's mix emphasises the Love Is The Message similarities (including replaying the bassline) along with some of the other best elements, letting it all breath in a stretched out form that turned it into one of the labels most classic releases."
Sting If You Love Somebody Set Them Free (Jellybean dance remix)
Joey Negro: "It's already a classy song featuring no other than Sounds of Blackness on backgrounds, but tweaking these sort of pop rock hits for the dance floor needs to handled correctly. Generally they need stripping back to be made more rhythmic but without losing the essence of what is great about the original. Obviously some songs lend themselves to being disco-fied more than others, and this one is about the right tempo and featured a selection of great players. I love the dreamy synth intro, additional percussion, and handclap echoes – plus it still sounds sonically strong 30 years later. Great job!!"
Forrrce Keep On Dancing (Francois Kevorkian mix)
Joey Negro: "Keep on Dancing originally came out on the reggae label Top Rankin a couple of years before West End picked it up. It's a rather dense funk track with a somewhat murky mix from Jack Nuber. FK's version drastically improves the sonics and gives the super groovy parts more room to be heard. He also adds lots of dubby delays, especially on the Keep On Dubbin flip. Nice to hear a funk track given this style treatment."
Salsoul Orchestra It's Good For the Soul (Walter Gibbons mix)
Joey Negro: "Definitely what you'd call a stripped back remix and a million miles from the original, which is a typically classy fully orchestrated Philly style (mainly) instrumental. Gibbons definitely dared to be different as his version is pretty much just drums and percussion, with various elements like flute teased in over the beat. Even the bassline only makes a couple of brief appearances."
Light Of The World Time (Chris Hill and Robbie Vincent mix)
Joey Negro: "This Turn The Music Up ish song was always the best track on their 'Round Trip' LP, but the 12" version credited to UK soul mafia DJs Chris Hill and Robbie Vincent, who extended and improved it no end, with a powerful long guitar and bass intro. I wonder how much of this restructuring was the band, as there has been a lot of additional recording here. Whatever the case, it's an essential remix of an already-great album track."
Bootsy's Rubber Band Body Slam (Nick Martinelli and David Todd mix)
Joey Negro: "Lots of the elements from Body Slam seem to come from Coutrakula, a song from Bootsy Collins' LP 'The One Giveth', which came out earlier in 1982. Not sure if this was a straight remix using some unheard stuff from the tape or whether Bootsy added additional vocals, but it's quite unusual for a major label to release a one off re-titled 12" remix. The artist name is also changed from Bootsy Collins to Bootsy's Rubber Band. Anyway, it's much improved in every respect, with Martinelli and Todd reshaping his funky silliness into a much more coherent club track. This is also a great sounding 12" with fat drums and a lovely, heavy, round bass sound."
Logg Dancing Into The Stars (John Morales mix)
Joey Negro: "I love the original song from Leroy Burgess's brilliant Logg album, but the 12" from John Morales is also an essential double sider. He greatly extends it in classic disco style with a gradually unfurling intro, as well as a long instrumental second half. It's exactly what you want a 12" version of an already great album track to sound like."
Dinosaur L ​Go Bang (Francois K mix)
Joey Negro:
"FK did the perfect remix here by retaining enough of the original eccentric and jazzy elements, but giving it more dancefloor appeal. The result is one of the most enduring left field classics of the disco era."
Mona Rae Do Me (Tee Scott remix)
Joey Negro: "I wouldn't say Do Me is a complete killer song. It's a solid disco boogie female vocal cut, but it's a good example of a before and after. The original on the Park Place label is arranged in a fairly boring standard way. There are no breaks, with pretty much everything going from start to finish. Whereas the Tee Scott remix simply does a better job of presenting the song and parts. Back then, a DJs approach to mixing a record was utilising what was there to give it a dynamic dance floor appeal. Though in many cases, whether you're dancing or just listening, its a superior version. For me, this period was the perfect synergy between musician and DJ, before the DJ took over as the originator of dance music."
Joey Negro plays Glitterbox in Ibiza throughout the summer (info). Joey Negro Remixed With Love Vol 2 is out now on Z Records (buy).