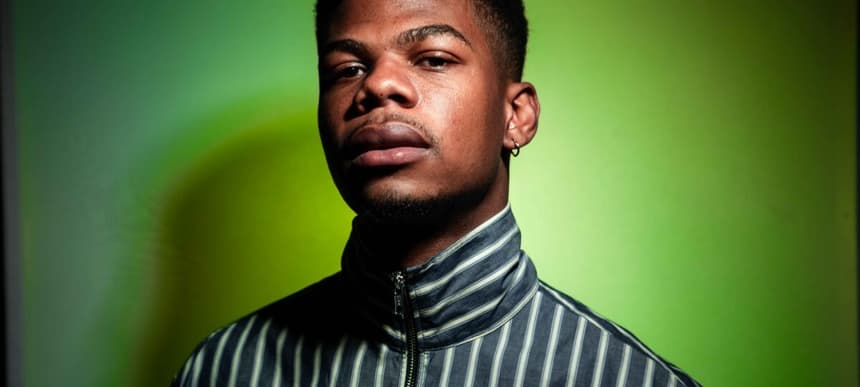 21.09.2018, Words by dummymag
The 10 Best Parisian Artists Pushing Pan-African Sounds, according to Poté
Born and raised in St. Lucia and now based in London, 24-year-old producer Poté spins his island influences into dark club sounds. Having already been namechecked by selectors all over the globe and enjoying a residency on Reprezent Radio, today he drops his stunning debut album, 'Spiral, My Love', on Benji B's Deviation label, blending orchestral atmospherics with a fusion of worldwide club flavours.
For a musician who has travelled as much as Poté, he's continually looking into the scenes of the world's many corners, and here he delves into the best artists of the French capital who are pushing pan-African sounds to new horizons.
Check out his list below.
–
1. Bumputu – 'Cooldown'
"I've known of Boukan Records but hadn't really checked their catalogue out until seeing their label head Bamao Yendé DJ in Paris a month or so ago, I was completely blown away. Found myself stuck on the dancefloor for his entire two-hour set, in buckets of sweat. I really love the chords used in this track, it's really not something I've heard used in dance music like this before. It reminds me of the type of chords Tyler, The Creator would use. I also love the use of vocal chops in there, it really makes the track build without being over the top or in your face."
2. Loya – 'Zenfant'
"Picture the scene …the sun's going down on a tropical island at a festival, the DJ before just finished and this track opens the next set. I love the almost trance-like state this track is able to take me into, while firmly holding onto the groove, gently shifting through different states. Parisian record label Mawimbi is definitely one to follow for forward-thinking pan African music."
3. Bamao Yendé – 'Ossan Booty'
"This track is a fine example of merging cultures and coming out with something unique and great for the dancefloor. Boukan Records' label head, Bamao Yené, brought in magic with this Atlanta chop and screwed type vocal and what reminds me of a St Lucian Kuduro type drums together with some swirling keys. One of my all-time favourite Bamao Yendé records!"
4. Bambounou – 'At The Mirror'
"Bambounou is an artist I've followed and admired creatively since first hearing his work on Parisian label Clek Clek Boom years back. The (almost) Aphex Twins-ish bleeps and bloops swirling around that familiar rhythm really make this track stand out for me. I always find it hard finding really well balanced rhythmic club beats which can work in more intimate, dark spaces and I feel this one really works perfectly, especially during the first 10/15 mins of a set."
5. King Doudou – 'Sal'
"Enchufada can really do no wrong when it comes to pushing barriers in pan-African music worldwide. (I won't lie) I've struggled on a few occasions to DJ this record because of the swing and also the structure of the track but I couldn't imagine it being as striking as it is without those elements. The brilliant mix of Baile Funk elements with that familiar vocal chop into the trap beat, I feel can really do no wrong on the dancefloor.
6. French Fries – 'Bug Noticed'
"Few did what French Fries' music achieved in the clubs, so I was quite sad when I found out about him creating an alias which subsequently meant no more music like this one under French Fries. The pulsating Kuduro like rhythm with those big claps can do no wrong on the dance floor."
7. Dj Gregory – 'Elle'
"Yes… Yes… I am aware this is not a new track, but I can honestly say I've not heard anything vaguely similar to this one. It really holds its own, especially how the instruments are given time to breathe and grow, but not to a dramatic climax, which I find is really difficult to do. It just grows at its own pace and is able to really hold you throughout and guide you along this magical journey. I remember seeing Dj Gregory DJ in London last year and getting completely blown away, this was one I took from that set which will forever live with me."
8. De Grandi – 'Sapristi (King Doudou Baile Funk Mix)'
"I first came across this track from a guest mix Paris-based artist Sunareht did for my radio show on Reprezent always seem to go back for more. You really can't go wrong hitting from the very start with such an infectious Baile Funk rhythm together with piercing synth stabs, which reminds me a little of French Fries and his Clek Clek Boom imprint when it was still active in Paris."
9. MHD – 'AFRO TRAP Part.7 (La Puissance)'
"Do I really need to say anything about MHD? …I thought not. I'll leave this here and just listen."
10. Oumou Sangaré – 'Yere Faga feat. Tony Allen (Mawimbi Remix)'
"Can you do any wrong if you do an official remix for Tony Allen? Yes, exactly… no. Oumou Sangaré's 'Yere Faga' is easily one of my favourites tracks from last year and this remix absolutely does it justice, simple but very effective. A great track to end a night on, so I'll end this piece with it."
Listen to Poté's debut album, 'Spiral, My Love', here.