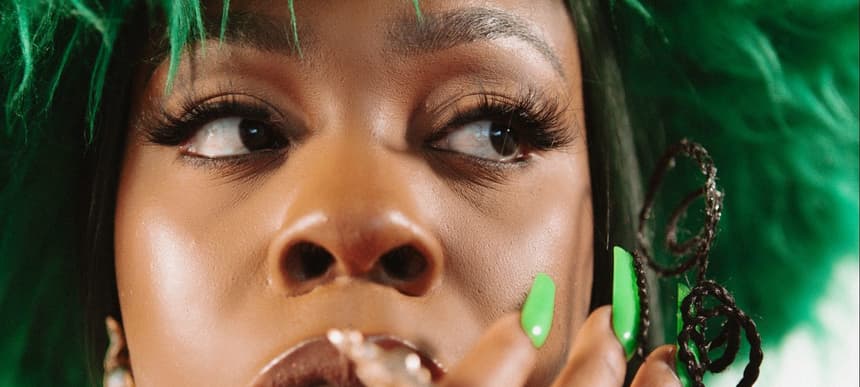 04.04.2022, Words by Billy Ward
The 10 Best R&Drill Tracks, according to Shaé Universe
"...This is where the whole 'R&Drill' era started really isn't it?!"
As certain music genres gain popularity, they're inevitable to spark interest in artists who will eventually experiment with the sounds and cross over into new territory – UK drill being a prime example of this over the past couple of years. Following grime, garage and 2010's pop hits, one of the most recent genres to be spliced into UK drill is R&B, forming what has since been popularised as R&Drill. Characterised by melodic vocal arrangements, sliding 808s and the hard-hitting trap snares synonymous with classic drill beats, the sub-genre has recently taken off in Britain with artists such as Shaé Universe leading the way.
The Nigerian-British songstress has recently released her debut EP 'Unorthodox', a unique R&Drill-fusion project showcasing her innovative take on nostalgic and future-facing R&B. Featuring the likes of ENNY and Kojey Radical, the 7-track mixtape is a sign of Shaé navigating the industry on her own terms while stepping up to her role as one of the UK's hottest talents. To mark the release of 'Unorthodox', we sat down with the singer to dive into some of her favourite releases from the sub-genre she's currently dominating.
1. Shaé Universe – '111'
"Currently my favourite R&Drill song of all time because: 1. it's a personal favourite of my catalogue and 2. the sentiment behind the lyricism is so deep."
2. FKA twigs – 'jealousy' feat. Rema
"This was a collaboration I never expected but it gelled so well. I love when versatile artists experiment."
3. Shaé Universe – 'You Lose'
"Well this song has to be in the list because this is where the whole 'R&Drill' era started really isn't it?!"
4. Ama Lou – 'Talk Quiet'
"Came across this song via Spotify's recommendations and I really liked it! A very unique approach to the sound."
5. Tinashe – 333 (feat. Absolutely)
"Never saw this one coming but the drill-inspired breakdown in this song is different to anything I've ever heard before. Refreshing."
6. Shaé Universe ft. Kojey Radical – 'Royalty'
"One of my favourite features ever, and another personal fave from my more recent catalogue."
7. Ojerime – 'Give It Up 2 Me' (KHAJI remix)
"The original version of this song was already a fave then I came across the drill remix and I was hooked for weeks lol. It just makes me feel good/sexy/powerful."
8. Shaé Universe – 'Levels'
"Levels was written as a reminder to all that you are enough and are capable of consistent elevation. It's so easy, especially being a Black woman in the UK music industry, to feel overlooked and under-appreciated, resulting in fleeting confidence and self-doubt. Love this one! A fave."
9. DaBeatFreakz x RAYE x Russ Millions x wewantwraiths – 'Money Calling'
"I'll be honest I mainly listen to this song for Raye's part. So hard!!"
10. Shawny Binladen – 'Video Soul'
"This is a drill flip of one of my favourite songs ever, Brandy – Borderline, this style of rap is quite different to what I usually listen to."
Stream 'Unorthodox' below:
Read next: The 10 Best Jhené Aiko Tracks, according to Meron Addis