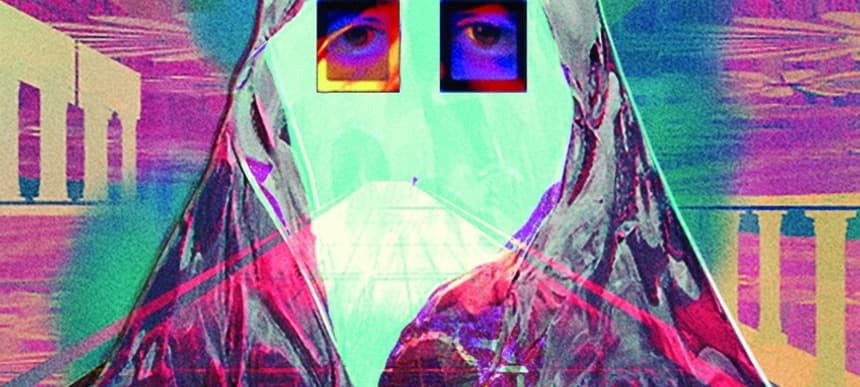 21.07.2016, Words by dummymag
The 10 best sci-fi soundtracks, according to Space Dimension Controller
As the sky turns bright blue and the temperatures soar, a yearning for nostalgia washes over us all. For producer Space Dimension Controller, reminiscing plays a pivotal role throughout his entire creative process. Real name Jack Hamil, he started recording his debut album eight years ago at the tender age of 18, and it's only now that the record sees the light of day. Released through Ninja Tune and titled 'Orange Melamine', the name draws from Jack's memories of growing up in his grandparents house, with orange being a reference to the antique style tiling in their kitchen, and the melamine from the snake enclosures he built with his grandfather.
In the early months of 2007, Jack retreated to his bedroom and sat, surrounded by towers of old VHS tapes handed down to him by his older brother and cousins. As he progressed through each and every single tape, Space Dimension Controller was born. Drawing from the images and sounds of '80s and '90s sci-fi classics such as Terminator, Escape From New York and Ghost in the Shell, he has created a hazy pallet of supernatural sounds.
Following on from the release of 'Orange Melamine' on Ninja Tune back in May, we caught up with Space Dimension Controller for a rundown of his favourite and other worldly sci-fi film soundtracks. Read his selections below, and listen via our YouTube playlist.
Beyond The Black Rainbow
Space Dimension Controller: "Amazing contemporary piece of music that resonates older sci-fi soundtracks. The full OST is the best bet, with great sound design and immersive textures throughout. The actual movie itself is worth a look for its set design alone."
Spaceballs Spaceballs Theme
Space Dimension Controller: "They just dont make them like this anymore. Intergalactic funk and lighthearted operatics with a slice of comedic energy. I love how these bespoke songs were made in the '80s and '90s before licensing took over."
Terminator Main Theme
Space Dimension Controller: "Eerie and claustrophobic!. So much tension and robotics in the design of this piece of work and it really does sound like someone is stalking you. I love the mood and it compliments the movie perfectly."
Red Dwarf Red Dwarf Theme
Space Dimension Controller: "Such an original piece of music and embodies the scifi themes and comedy of the show. It totally emulates the bold and brash side of Northern England, with a holiday theme ending! I'd love to go on a space holiday."
Avalon Voyage To Avalon
Space Dimension Controller: "Brilliant and emotive piece of cinematic music. Effortlessly sad and the vocal is incredible. Not many people know about this OST or film so definitely giving away a secret here."
Event Horizon
Space Dimension Controller: "Orbital and Michael Kamen did an amazing job on this movie. Great horror elements added in with horn stabs, and shit load of nods to techno and industrial music. The movie has some amazing scenes and the soundtrack really helps the ship "come alive."
Escape From New York The Duke Arrives / Barricade
Space Dimension Controller: "This is one of my all time favourite soundtracks. This track in particular shows you can have a sense of of funk in all things sci-fi. It has a great sense of movement and a strangely, almost classical arrangment to the mid section."
Kenji Kawai Cinema Symphony (Ghost In The Shell OST)
Space Dimension Controller: "A brilliant live version of an iconic score that has stood the test of time. Straight up powerful vocals at the top of the mix with beautiful use of tribal percussion, in the most shamanic way."
Nausicaa Valley of The Wind Titulo: Kaze no Tani no Naushika Saundotorakku
Space Dimension Controller: "One of the most honest films about technology affecting nature. Beautiful score reflecting all things Ghibli and science meets nature. The full score is nothing short of exceptional and even has a great nod to electronic music in a certain battle scene."
Solaris
Space Dimension Controller: "Cliff Martinez proves himself to be a master of all in this score. Amazing stuff from one of the best composers in movie history. Fiercely uncompromising and epic in all proportions."
'Orange Melamine' is out now on Ninja Tune (buy).