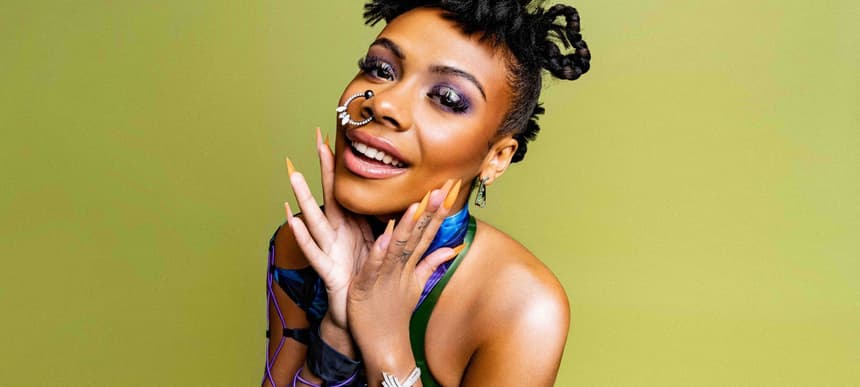 22.09.2021, Words by Maisie Goulsbra
The 10 Best Singer/Rapper Collaborations, according to MORGAN
"I'm actually planning on walking down the aisle to this song!"
At 21-years-old, singer-songwriter MORGAN is already signed to Rudimental's label Major Tom, home to Anne-Marie and Ella Henderson. In 2019, she released her debut EP 'Alien' on the imprint, containing 'Mean That Much', where MORGAN features beside Rudimental and Preditah. Since then, she's performed in the BBC Live Lounge three times and co-written, as well as featured, on Rudimental's 'BE THE ONE' with Digga D and TIKE. She's also cropped up in places like on Rv's 'Rico Vondelle' mixtape, which features Headie One, Abra Cadabra, Yxng Bane and more.
It has been a whirlwind couple of years for the songstress, all leading up to the release of her latest single 'Nobody Else' with London rapper Kasien. Out now, the new track is accompanied with a shimmering new music video co-starring the pair. About its release, the singer says: "Let's face it… the world has been a pretty dark place recently. When Kasien and I got in we knew we wanted to write a song that everyone could hopefully take some positive energy from and remind people that we should all love ourselves and treat our mind and bodies with the respect it deserves."
As a queen of collaborations herself, and to welcome the arrival of her new link up with Kasien, MORGAN has set down her ten favourite singer/rapper collaborations of the past. Find out below.
1. Rihanna & Future – 'Loveeeeeee Song'
"Being a big Rihanna fan, I just love the story behind her and Future's relationship. I love how they have worked so closely together since the beginning of her career and how many songs he has actually written for her. They have the most incredible artistic chemistry between them."
2. 6lack – 'Pretty Little Fears' ft. J Cole
"6lack is hands down one of my favourite artists. I always cover 'Switch' in my live sets. 'East Atlanta Love Letter' is one of the best albums I've listened to in a while. You can always find me driving to this song late at night (and I LOVE driving)."
3. Doja Cat – 'I Don't Do Drugs' ft. Ariana Grande
"Doja Cat's album has been a huge inspiration for me musically recently. In my opinion, no female can beat her delivery and swag at the moment. You have a dream team when you put one of the best female singers on one of her tracks too. I love this song – it's on repeat right now."
4. Rick Ross – 'Aston Martin Music' ft. Drake & Chrisette Michele
"This is one of my favourite songs in the world. There is a long story behind it but I'm actually planning on walking down the aisle to this song! Story for another time…"
5. Pa Salieu – 'Energy' ft. Mahalia
"This has to be one of the best tracks that came out of lockdown. The beat is so hard – it's so rare to find songs that feel so atmospheric and give you such a euphoric feeling. 'Energy' is definitely one of them!"
6. Kanye West – 'Hurricane' ft. The Weeknd & Lil Baby
"Again this tune is all about how atmospheric it is. Lyrically the song is so profound and really makes you think. I know 'Donda' has been quite a controversial album but you can't deny it's a genius body of work."
7. Chris Brown – 'No Guidance' ft. Drake
"All I can really say about this song is that I am just obsessed with it! I've listened to it pretty much every day since it has come out. Absolute banger…"
8. Dave – 'Location' ft. Burna Boy
"This is the song of 2019 in my opinion. I remember being on tour that whole year with my brothers Rudimental and we completely rinsed it on the tour bus. It was our tour song and it brings back the best memories."
9. Little Mix – 'Power' ft. Stormzy
"I absolutely love Little Mix and it's definitely not a guilty pleasure. They're so sick. It was actually really refreshing to see such a hugely respected UK rapper jump on a remix with a girl band. The song was great without Stormzy but it took it to another level with him on it."
10. Luniz – 'I Got 5 On It' ft. Michael Marshall
"This is one of my dad's favourite songs. We always use to blast it in the car with him when we were kids. He brought me up on old-school US hip hop but this one has to be my favourite."
Listen to 'Nobody Else' here or watch the music video below.
Read next: The 10 Best Tunes To Listen To In The Whip, according to Flowdan.