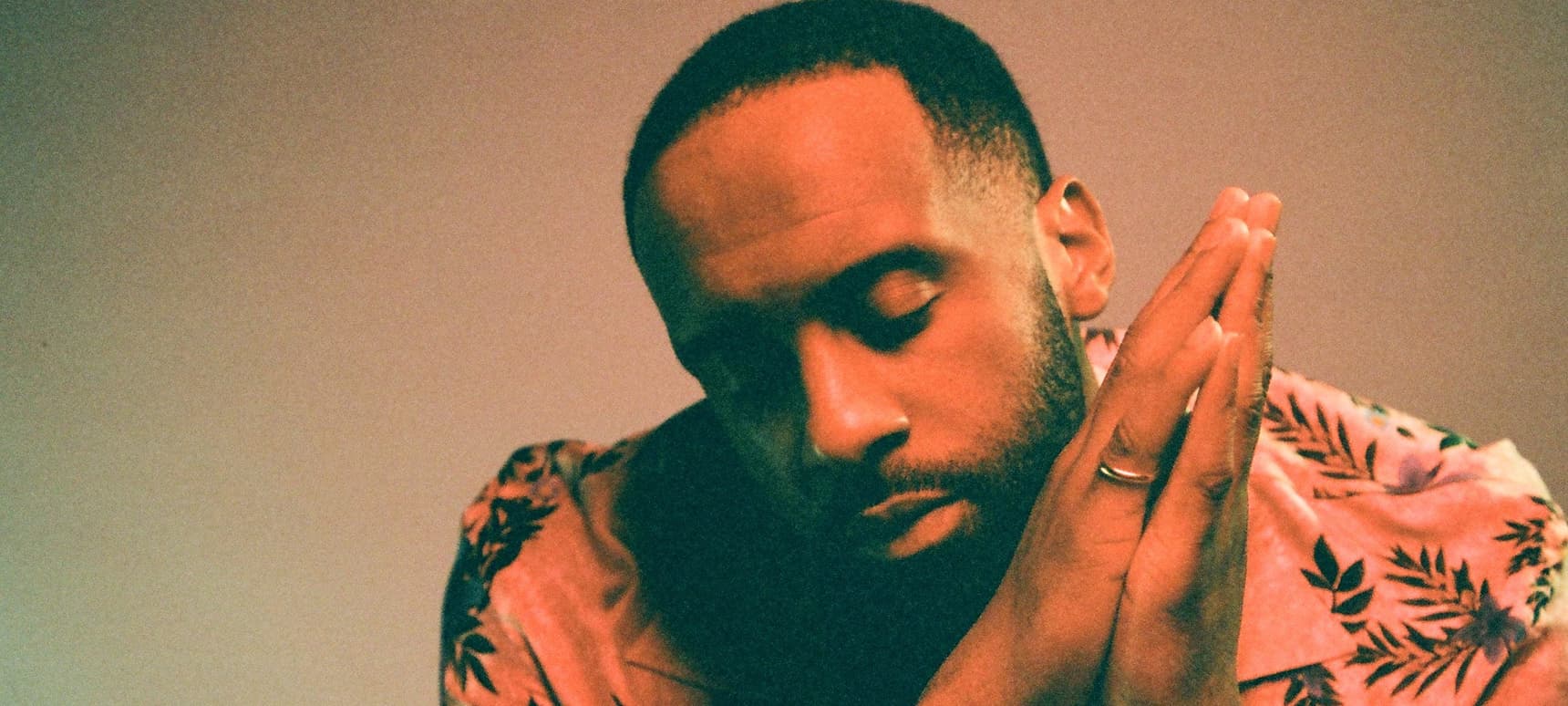 30.09.2021, Words by Maisie Goulsbra
The 10 Best Songs from TV Series, according to Shakka
"This was the first ringtone for my Nokia 6230i."
Shakka is a British singer, producer and songwriter – he has achieved platinum-selling singles, won MOBOs, and written for Dua Lipa's Grammy-winning album 'Future Nostalgia'. The roots travel deep for Shakka's musical journey thus far – he has worked in production and as a songwriter with some of the the biggest UK and US artists, including Ella Eyre, Wretch 32, JME, Idris Elba, Sean Paul, and Ty Dolla $ign to name but a few.
And now, he's focusing on solo work – filled with influence from some of music's greats like Aretha Franklin, Smokey Robinson and Michael Jackson, he began releasing stuff of his own beginning in 2009 with his mixtape 'Foolishness'. Known for his silver tongue and emotional intelligence, along with sharp hooks and rich melodies, he just released his debut album, 'Road Trip To Venus'. Shakka channels his Carribean heritage into the album with R&B and Afrobeat energy, while also depicting the idea that men are from Mars, and women are from Venus. It's 19 tracks explore the theme of masculinity, citing Andre 3000, Stevie Wonder, Seal and Salaam Remiasking as influences; it asks what it means to be a man, and features Tiana Major9, Imani Williams and GoldLink.
"I have been waiting for this moment for ten years," he says. "There are songs on this album that I didn't put out through labels 'cos I didn't think they would know what to do with them." In addition to his music, Shakka has composed for the screen – he worked closely with 'I May Destroy You' writer and director Michaela Cole on her sitcom 'Chewing Gum' to produce six exclusive tracks for the series. Below, he's selected 10 of his top songs from TV series.
1. Jim Lang – Hey Arnold theme song
"Hey Arnold was released in a time (1996) where the majority of theme tunes of most cartoons were almost produced and arranged to cater to kids. Upbeat, whacky, atonal, and at times orchestral. Hey Arnold's theme tune could've been a song from a Prince album; unapologetic jazz and funk fusion, placed during the opening scene of Arnold's inner-city neighbourhood, which looked exactly like mine. To a kid growing up listening to Michael Jackson, Miles Davis, and Quincy Jones, this felt like the makers of the show were speaking directly to me."
2. Massive Attack – 'Paradise Circus' (Luther theme song)
"Luther had many things going for it; Idris Elba as a towering, unorthodox east-ender Detective, fighting the darkest of criminals in the underbelly of London's streets, struggling to keep his personal life together in the process. 'Paradise Circus', the song used for its intro, produced and written by iconic British electro-band Massive Attack, is a gorgeous, minimal, chilled, sinister yet classy, trip-hop piece of music. The singer Hope Sandoval, and her eerie but sultry topline, seals the deal in providing the calm before the storm of whatever insanity episode has to offer."
3. DJ Jazzy Jeff – 'Yo Home to Bel Air' (The Fresh Prince Of Bel Air theme song)
"The Fresh Prince of Bel Air theme tune feels far too played out, and embedded in pop culture for me to include it in my list. However the instrumental groove of the outro is just dirty, in a good sense. The chords and bounce remind me of good times watching the 1990s 'House Party' movie, and the overall sound harks back to an era of hiphop that I really dig."
4. Ramin Djawadi – Game Of Thrones theme song
"The theme tune for Game of Thrones, reminds me of the strong love and admiration I have for the talents of people like John Williams and Hanz Zimmer. As it happens, Ramin Djawadi, the arranger for this theme, was somewhat of a protégé to Zimmer, having provided additional music for a handful of films that he was commissioned for. Their ability to create catchy, regal, and attention-demanding melodies and arrangements, are something I geek out for as a producer and writer. This theme song is no different."
5. Seatbelts – 'Tank!' (Cowboy Bebop theme song)
6. Nujabes – 'Battlecry' (Samurai Champloo theme song)
"Cowboy Bebop and Samurai Champloo, are anime shows which will hold a special place in my heart till my dying day, being one of the few shows which, in my opinion, shattered expectations of what a typical anime show should be like. Most of these shows are accompanied by either orchestral music (Studio Ghibli or Hideaki Anno), or rock music (Naruto, Bleach, etc). Bebop and Champloo however were given the beautiful gifts of Big Band Jazz, and Golden-Era-Hip-Hop respectively. Shinichiro Watanabe (who directed both) enlisted the arrangement skills of Yoko Kanno for Bebop, to write music that perfectly mirrored the chaotic life of a crew of bounty hunters in the fictional future 2071. Champloo on the other hand had contributors from a group of hip hop producers from Japan, whose beats could rival Kaytranada, 9th Wonder, Dilla, and many other producers of that world. The perfect accompaniment to a lost girls search for her family, protected by two polarising, samurai fugitives-slash-bodyguards."
7. Ross Bagdasarian Jr. & Janice Karman – 'We're the Chipmunks' (The Chipmunks theme song)
"The Chipmunks, the 1983 version, felt synonymous with a hyper-cool, synth led, pop-rock Americana. Computer game arcades, neon-windbreakers, and movie nights watching the Breakfast Club. At one point, I was obsessed with including synths, and making drum patterns like Journey's 'Don't Stop Believin". I have it on good authority that the Chipmunks are responsible."
8. Christopher Tyng – Futurama theme song
"Matt Groening's masterpiece Futurama, was polarising in style, aesthetic, and plot from the Simpsons. As a kid who craved jovial, humorous, extraterrestrial animation, this became the reason I didn't leave the tv screen from 6:30 pm on weeknights. The theme tune was a catchy, multilayered genreless sonic excursion. It was an antidote to the boredom of schoolwork. God bless composer Christopher Tyng."
9. will.i.am – Samurai Jack theme song
"Samurai Jack came about just when access to the internet was nationwide. Genndy Tartakovsky's work had the same effect on me as Watanabe's Cowboy Bebop did; a completely unconventional story of hope, about a Samurai abducted and thrown into a future Japan by an evil sorcerer named Aku. The artistic direction is as daring as Genndy's choice of composer, being none other than will.i.am of the legendary Black Eyed Peas, who put together this crazy mashup of a dirty hip-hop groove, laden with instruments typical of East Asia. This was also my first ringtone for my Nokia 6230i."
10. Shakka Philip – Chewing Gum theme song
"Chewing Gum was the ingenious comedy of a 24 year old girl named Tracey, born and raised in a religious household, with contrasting desires to explore her sense of sexuality and all things related. Michaela Coel, is a friend of mine from a while back, who I've been fortunate enough to have written the theme for this show, as well as music for a play we acted in, held at the National Theatre named "Home", and be contributor to a musical she starred in titled "Been So Long". At the time, I'd never made music for television in this form. I'd written and produced mainly for myself, and a few others. Despite this however, I'd always had dreams to contribute to something like this, and the experience was both humbling, challenging, and highly fulfilling. It was surreal to hear my music receive constant airplay on E4 and Channel 4, but that was overshadowed by the warmth I felt from witnessing a great friend receive adoration and admiration for her solid creative endeavours, then and now. It's a memory of a collaborative experience I'll hold for the rest of my life."
Stream 'Road Trip To Venus' on your preferred streaming service here.
Read next: The 10 Best Guitar Solos, according to Santino Le Saint.