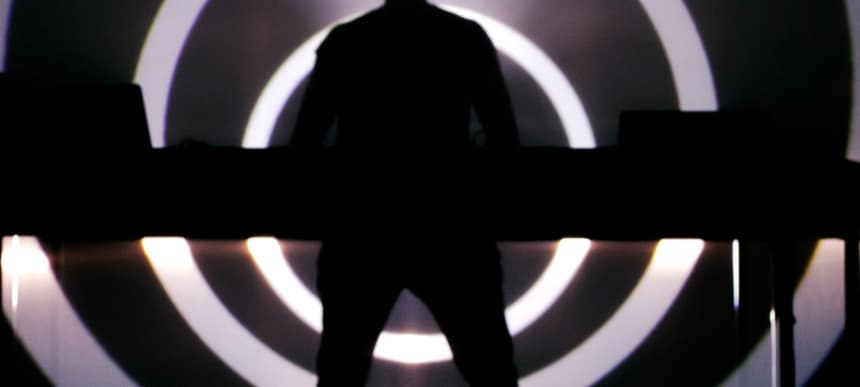 28.07.2015, Words by dummymag
The 10 best techno tracks over 10 minutes long, according to Dubfire
Before embarking on a solo career, Iranian American DJ and producer Ali Shirazinia (known by his stage name Dubfire) achieved mainstream acclaim as part of duo Deep Dish, cementing their name with a seminal remix for De'Lacy's soaring club classic Hideway. Deep Dish then sped full throttle into the millennium, taking it to the big time by scooping a Grammy for Best Remix Recording on Dido's Thank You in 2002.
Since going solo, versatile might as well be Dubfire's middle name. He has an extensive catalogue of knowledge that bunnyhops through an array of electronic music genres, heavily inspired by his passion for classic dub reggae, jazz, rare groove and early hip hop. Punk also played a part in Dubfire's formative years following bands such as Fugazi and Minor Threat, which explains his self-proclaimed desires to apply "punk ethic" to his own music. His outlet is channeled through his own imprint SCI+TEC (Science + Technology Digital Audio) and releases signed by Cocoon Records and dance music gliterrati Richie Hawtin amongst others.
Charted by the upper echelons of the dance industry including two entries in the Resident Advisor Top 100 all-time charted tracks of 2007, Dubfire's success has been plentiful, however his priority in the past three years has been the HYBRID live show, first seen at the Amsterdam Dance Event last year. Back on the road again this summer, Dubfire brings the concept to SW4 in Clapham on 28th August which amalgamates animation, lighting and audio for a radical live club experience that will be far from static.
01. Manuel Göttsching
E2-E4
[59min 35sec]
Dubfire: "This record broke all of the rules. It's 59:35 of pure bliss and sounds just as beautiful today as it did when it appeared in 1984. I was familiar with Manuel's Ashra project, an early space-rock/electronic group, but this just took his sound to another dimension and remains, to me, one of the greatest pieces of electronic music ever made and an early Ibiza balearic anthem."
02. Sueno Latino Sueno Latino (Derrick May & Carl Craig Illusion First Mix)
[11min 20sec]
Dubfire: "There were quite a few versions of Manuel Göttsching's 'E2-E4' which surfaced in the late '80s that blatantly sampled the original. The version by Sueno Latino during the peak of the Italo-House era spawned this very hard to find version by Detroit techno legends Derrick May and Carl Craig. They were both huge fans of the original Göttsching song and you can hear the love they had for that version on this remix. It's euphoric, melodic techno at it's finest and often overlooked by Detroit techno aficionados."
03. Plastikman Plasticine
[11min 20sec]
Dubfire: "Richie Hawtin has made a number of classics and while it may be obvious to name check Spastik here, I have always had a soft spot for Rich's melodic use of the TB-303 on this track off his 'Sheet One' album. No one has been able to extract such beautiful patterns out of that Roland machine as Rich has."
04. Paperclip People Throw [Full Length Version]
[14min 47sec]
Dubfire: "Clocking in at 14:47, Carl Craig, under one of his many pseudonyms created what sounded like nothing else at the time. I recall the first time I heard this on the system at Sound Factory in NYC. I was in the middle of the dancefloor with the Junior Boys Own gang (Terry Farley, Pete Heller, Rocky, Diesel and Ashley Beedle) and Junior Vasquez played this for what seemed like 30 minutes to the delight of his crowd and the gathering of various NY nightlife cognoscenti. At that moment, we were all one with each other and this groove."
05. Ron Trent Altered States
[13min 40sec]
Dubfire: "Detroit wasn't the only place that spawned some of the most creative and mind-bending early techno. Chicago's Ron Trent injected funk, swing and melody into this classic anthem. It still gives me goosebumps!"
06. Basic Channel Phylyps Track II/II
[13min 14sec]
Dubfire: "I collected and worshipped every piece of music that came out of Moritz von Oswald and Mark Ernestus' Basic Channel imprint; not to mention all of the other monikers and labels they used to re-define minimalism and draw a direct link to the dub reggae music which not only influenced their new brand of techno but is the backbone of my musical evolution and sound."
07. Azymuth Jazz Carnival (Global Communication remix)
[11min 34sec]
Dubfire: "Global Communication's '76:14' album is, in my humble opinion, the greatest ambient album ever made and a huge influence on me. I was fortunate enough to meet the boys in the '90s as they were big Deep Dish fans and we remain close to this day. They were huge fans of a number of genres and while we, as Deep Dish, worked to create a hybrid deep house-techno sound, this remix remains one of the most beautiful examples of that. Pure groove…"
08. Jaydee
Plastic Dreams
[10min 15sec]
Dubfire: "While severely overplayed, this remains one of the most iconic early house/techno crossover records ever created and the definitive Dutch anthem. There are so any hooks in there that it's hard to zero in on any particular one. A bona fide classic."
09. Audion Mouth to Mouth
[13min 19sec]
Dubfire: "Matthew Dear will be celebrating the 10-year anniversary of his seminal song in 2016 with a string of new remixes to commemorate the occasion. I've actually just started my mix and loving the opportunity to play with the original parts to inject a different perspective into it. This and Deserter are my fave Matt Dear productions and I'm flattered that he's asked me to do a mix."
10. Sven Väth Ritual of Life
[13min 8sec]
Dubfire: "'Papa' Sven has been the keeper of the techno flame for over 30 years. While he's more respected and widely known for his marathon and always interesting DJ sets, he is rarely name-checked for the music he's made. The obvious choice could have been Electrica Salsa but I've always loved this song which remains, for me, definitive of his style and personality and quite frankly the blueprint of the Villalobos sound of percussion and repetition."
Dubfire brings his live show HYBRID to SW4 festival at Clapham Common on 29th August (tickets).