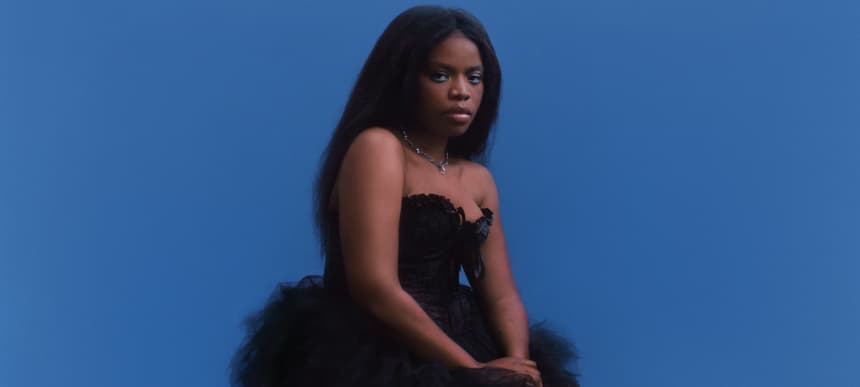 15.02.2023, Words by Billy Ward
The 10 Best Tracks About The Colour Blue, according to Vagabon
"Perfect for my long drives on tour..."
Whether you're feeling 'blue' yourself or just want to explore the many different emotions it can evoke, music artists across the years have flocked to dedicate songs to the colour. Purveyor of rich emotional landscapes, Cameroonian multi-instrumentalist, producer and singer-songwriter Lætitia Tamko - aka Vagabon - punctuates her dreamy indie rock and electronic pop with a similar type of mood. 
Having recently put out 'Carpenter', Vagabon's first solo release since her 2019 critically acclaimed self-titled album, we sat down with the artist to run through some of her favourite tracks relating to the dreamy, impassioned colour. 
1. Hundred Waters - 'Broken Blue'
"I love the way the piano sounds in this recording, the way the chords move. it feels like a manipulated voice memo. i love recordings where you can hear the room it was recorded in, all of these ghost sounds."

2. Joni Mitchell - 'Blue'
"This is the ultimate 'Blue' track."
3. Julie Byrne - 'Natural Blue'
"Julie Byrne songs are timeless and forever relevant. 'Natural Blue' is perfect for my long drives on tour."
4. John Carroll Kirby - 'Blueberry Beads'
"When you want music, but you don't want words."
5. forth wanderers - 'Painting of Blue' 
"The emotion in this track finds a way to move me."
6. Beach House - 'Bluebird'
"This track is a minimalist's dream."
7. Snail Mail - 'Light Blue'
"The melodies Lindsey comes up with on this song gets me every time i hear it."
"Lamp is one of my favourite bands, i'm a big fan of the worlds they create."
9. Enya - 'Caribbean Blue'
"I had to include the mystical Enya in this list."
10. Roy Orbison - 'California Blue'
"Roy Orbison brings the drama I need in songwriting."
Stream Vagabon's latest single 'Carpenter' below: