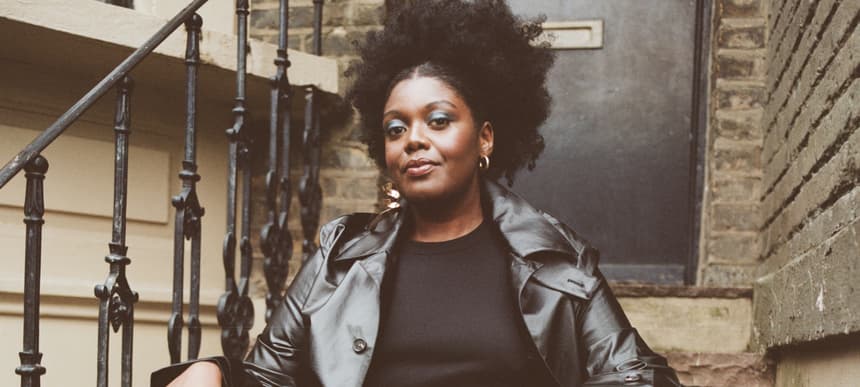 06.02.2023, Words by Billy Ward
The 10 Best Tracks For Late Night People, according to Yazmin Lacey
"For post midnight magic…after hours crew…the into the morning grafters..."
The best, most memorable, times often come about way after the sun has gone down. The feel-good energy of a city that never sleeps, the intimacy of conversations huddled in smoking areas and making friends that could last a lifetime - these are the moments that matter. For Nottingham-based singer-songwriter Yazmin Lacey, these after-hours antics are what informed her latest single 'Late Night People'. Taken from her upcoming debut album 'Voice Notes', the single, she says, is an uplifting ode to "people that come alive at night." 
To celebrate the release of the new single, we sat down with Yazmin to run through some of her favourite late night sound tracks. "Even though people talk about it in a trivial way and associate it with debauchery and all this stuff, I've made some really deep connections in those spaces," says Lacey. "There's something about when the sun's going down and everybody feels like there's a bit more privacy, or less eyes."
1. Larry Heard - 'Can You Feel It'
"I love Larry Heard/Mr.Fingers - this song when it's played out is like church! So euphoric...emotional!"
2. The Streets - 'Has It Come to This?'
"Classic bop - I can go word for word on this one."
3. Lucy Pearl - 'Dance Tonight'
"A firm family favourite. Me and my brother always put this on at the start of the party and everyone will start to shuffle a liccle."
4. The Jones Girls - 'Nights Over Egypt'
"Another family party banger - adore this one, I can hear my mum, cousin and aunties singing it now."
5. Little Simz - 'one life, might live' 
"Love Simz! This one slaps and it's a life motto I live by, it's a good song to walk to the tube with - get a lil strut on on your way out!"
6. Vybz Kartel - 'Weed Smokers'
"This is the cue for someone to bill up!"
7. Beyoncé - 'Church Girl'
"This is my go to get ready song at the moment, me and the girls rinsed it last summer and makes everyone act like a video vixen hahah."
8. T Williams ft. Terri Walker - 'Heartbeat' 
"Love this one! I always play it when I'm DJing and when the bass drops in it's rude - Terri walker is also an amazing singer!"
9. Dego & Kaidi - 'Black Is Key'
"A classic black joy anthem/dance floor filler."
10. Yazmin Lacey - 'Late Night People'
"For the lovers of escapism…for those that come alive in the privacy of the dark…the dusk dreamers… for post midnight magic…after hours crew…the into the morning grafters…restless sleepers…freedom seekers…all night 2 stepperz…for those trying to gain time…chance meetings…candlelit conversations…late night people."
Stream Yazmin Lacey's 'Late Night People' below: