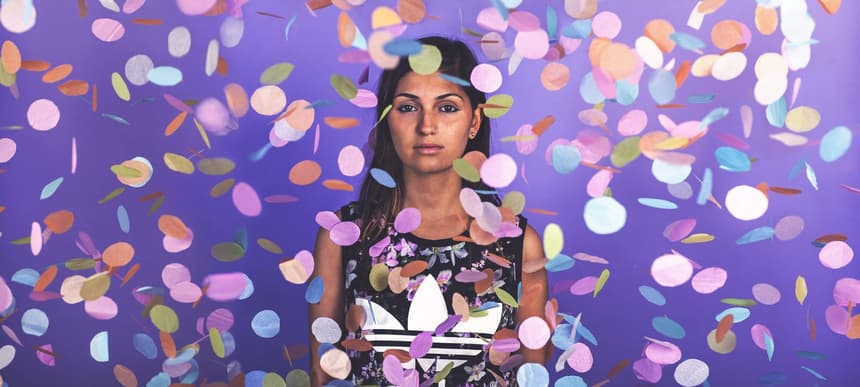 16.10.2014, Words by dummymag
The 10 best tracks that make you emotional in a rave, according to Barely Legal
As her name suggests, Chloé Robinson aka Barely Legal had an early start in music: growing up in Birmingham with a mum obsessed with garage, she started DJing at 19 and has already been invited by Wiley to play at Eskimo Dance (he also MCed over one of her mixes for Mistajam), and played with Riko Dan and God's Gift.
Robinson plays Fabriclive for Fabric's 15th birthday weekend tomrrow (October 17th) – a night that also features Four Tet and Loefah in Room 1, Goldie and Pinch in Room 2, and Terror Danjah and Champion in Room 3 – and before that, she's made us a playlist selecting the 10 tracks that make you emotional at a rave. Including heavy-hitters from Mssingno, Dusky, James Blake, and Joy O, the list also functions as a guide to some of the biggest tunes of our current era of club music – the sort of emotional rave tracks that you can imagine a whole generation reminiscing about in the Youtube comment sections in 20 years time.
01. Goldie Inner City Life
Barely Legal: "This is a bit weird, but last month I was just listening to this in my room and I actually cried a tiny bit for no reason."
02. James Blake Air and Lack Thereof
Barely Legal: "James Blake is up there as one of my favourite producers and all his tunes are pretty emotional to be fair, but this one is especially. I don't actually think it's possible for me to get bored of this track."
03. Mala Changes
Barely Legal: "This tune takes me back to when bass music was getting really exciting. Whenever Mala drops it I get all happy and loved up (naturally). I get happy at most of the stuff Mala drops though to be fair."
04. Four Tet Your Body Feels
Barely Legal: "Four Tet dropped this at his Warehouse Project last year and I had to tell my friend who was trying to talk to me at the time but was more like shouting down my ear to shut up so I could fully absorb the track – its out of character for me to be like that at a rave…"
05. Mssingno XE2
Barely Legal: "It's the vocals and the twinkling marimba sounds that get the emotions flowing with this one. I'm slightly confused as to how he has managed to make an R. Kelly sample emotional, but very impressed – such a sick producer."
06. Dusky Flo Jam
Barely Legal: "I don't think this track is something I'd really play out in a set, just something I'd listen to when I'm chilling. However, the times I've heard other people play it, it's hard to ignore its powerful, unbelievable breakdown."
07. Ruff Squad Xtra
Barely Legal: "It's probably a bit of a mental choice to choose a Ruff Sqwad tune for this list of mine but grime means a lot to me and if you see how hype the crowd get when they share an equal love for the genre, I can't help but smile behind the decks."
08. Joy Orbison Hyph Mngo
Barely Legal: "I think Outlook Festival might have used this tune on their promo video for 2010, which was my favourite four days ever and it just takes me back to it. The track was released in 2009 as well, one of my favourite years for music, this being a good example of the great stuff that was coming out around that time."
09. Eliphino More Than Me
Barely Legal: "Despite this being a tune I don't think I'd ever play out, I do actually quite like it and it has made me feel quite moved for some reason – I think it might be the lyrics."
10. DJRum Honey
Barely Legal: "Its the combination of the cascading harp, drops of Indian strings and the 'He's a sinner' vocal in a drawn-out dubstep groove which just makes this track such a beautiful thing."
Barely Legal plays Fabric's 15th birthday party on Friday October 17th 2014 (more information).