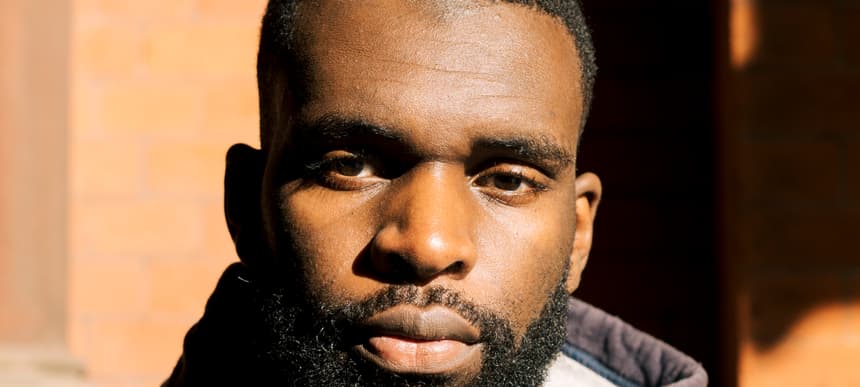 07.12.2022, Words by Billy Ward
The 10 Best Tracks For Getting To Work, according to Bawo
"This sort of epitomises the grind in the UK..."
West-London native and multi-faceted rapper Bawo is one of the UK's most exciting rising artists right now. Organically growing a cult following and generating an unavoidable buzz among his fanbase with his chilled-out, melodic sound - most notably supporting Knucks across his UK tour as well as his impressive output of singles which have included collaborations with the likes of Oscar #Worldpeace, BXKS and Louis Culture - the new voice on the scene is already showing he has what it takes to build a lasting legacy.
Bawo has been putting in some serious work to earn himself a spot on the frontline of the UK rap scene. To mark the release of his recent single 'Same Team' featuring Reek0, which dropped alongside a spectacular office-based music video, we sat down with the rapper to run through his favourite tracks to get him in the zone. 
1. Russ - 'Do It Myself'
"It's kinda self explanatory, it's just an easy one. If you're ever feeling 4/10, this one can just get you back in the centre on a quick ting if you're walking to the studio or tapping in at the laptop and you don't feel like doing it. Just run this one and it's like a mantra. 'Do It Myself' is a mantra."
2. 169 feat. Jaiah - 'Millies'
"Track 2, we've got 'Millies', this sort of epitomises the grind in the UK. Young g's, men and women can relate to this. 'I need Millies, trust me money don't grow on trees', and he says in this line, 'At the moment she be feeling pain, I can fix it with a diamond chain'. I know obviously we don't want to live in a world where everything is based on the material but if you're first generation, that bar means something to you. Even if your mum doesn't necessarily want a diamond chain, it's the fact that she can see that you can do that, so that's another song that can get me in the zone easy. You can just feel his hustle in the beat and the fact he produced it as well."
3. AirBorn Gav - 'Can't Lose'
"Super chill. When you're trying get in that zone, trying to work. AirBorn Gav talks about the struggle but in a way as if it's rolling off his shoulders, which is something that I can really relate to. I need to hear that. It's nice to feel like your struggles aren't as heavy as they may seem. 'Gotta get it, can't lose.' That's a heavy bar but he's saying it like he's talking about clouds."
4. Perfect Ten feat. Nipsey Hussle - 'Mustard'
"Featuring Nipsey Hussle, Rest In Power. This one is just wisdom, tap in. You can listen to this early in the morning or just before bed and it's the truth. Like he's just speaking truth from top to bottom, it's just bars. It's humbling. Very very very nice beat to listen to. It's almost like a speech on a beat and I really like listening to this one before I work in general, or on the way to work."
5. Novelist - 'Start'
"It's another one that's like a mantra. It even sounds like the first level of a game or something. Again you can play this one early, any time of the day. But I like playing this one early. I can't really say more than that, it just feels very relatable, very London. Mantra. Start. Put your heart in it, you get me."
6. LUCKI - 'More Than Ever'
"Track 6, 'More Than Ever' by LUCKI. The beat is just hypnotic and gets your head bopping. It puts you in a bit of, I don't want to say rage, but that whole 'me against the world' thing. And it is a bit of a materialistic one, but with the world we live in sometimes, you can't always be above it all. It's a nice one when I'm feeling a little materialistic. But even then, the words 'I want this shit more than ever', you can flip that to mean what it means to you. So yeah I like this one as well, hypnotic sort of head bopper, get in the zone. Yeah."

7. Young Artz - 'Hustler'
"This is one of my favourite songs of all time. Again, self explanatory in the title. His energy is just oozing out of the track. 'Baby look at me, I'm a hustler, I fly you Italy for pasta' - are you taking the piss! Yeah, I just really like his energy on this one. He sounds like someone who's already blown but wants to blow, and I just really really rate that, he sounds like he fully believes in himself, and I first heard this song when I hadn't released music on any DSPs so this song means a lot to me, and 'HU$TLER' is always going to be a special one."
8. ERR_ - 'Teeny Tiny'
"By my brother ERR_, this one is another one where there's wisdom in the bars. It's someone who has been through things and understands that his thoughts and his issues don't define him. 'Teeny tiny problems, demons are my goblins, call them teeny tiny cos I'm gonna be triumphant.' This is someone who is aware that he is in control, so hearing someone sound like that and having fun with the beat. I love it when people make their issues sound like it just rolls off the shoulder and this is another one of those."
9. Future - 'When I Was Broke'
"One of the best songs made in all of time. I repeat, one of the best songs made in all of time. 'I had to climb up the sewer, I know they look down but I know where I'm going.' I know they look down but I know where I'm going, like that's just it. That's it. Sometimes you can feel like you're alone in it. His pain comes through on this one, and it's Future being vulnerable as an artist, talking about how a woman didn't leave him when he was broke. This one's just special."
10. The Carters - 'FRIENDS'
"And lastly, 'FRIENDS'. With this one, the beat is really nice and the chords are kind of hypnotic. Beyoncé's voice is incredible and she does the trap flow thing so hard. She's talking about how her friends support her and stuff, in a dancey way. I like this one in terms of working because my friends all give me a reason to keep going, especially when I don't want to. Having people that believe in me means that even if momentarily I don't believe in myself, I owe it to the people that believe in me to keep doing my best. This song reminds me of that. And then Jay Z just comes in with wavey bars and he's talking from the perspective of being successful and living that with his friends, which is something I want."
Watch the music video for Bawo's new single 'Same Team' featuring Reek0 below: